Last week, while doing research for my "7 Cult Fine Jewelry Brands You Need To Know" post, I noticed that two of the designers featured in the story were in the midst of a major feud. The beef, which involves Anita Ko and Janis Savitt, is over which designer introduced the arrow-through-ear stud first. In the design, it looks as though an arrow has pieced through the ear lobe and come out the other side–pretty cool: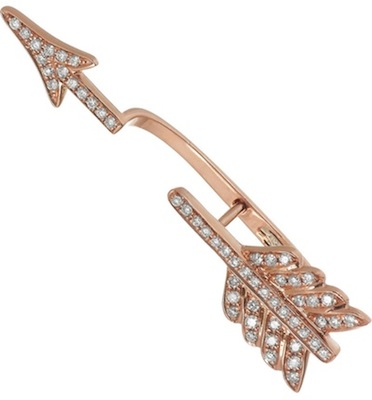 Anita Ko's 'Arrow' 18-karat rose gold diamond earring ($1,700).
While Ko's rose gold and diamond version is a bestseller on Net-A-Porter, Savitt claims that she first introduced the design back in 1980. In an Instagram post captioned: "F.Y.I. Janis Savitt Gold & Diamond Arrow Earring Circa 1980," Savitt threw shade Ko's way:
She didn't directly name Ko in the post, but one of her fans did. Instagram user @aartifact commented: "Love this, hate that Anita ko claims this as her original design." Yikes!
I did a little digging, and it turns out Savitt can't take full credit for this one. The Hairpin found a pair that predates both designs–by nearly 50 years. This Art Deco pair they found at an estate sale is from circa 1930. It comes in 14K rose gold and features a tiny pearl detail: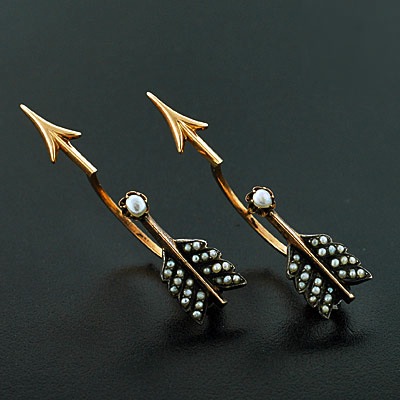 Even though Ko and Savitt's designs are both technically knock offs (or at least spin offs) of this original design, I would happily wear either of them.
And this isn't the first (or last) time a jewelry trend has been claimed by more than 1 designer–remember the nail bangle that was everywhere last year? As Fashionista pointed out, both Cartier and Giles and Brother made it famous–with everyone from Urban Outfitters to Need Supply and Jennifer Fisher putting out their own versions.

Trends in jewelry are like trends in ready-to-wear, they are cyclical and the execution is as important as the concept itself. Thanks to social media, designers can lay claim to certain designs–but thanks to Google search those claims can easily be debunked. Thank you, Internet!
[Photos: Janis Savitt Instagram, Net-A-Porter, Fashionista]