When many women here the words 'winged eyeliner,' they instantly shudder. We all have a horror story about trying to create the perfect thin, straight line that flicks up at just the right angle.
Chances are, you've probably read about using clear tape to create the perfect wing, but wondered, "Does that really work?" Well we're here to prove it does! Take a look at the step by step below for how to successfully use the tape trick for creating the perfect winged eyeliner look.
Step 1: Take a piece of clear tape this is about 2 inches long and place it diagonally from the the outer corner of your eye to the end of your eyebrow.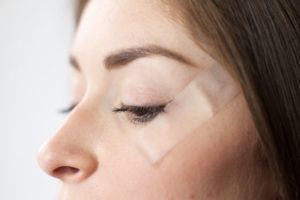 Step 2: Using a liquid eyeliner, find the point you want the wing to end and trace the tape with the liner down to the outer corner of your eye.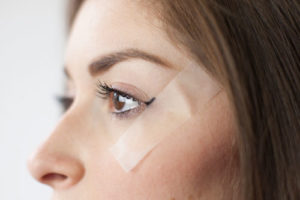 Step 3: At the end of the wing you just drew, draw a line closer to your lid (both lines should look like a V shape)
Step 4: Fill in the V shape you drew and take the line across the lid to the inner corner of your eye.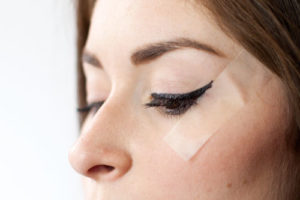 Step 5: Once you have completed your eyeliner and it has dried, remove the tape gently.
That's it! Within 5 minutes, you will have a winged eyeliner that looks like Adele's makeup artist did it!
Be sure to also check out 11 types of pants every woman should own and the scary downside of using a knockoff beauty blender.
[Photo: Shelby Rodriguez]