Boyfriend jeans are back for the spring and with a whole new crop of brands to check out, you have your work cut out for you. Or do you? Eva Mendes may be basking in her post-preggers glow, but she is working her style. She recently wore MOTHER The Brother Jeans ($196) and as you can see, she looks amazing. The good news for you? They'll make you look just as flawless. Snag 'em below!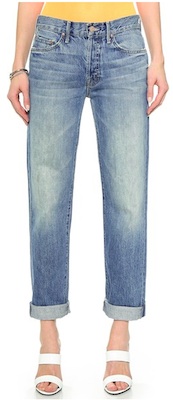 MOTHER The Brother Jean ($196)
Don't forget to shop Cara Delevingne's ripped jeans, Taylor Swift's cocoon coat, and Reese Witherspoon's sandals.
[Photo: Splash News]