Last week, I wore a leather vest to work. Not only did I get some looks on the street by NYCers thinking "this chick cray," but my co-workers also asked the question: "Aren't you hot?" Truth is, I was. BUT that didn't stop me from wearing the vest with my outfit. It just went soooo well, know what I mean?! And it's not like I was wearing pants and a sweater. I paired my vest with a tank, skort and sandals, so not that much clothes to begin with.
Now, I am not going to sit here and tell you that putting thick, black material on your body in the dead of summer won't get you sweating, but there are do's and don't's of wearing leather when it's above 60 degrees. For example, the less material, the better (i.e. shorts and vests). Jackets and pants are a no-no. Also, when wearing a skirt, opt for one that flares so the leather doesn't cling to your body.
Here's how to wear it:
1. Shorts: Actress/Blogger Ashley Madekwe is a girl after my own heart. Why? She also admits that wearing leather in the summer makes no sense at all, but she still has to do it in the name of a cute outfit. Here, she pairs her high-waist leather shorts with a breezy crop top and sandals. Like we said, less is more when it comes to wearing thick black material.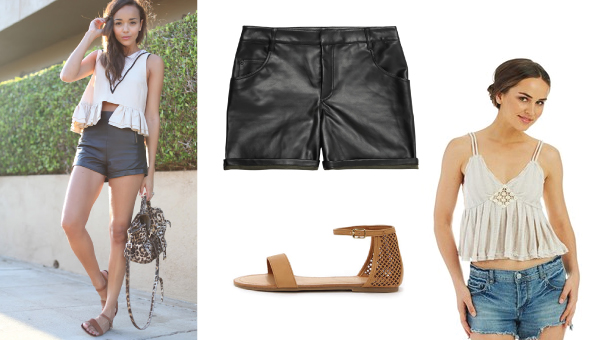 Get the look: Theyskens' Theory Porty Faux Leather Shorts ($103.25, down from $295), Free People Lace Romance Cage Back Tank ($40.80, down from $68) and Madden Girl Znapshot Sandals ($49.95)
2. Moto Vest: Next, we have Alicia Lund of Cheetah is the New Black demonstrating how to wear a leather vest in summer. A t-shirt and flare skirt are perfect to pair with it since both items are light, especially compared to the vest. We recommend wearing a vest on slightly cooler summer days (below 80 degrees).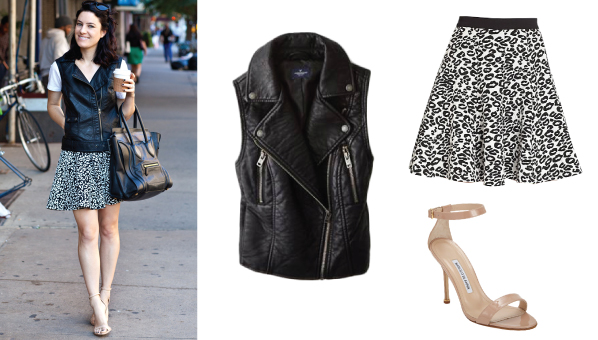 Get the look: AE Moto Vest ($79.95), Rebecca Taylor Leopard-Print Stretch Knit Skirt ($69.99, down from $265) and Manolo Blahnik Chaos Ankle-Strap Sandals ($725)
3. Flared Skirt: We saved the best for last. Sarah Yates of A House In The Hills absolutely kills it in this leather look. Everything about it is right. There are two reasons why her skirt is the perfect choice for summer. First, it is flared and not bodycon, so not only does she get a little breeze blowin' on her legs, but the thick material isn't directly on her skin. Second, it is a midi leather skirt, which is way cooler and different from most other leather skirts. Plus, we love a good bra showing. Well done, Sarah, well done.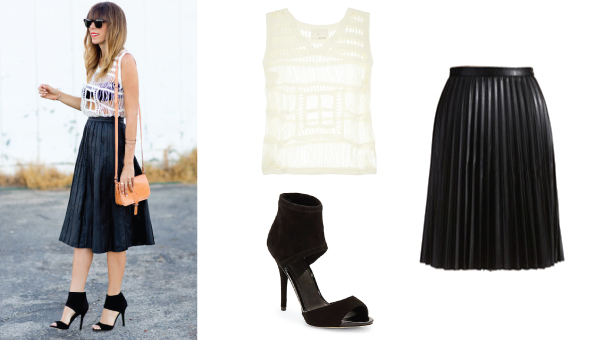 Get the look: Calvin Klein Faux Leather Pleated Midi Skirt ($109.05), Band of Outsiders Cotton Macrame Tank ($138, down from $460) and B Brian Atwood Correns Cuffed Suede Sandals ($319, down from $395)
For more blogger tips, check out how to wear: chain link necklaces, jumpsuits and Birkenstocks
[Photos: Ring My Bell, Cheetah is the New Black, A House In The Hills]