We already gave you some general tips for what to wear to a concert, but now we're diving deep with what to wear to a rock concert. You don't want to be "that girl" who gets called out for wearing a random band tee from Forever 21 or Urban Outfitters. Don't get us wrong, we love those t-shirts, especially if you're actually a fan of the music, but there are way more options for what to wear to a rock concert than a Ramones tee. Here are some dressing rules to follow next time you're picking out an outfit for a rock concert:
1) You can never go wrong in head-to-toe black. 
Black is probably the most rock 'n roll color of them all. Plus, you know whatever you pull together in an all-black ensemble will be flattering as long as it fits, and you don't need to worry about what matches what because you're sticking to one solid color. With an all-black outfit, you have a blank canvas to get creative with statement-making jewelry, shoes and other accessories.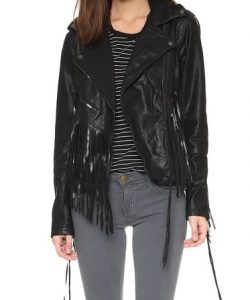 Blank Denim Vegan Leather Fringe Jacket ($138)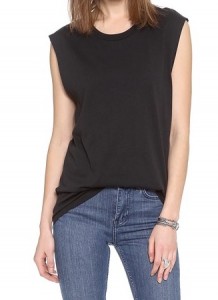 BLK DNM Sleeveless T-Shirt 28 ($75)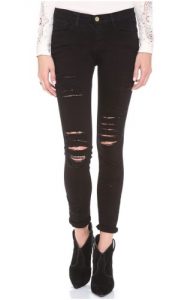 FRAME Le Color Rip Skinny Jeans ($199)
2) Don't take your outfit too seriously.
Have fun with what you're wearing! Think denim jackets with patches and body chain jewelry. Rock concert outfits should be as effortless as the head banging you'll be doing when you're dancing along to the music. Since rock is all about being loud and bold, make sure to have statement pieces in your ensemble that do just that.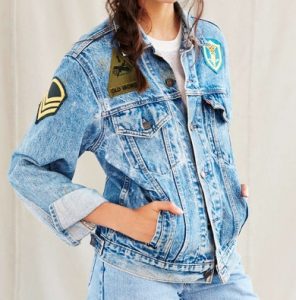 Urban Renewal Recycled Three Patch Denim Jacket ($98)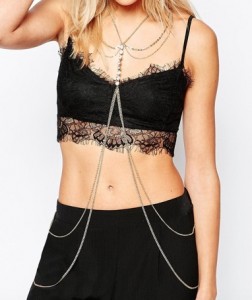 Love Rocks Midnight Body Harness ($26.72)
3) Don't wear shoes that aren't comfortable.
Your heart is saying yes to stilettos, but your head should be saying absolutely not. You're going to be standing, dancing, moving around crowds and crowds of people. The last place you want to find yourself is being that person who's looking for the nearest chair. Plus with everyone else standing, even if you sit back down in your seat, chances are you'll miss actually seeing the band and at that point there is no point in being at the show if you can't see the performance itself! Stick to shoes that won't kill your feet so you can really enjoy the night! We recommend sneakers or flat boots. Another tip: your shoes will most likely get very dirty from people stepping on your toes, so make sure you wear a pair that you don't mind getting a little roughed up.
Vans Authentic™ Lo Pro ($55)
Steve Madden Troopa2-0 ($89)
4) Be yourself.
This tip might seem corny, but it actually makes a difference when you're getting dressed up. If you want to wear a band t-shirt, wear one for artists you know and love (especially the one you're paying to see perform)! That way if anyone calls you out for not being a "real" fan, you can show 'em.
And don't forget to check out: Shay Mitchell's $20 Romper Is Only Available In One More Size #Hurry, 7 Tips For Giving The Perfect Wedding Toast, and 5 At-Home Remedies To Soothe Cracked Heels.
[Photo: Stelouche Babouche]