If you've never had a Bai5 drink, I highly recommend trying them! They are really tasty and, unlike other drinks, are actually good for you. Here's a little fun fact about the company name: "bai" is the Mandarin Chinese word for "pure" and it's an acronym for "botanical antioxidant infusions." The number five is used because every drink only contains 5 calories per serving. Bai5 drinks are naturally sweetened and infused with antioxidants. Plus, they are non-GMO, vegan, gluten free and kosher. Basically, everyone should replace their usual artificial drinks with Bai5 because they are so much better.
Now that the hot summer weather has hit, it's time to start sipping refreshing cocktails. Most cocktails contain a lot of sugar and aren't necessarily good for you, so the lovely people at Bai5 concocted their own cocktail recipes. Here are five Bai5 cocktail recipes you need to make this summer.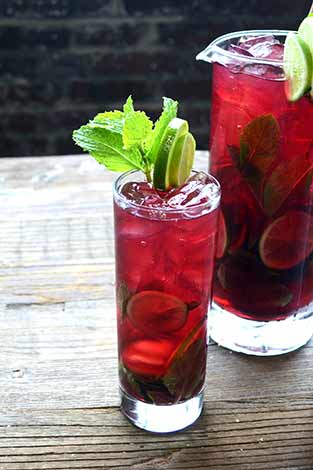 Brasilia Blueberry Mojito
Ingredients: 1 bottle Bai5 Brasilia Blueberry, 12 sprigs of fresh mint leaves, 2 limes and white rum
Directions: Squeeze both limes over the mint sprigs and muddle in a cocktail shaker. Add the ice, rum and Brasillia Blueberry. Stir, and then pour into cold highball glasses. Garnish with a sprig of mint and slice of lime.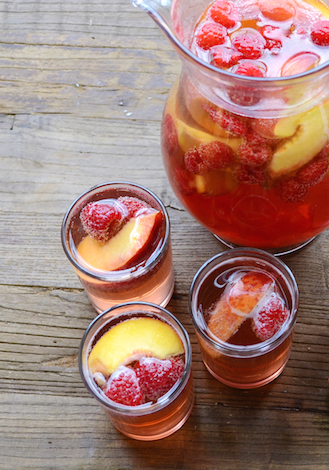 Panama Peach Sangria
Ingredients: 1 bottle of champagne, 2 bottles Bai5 Panama Peach, 3 peaches cut into 8 wedges and a pint of fresh raspberries
Tools: Sangria pitcher, wooden spoon and sangria glasses
Directions: Slice peaches. Place slices from from 2 ½ peaches into pitcher, and add 6 oz raspberries. Fill pitcher with both bottles of Bai5 Panama Peach and ½ bottle of champagne. Gently mix with wooden spoon, being careful to respect the bubbles! Place pitcher in refrigerator for 30-60 minutes, while the fruits infuse their flavor. Pour the remaining 2 glasses of champagne into flutes, arrange remaining 4 peach slices and handful of raspberries on a platter with baked brie and gluten free crackers (Costco sells these now!), and spend some QT with your sous chef.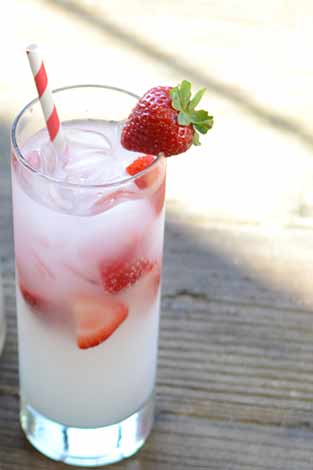 Waikiki Coconut Strawberry Soda
Ingredients: 4 cans of Bai5 Waikiki Coconut, 2 cups of fresh strawberries hulled and halved, 8 oz. of whipped cream flavored vodka (optional)
Directions: Place 2 cups of fresh sliced strawberries and place into a large pitcher. Pour Waikiki Coconut and whipped cream vodka into pitcher and stir gently. Serve in your favorite glass and garnish with extra strawberries.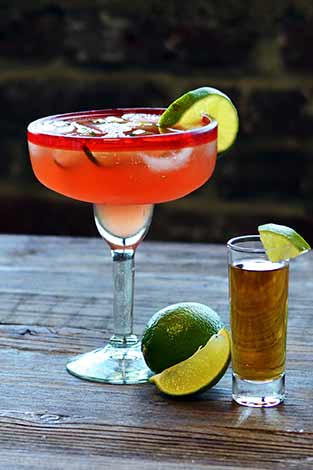 Jamaica Blood Orange Margarita
Ingredients:
Directions: Pour 1/4 salt in a shallow plate. Moisten the rim of a margarita glass with a lime wedge, and dip it into the salt. Fill the glass with ice and set aside. Pour the tequila, triple sec and lime juice into a cocktail shaker over ice. Cover and shake until the outside of the shaker has frosted. Strain into prepared glasses and pour Jamaica Blood Orange and stir. Garnish with lime wedges to serve.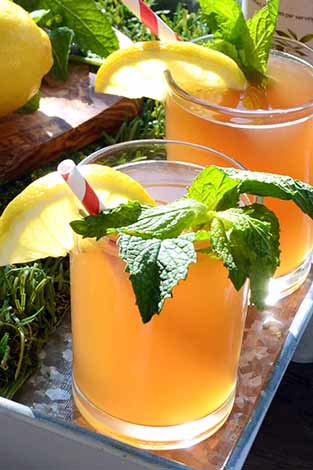 Tanzanian Devil
Ingredients: 4 bottles Bai5 Tanzania Lemonade Tea, 4 lemons, small bunch of torn mint, vodka (optional)
Directions: Slice two lemons, cut the other two lemons in half and squeeze them into a large beverage dispenser of your choice. Add torn mint and top with a few big handfuls of ice. Add Tanzania Lemonade Tea and as much vodka as desired. Stir gently to combine.
Don't these drinks look so thirst-quenching?! I also love the fact they are super colorful and bright. The Tanzanian Devil and Waikiki Coconut Strawberry Soda are calling my name!
Don't miss Lulu Frost's amazing sample sale and never kick off your heels in the grass again with this genius product!
[Photos: Courtesy of Bai5]