Platinum blonde is currently the "it hair color" in Hollywood, and we don't expect the trend to fade anytime soon (with the proper touch-ups of course!). I mean, who could forget when Kim Kardashian famously traded her dark locks for the icy blonde look, and momager Kris quickly followed suit? Obviously not me, because I shortly made my appointment at the hair salon after all this went down.
Yes, I decided to take the plunge and go platinum blonde. And I don't mean just a few highlights here and there — I mean near white, Draco Malfoy status blonde. Looking back on my decision, I've discovered there are quite a few things I wish I'd known before making the giant leap from brunette to silvery-white. With the help of Ted Gibson Color Director Kitty Nadel, we've uncovered the most important things to consider prior to reaching for the bleach.
Be prepared to deal with damage.
"The biggest misconception about going blonde is definitely that it's super damaging and all your hair will fall out immediately," Kitty explained. "I'm sure back in the Marilyn Monroe days that happened more, but now with newer technology in lighteners (and conditioners and masks for that matter), you can keep your hair looking pretty healthy."
But Kitty does have one word of warning: Make sure your expectations are realistic. It's 100 percent necessary to factor in prep, time and upkeep to maintain the integrity and health of your color. To minimize breakage and dryness, she recommends to stop washing your hair 48 hours before you begin the platinum process. The natural oils in your hair will help protect the scalp against irritation during bleaching.
Chat with a colorist first.
Kitty always recommends a consultation with an experienced colorist about a week before you want the appointment so that you can determine pricing, damage and how long the process will take. During this convo, it's also super important to be honest with your colorist: If you're using box dye or had your hair chemically treated, don't be ashamed. "All the secrets of your hair history past will be revealed during the lightening process and can impact your road to becoming platinum."
Pro tip? Always ask for a strand test, aka "a few hairs usually from the lower back of your head lightened to see how the color will lift."
Start a platinum upkeep savings account.
At Ted Gibson, application on virgin hair starts at $350 and touch-ups are $250. Kitty recommends returning every three to 10 weeks — any longer than 10 weeks and your hair becomes harder to work with.
"Without getting too scientific, the heat from your head will lift the re-growth only to a certain distance away. If the root is too long, you can either expect to pay more, stay longer at the salon, risk walking away with a yellow band and/or more damage," Kitty said.
Be realistic about what your hair can handle.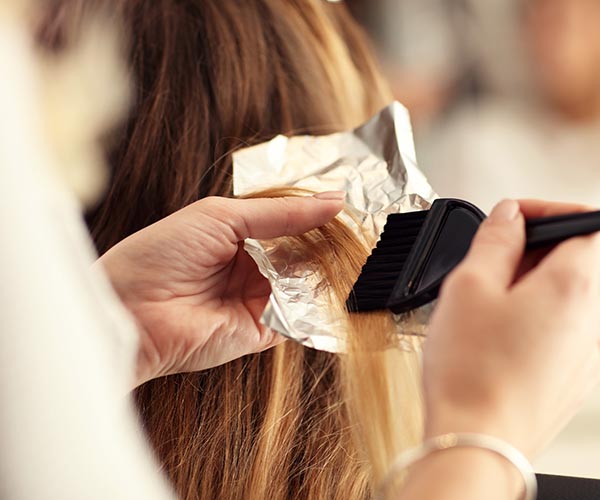 This is why it's important to have that consultation; both you and your colorist can have realistic expectations of how long it'll take. However, if you've dabbled with box dyes (or already have damaged hair), you have to be transparent with your colorist.
"It's not fun, but I'd rather keep the integrity of the hair than lighten her up and have it be extremely damaged," Kitty explained. "I have had to have clients stick with middle tone and wait a month for the hair to relax before we could get them to platinum, which is sometimes what has to happen to keep the integrity of the hair." Basically, if you box-dyed your hair black or had an extreme color in the last two years, going platinum in one sitting is unlikely.
Clear your calendar for a day.
If you go completely platinum blonde in a single sitting, be prepared to be at the salon all day. Here's the step-by-step:
1) Your colorist will lighten the mid-to-ends of the hair first, then the root. Kitty likes to shadow the root because "it has a more natural, interesting appearance rather than bright roots and a solid look."
2) Next, heat is applied to the hair and the bleach is rinsed out when the time is right. Then, the hair is blown dry.
3) Finally, a second round of bleach is applied. After the color is lifted, a gloss or toner is added to make the shade more compatible with the client's skin tone.
Note: After the initial process, the touch-ups will be between two and a half and three hours.
Give your hair a break.
"I tell all my platinum clients to be very gentle with [their hair] right after the process for the first week," Kitty said. "It's gone through a process, it's tired and needs to rest, so brush and comb it gently and nicely. And don't tie your hair back as the hair can lose elasticity. Stretching it back in the first few days can damage it further."
She also recommends not shampooing it for a few days after the process and not using high heat irons or dryers, as they can further damage the hair.
Invest in stellar at-home care.
"I recommend Kerastase products to all of my platinum blondes," Kitty said. The basics? A great shampoo, conditioner, masque, and thermal protectant.
Yes, there's a lot that goes into the whole process from start to finish, but the result is totally worth it.
Want more tips? Check out How Often Should You Really Trim Your Hair? and products to make your hair grow faster.
[Photos: Shutterstock]
SheFinds receives commissions for purchases made through the links in this post.