Long Hair Is In--How To Make Yours Grow Faster
If you just cut your hair recently, or you're just trying to grow it out to achieve the perfect summer mermaid waves, you've come to the right place. We know long hair is "in" right now, but we also know how hard it is to achieve. While some girls have really long hair, you may be stuck hoping and dreaming about having hair down to your waist, but don't worry we're here to help. With the right combination of three of OGX's organic hair products and about $24,  you will achieve longer hair than your besties in no time! Just follow our easy steps.
Step 1: Before you apply OGX Renewing Moroccan Argan Oil Treatment ($7.99), wet your hair completely. Then rub a dab of the product in your hands and run your fingers through your hair, but don't use too much. You don't want your hair to get greasy. A little bit goes a long way. Next, comb through your hair with a wide tooth comb to make sure the oils were evenly distributed. Then put your hair up in a shower cap and blow your hair dryer on it for 5 minutes. This will allow the Moroccan oils to set into your hair and work their magic. This product contains nutrients, antioxidants, and Vitamin E that will help condition and repair your damaged hair and help it grow. Once you're done, remove the shower cap and hop in the shower for steps two and three.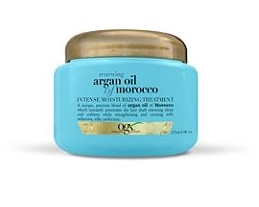 OGX Renewing Moroccan Argan Oil Treatment ($7.99)
Step 2: Next, rinse all of the oil treatment out of your hair and shampoo it with OGX Nourishing Coconut Milk Shampoo ($7.99). Make sure you shampoo it really well to get all of the oil out, or just wash, rinse and repeat to be safe. The coconut milk and egg whites have restorative properties and have natural vitamins that promote hair growth. Just like coconut water is great for your health and your body, coconut milk works wonders on your hair.
OGX Nourishing Coconut Milk Shampoo ($7.99)
Step 3: After you're done shampooing, follow up with OGX Coconut Milk Conditioner ($7.99), and make sure you rinse it out well.
OGX Coconut Milk Conditioner ($7.99)
After using these products just one time, your hair will already appear healthier and shiner. I suggest using the argan oil only once or twice a week. Too much oil will make your oily…duh! But feel free to use the shampoo and conditioner everyday. Your hair will be long, shiny, and beautiful in no time. And the best part, your hair will smell like coconuts, which is great for summer! Can you believe the secret to longer hair is sitting right at your local drugstore or Ulta?
For more hair tips and products, check out: Heat-free hairstyles, Davines hair products, and 10 detanglers for pool and beach days.
[Photo: Peace Love Shea]