Patience is a virtue, they say. And by "they," I mean Amazon. With Amazon's No-Rush Shipping Rewards initiative, Prime members can receive a treat if you have the patience to wait a little longer for your order to be delivered. "Get a promotional reward or discount on your order when you select FREE No-Rush Shipping at checkout," Amazon states on their website. "With FREE No-Rush Shipping, you either earn rewards on future purchases or receive discounts immediately, simply for agreeing to receive your order in 6 business days." Amazon's No-Rush Shipping Rewards initiative is specifically for Prime users, who typically receive two-day shipping. Sounds like I good deal if you don't mind the wait.
Free anything always sounds like a good idea. But, exactly what type of rewards and discounts can you get? According to Amazon, the rewards and discounts for choosing No-Rush shipping can be a number of things. "Rewards can be used for buying eBooks on your wishlist, favorite movies on Amazon Instant Video, groceries and daily essentials on Prime Pantry, and just about anything else," the Seattle-based e-commerce store states.
So, how does it work? Upon ordering a Prime-eligible item, select the FREE No-Rush Shipping option, and you will see the offered reward or discount right underneath. Rewards or discounts get applied at checkout, but you cannot redeem them until the order actually ships. "We will send you an email with the details of your promotional rewards when your order ships. The next time you shop on Amazon.com, refer to this email for instructions on how to redeem," Amazon states. "You can use your rewards by logging on to Amazon.com, or browsing your smart phone, tablet, e-reader, TV or streaming device."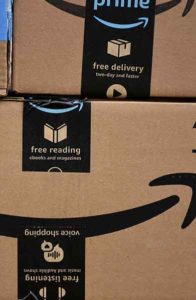 But, many people aren't thrilled about Amazon's No-Rush Shipping Rewards because you don't really have a choice in the reward or discount you get. It's a take-it-or-leave-it kind of deal.
According to Slickdeals, a $5 credit for Amazon Pantry seem to be one of Amazon's most popular No-Rush Shipping Rewards. "Many Slickdealers have found it's best to simply use the credit to cover most of the $5.99 shipping cost on Pantry items," Nolan Browning, a contributor for Slickdeals, reports. "You can also purchase five select Amazon Pantry items to qualify for free shipping and then discount that order using the $5 reward."
The cool thing about Amazon's No-Rush Shipping Rewards is that you can keep tabs on the rewards and discounts you have redeemed. You can access your No-Rush Rewards Summary to see your reward balance. But, even if you have a large balance–large enough to cover the total price of an item–Amazon may limit how much of your rewards you can apply to a single item.
At a glance, Amazon's No-Rush Shipping Rewards seem like a great deal for Prime users. But, it does have its limitations.

What do you think? What has your experience with Amazon's No-Rush Shipping Rewards been like so far? Let us know in the comments below!
And while you're at it, find out the details on Amazon's return policy and more at SheFinds.com!
[Photos: Shutterstock]