Sponsored Post: Happy Moms Heart giggleDEALS
Happy moms get giddy when they can buy the best brands at the best prices. Smart moms know that giggle is a guaranteed bet for one-stop shopping for their little ones--they may not know that it is also the first retailer to launch their own flash sale site. Now you can find your favorite brands at up to 70% off retail prices on everything from strollers to diapers at giggleDEALS. Sign up now and you'll start receiving three unique daily deals on three brands per day--all of them new to flash sales. giggleDEALS is also offering some great freebies for those who sign up for their daily deals, including free shipping for orders of $75 or more and a $10 referral bonus when your mama friends make a purchase. MOMfinds readers who sign up  will also get $10 to use on their next purchase at giggle or giggleDEALS. So go get happy and save a bundle with daily deals from your favorite baby gear retailer: giggleDEALS.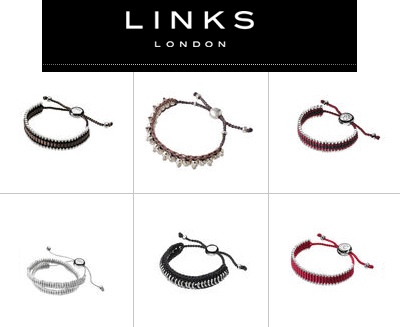 Friendship Bracelets From Links Of London
As a little girl, nothing was as quintessential to a slumber party as making and trading friendship bracelets. Now the friendship bracelets from Links of London bring a grown-up spin to the childhood classic in sterling silver and bright hues of embroidery, all handcrafted. (more…)
Our Favorite Watches From Folli Follie
Purveyor of on-trend baubles, Folli Follie also hosts a troop of elegant and stylish watches for every style and personality. Our favorite watches from Folli Follie are timeless timepieces that are every bit about fashion as practicality. (more…)
Our Favorite Summer Necklaces From Folli Follie
Find the perfect summer accessory to add depth to simple sundresses, casual summer suits, and beachy caftans from Folli Follie. In addition to the bevvy of sleek wallets, watches, and jewelry from the nicely priced cult brand, SHEfinds spotted some stunning necklaces that are well worth loosening your purse strings. (more…)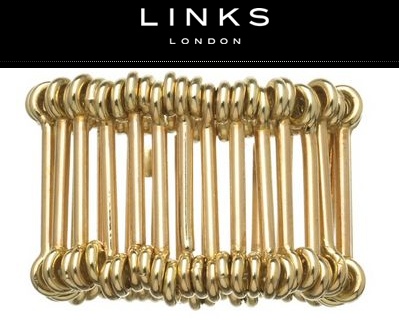 Irresistibly Sweet Jewelry From The Links Of London Sugar Cane Collection
SHEfinds regulars have surely noticed our penchant for sleek baubles from Links of London--from myriad charms to stunning bracelets, our editors spotted some of other must-haves to add to your collection, this time from the Sugar Cane Collection. (more…)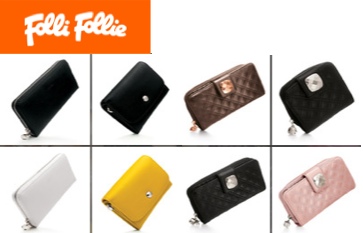 The Wallet You Didn't Know You Needed From Folli Follie
Wallets are an obvious necessity for stashing cash and plastic, but they're also a great way to show off your personality. These editor's favorites from Folli Follie are a chic, fun, and elegant addition to any wardrobe. (more…)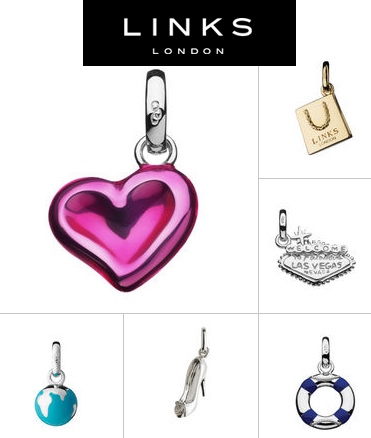 The Best Charms To Start Your Charm Bracelet From Links of London
Whether you are a fashionista, foodie, world traveler, or animal lover, charm bracelets are a fun (and stylish) way to show off your personality. Our favorite 18k carat gold, sterling silver, and enamel charms from Links of London can be worn one at a time or in combination for a grown up twist on a childhood favorite. Check out our top picks below, then head to the Charm Bracelet Maker to put together your unique bracelet. (more…)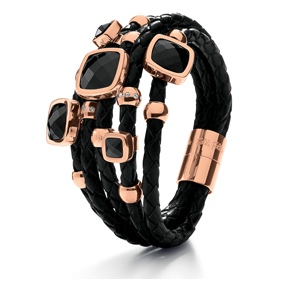 What We Want Now – From Folli Follie
Folli Follie just hit the U.S. after becoming a cult favorite in Asia and Europe - and their wide range of jewelry, watches and accessories ranges from trendy to fun and funky is absolutely sure to win hearts Stateside. These five Editor's Picks are so glam and cool, perfect for a gift or a personal treat. Visit Folli Follie for more trendy chic jewelry, watches, bags and wallets.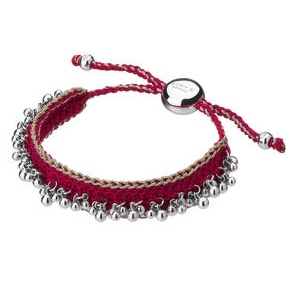 It's All About Bracelets – Especially These Links Of London Standouts
Links of London is a purveyor of an eclectic mix of jewelry that is at once modern and elegant. Kate Middleton caused quite the frenzy when she wore Links of London earrings in her engagement photos (now wait-listed), but we are all about the bracelets. We've edited down the wide selection of fabulous summer bracelets to these five stars: Don't forget to check out the Sale section, where through July 11, you'll be able to score select items for up to 50% off. Use code 'shefinds10' to get an additional 10% off any purchase - even on sale merchandise! All of their pieces can be personalized and are exquisitely packaged, making for excellent gifts. For more from Links of London, check out their full collection of bracelets.

Your Ultimate One-Stop Shop For Luggage Is Luggage Online
Summer is officially upon us, which means it's time to travel and enjoy the beautiful weather--beautiful luggage in tow, naturally. Luggage Online always has amazing specials on your favorite luggage brands like Heys, Travelpro, Tumi, and Victorinox. They are the first place to stop for fashionable women's luggage, like this adorably chic Diane von Furstenberg New Hearts Rolling City Bag, which doubles as a rolling duffel and shoulder bag. You can also score some impressive bargains on luggage sets that will set you apart from the sea of black at baggage claim, like this sleek spinner luggage set by Travel Concepts. Luggage Online makes it easy to find the perfect luggage; check out the nifty carry-on finder that whittles down the selection in seconds depending on the size requirements dictated by your airline. With the time you save shopping, you can peruse LuggageOnline.com's cool travel guides on things like bizarre hotels or travel sites you've never heard of. For more travel inspiration--and the best deals on the chicest luggage--hit LuggageOnline.com.
Vote Now for Your Favorite "Like Mom, Like Daughter" Contest Entry
In case you missed it, we've been tracking an amazing opportunity to celebrate and showcase the unique bond between mother and daughter--with an incredible prize on the line for the most impressive stories. You can read more about the contest here. For those in the know, starting on June 10th, head to Olay's Facebook page to read stories from the top 50 finalists chosen by Olay's panel of judges. Then vote for the entry you think best portrays the moment when the finalists' relationships with their moms turned into a genuine friendship. Your votes count for 50% of the total tally and give you a chance to win daily prizes like bundles of Olay products for you and your mom. Once judging is complete, the contest's top 10 grand finalist mother-daughter teams receive a 3-day/2-night trip to New York City, plus makeovers and a $500 spending spree! You have until June 30th to vote for your favorite. For official contest rules and complete entry details, visit www.facebook.com/olay.
Sponsored Post: Five More Days to Enter The Olay "Like Mom, Like Daughter" Contest 
Your mom carried you for nine months, changed your diapers, wiped your runny nose, survived your teenage mood swings, and sent you to college. That's 6570 days of hard work dedicated to you, yet she gets just one day a year for you to show her how much you care. What do you do to celebrate your mom on the other 364 days? Some of the best moments I shared with my mom were not on Mother's Day at all, but on that random weekend when I popped over just to surprise her (possibly with cupcakes) and to spend quality girl-time together. Those are the times that make up for all the chauffeuring and ballet classes. Those are the times that I'll remember forever. Celebrate your mom every day and share your fondest memories of your time spent together with Olay. The winning stories earn a fabulous trip to New York City! Enter the "Like Mom, Like Daughter" contest before May 30th to enter. Visit Olay's Facebook page and click on the "Like Mom, Like Daughter" tab for the official contest rules and complete entry details.
Sponsored Post: Protect Your Color & Bring Out Your Inner Beauty With Aveeno
Nothing brings out your inner goddess like a change of hair color; it's the easiest way to completely change your look and feel newly sexy without committing to anything too serious. The trick to keeping your freshly colored hair looking healthy, shiny, and bouncy is protecting it with products made of natural ingredients, free of harsh chemicals. By injecting your hair with nourishing botanicals, you can preserve your hair's health as well as your newest hue. And when you have a luscious head of hair to call your crowning glory, you simply cannot feel more beautiful. The AVEENO® LIVING COLOR™ Hair Care Collection helps to preserve beautiful, vibrant color for up to 40 washes with the help of ACTIVE NATURALS® ingredient Lupine Botanicals. The line includes shampoos and conditioners formulated specifically for fine and medium-thick hair, and a shine glaze to lock in color vibrancy with each use. For more information, visit http://www.aveeno.com/hair-care/living-color. Disclosure: Compensation was provided by AVEENO® LIVING COLOR™ via Glam Media. The opinions expressed herein are those of the author and are not indicative of the opinions or positions of AVEENO® LIVING COLOR™.
Sponsored Post: The Olay "Like Mom, Like Daughter" Contest Starts Today
Last week we introduced you to the Olay "Like Mom, Like Daughter" contest. With another Mother's Day complete, we hope you had some time to look back on all the amazing moments you had with your mother. Now, turn those memories into an amazing trip to New York City. If you think you and your mom (or daughter, for the mothers reading this post) have an exceptional story to tell, Olay wants to hear from you. Visit Olay's Facebook page between May 9th and 30th to submit a short essay about how your mother-daughter relationship has transformed into a friendship. If the written word is less your strong suit, photogs and videographers can use photos and video to boost your chances of winning. You have until the end of the month to submit your story before Olay will choose 50 finalists. Voting then opens to the public before the 10 grand-prize winners are chosen. The 10 lucky mother-daughter teams will win a 3-day/2-night trip to New York City, mother-daughter makeovers, a special photo shoot, and of course, a $500 shopping spree! (Mom... are you reading this?) Celebrate your mom every day - and share your memories with Olay. For the official contest rules and complete entry details, visit Olay's Facebook page and click on the "Like Mom, Like Daughter" tab.
Freebie Friday: Dramatically Slimming Shapewear & Consultation With A Shapewear Expert From Va Bien
While the wedding dress takes center stage for the bride, it simply wouldn't be a complete ensemble without that which goes unseen until after the guests go home: your bridal lingerie. Your bridal underpinnings are not just for fun after the fete, but they provide shape and support to give you to most flattering look for your most important day. How to choose the right piece to flatter your dream gown? Enter Marianne Gimble, fit expert and founder of Va Bien.  (You may remember Marianne from our "Ask the Expert" post in February.) The winner of this week's Freebie Friday will win a unique one-on-one email consultation with Marianne to find the perfect foundation for under her wedding gown. Not only does the lucky bride-to-be get a free foundation for her wedding day, but she also gets lingerie for her honeymoon and up to three foundation pieces for her lucky bridesmaids. All in all, the prize is worth up to $500. (more…)
Sponsored Post: Miracle Whip Is To Turkey Sandwiches As High Heels Are To Life
Some ladies prefer the practicality of a ballerina flat. The rest of us will die before we give up our heels--rain, sleet, snow or shine. Likewise, while some are too afraid to venture into the the tangy, loud flavor that tells your turkey to "respect my authority," the rest of us know what the dish without Miracle Whip lacks. Better than your average condiment, Miracle Whip delivers a kick to any sandwich, salad or slaw. It's the foodie equivalent of blue suede stilettos--they're totally unique, make a serious statement, and once you try them, you can't live without them. So tell us, fashionistas: high heels 24/7: Love them or hate them? Let us know your stance on the issue by leaving a comment below. We're not for everyone. So, Love us? Great. Hate us? Fine. Not sure? Undecided? Don't care? That's where we've got a problem. It's time to get off the fence, get us on a sandwich and make a choice. Are you Miracle Whip? Pick a Side. Get a sample. Go to MiracleWhip.com. Disclosure: This is a sponsored post and compensation was provided by Kraft Foods and Miracle Whip via Glam Media. The opinions expressed herein are those of the author and are not indicative of the opinions or positions of Kraft Foods and Miracle Whip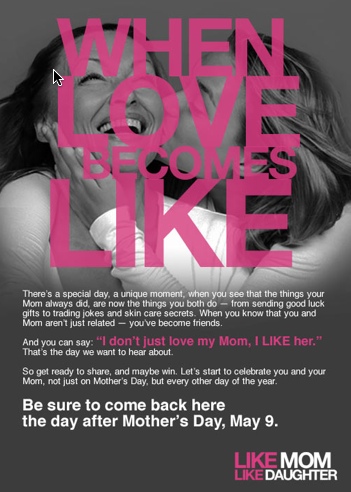 Sponsored Post: Olay "Like Mom, Like Daughter"
Mother's Day comes but once a year. We shower Mom with her favorites scents, blooms, and sweets in an effort to show her how much her love truly means to us. Still, it's never enough to convey how important mom really is. She's been there through diapers, first dates, graduations, promotions, marriage and more. Always the bearer of priceless advice (from the dress that really does make you look fat, to her trusted anti-wrinkle cream), she's more than just a "mom," she's often a daughter's best friend.We all have fond memories about our relationship with mom... and if you are willing to share, you could be rewarded! Visit Olay's Facebook page or check back on SHEfinds beginning May 9th for more details.
Freebie Friday: Treat Yourself to Sorrelli, Just in Time for Mother's Day
Sorrelli has been handcrafting gorgeous, antique-inspired baubles for more than a quarter century... and it shows. Each heirloom piece has a unique vintage feel, and is impeccably crafted with a combination of semi-precious stones and Swarovski crystals--the perfect treat for Mom. This week's grand prize winner will win this necklace, bracelet and earring set from Sorrelli's new Mother's Day Collection worth more than $250. Three lucky runners up will walk away with a stunning Swarovski cocktail ring, a stand-out accessory for a special Sunday brunch. For your chance to win, simply comment below on what you would want this Mother's Day from Sorrelli. (And in case you aren't one of the winners, check out Sorrelli for more fashionable gifts to treat yourself or your mother for under $100.) Don't forget, you'll also need to sign up for our newsletter. If you become a Sorelli fan on Facebook and click on "Fan Exclusives," you'll also be eligible for a special Mother's Day offer! Rules: 1. You must be a subscriber to our newsletter to be eligible. Sign up here if you haven't already done so. 2. To enter, comment below about what you you would want from Sorrelli for Mother's Day 3. You must supply us with a valid email address. 4. The contest starts now and entries must be date stamped by our server no later than Friday, May 13, 2011 at 11:59 AM Eastern Time to be eligible. 5. One winner will be selected during a random drawing and will be notified via e-mail and must respond as instructed to receive the prize. 6. No prize substitutions. 7. You must be 18 years old or older and a resident of the US to enter. Entries from the state of Florida are void. 8. No purchase necessary. 9. Void where prohibited. 10. Click here to see the full rules.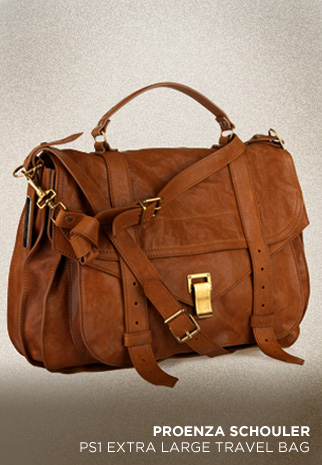 Sponsored Post: Shop, Bid And Save At ToVieFor.com
You've all tried Net-A-Porter and Shopbop...now take a gander at online shopping's newest darling, ToVieFor.com. It's the place to vie for beautiful designer bags, jewelry, accessories, and more--without waiting until the sales start to get a great deal. It's simple to sign up, fun to bid, and even better when you win! Just browse for the product you're dying to vie for, like this drool-worthy Proenza Schouler Travel Bag, and you'll be added to the auction. Use the concierge service and ToVieFor.com takes care of the leg work so you don't have to. Shipping and returns are always free. But the cherry on the cake is that a portion of every auction goes to charity. To die for? I'm already in heaven.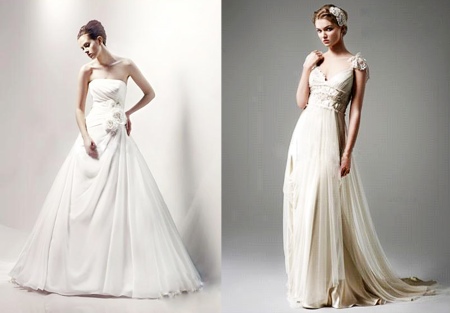 Sponsored Post: Princess Gowns On A Pauper's Budget
While the economy may be on the rebound, many brides are still far from having enough cash to throw a wedding à la Kate Middleton (whose dress is rumored to cost upwards of $30,000). Brides on a budget don't have to dash their dreams of looking like a princess, though; just check out DHgate.com. No matter what style gown you have your heart set on, DHgate.com provides a wide range of quality, custom-made gowns at very affordable prices (starting at around $50). A dreamy Grecian gown will run you just $99. A strapless taffeta ball gown overflowing with ruffles will put you back $150. And for an ultra-feminine, lace A-line inspired by Elie Saab, you'll spend a mere $125. (more…)

Sponsored Post: Outsmart Stress With Aveeno Smart Essentials Facial Care Collection
Living in New York City can be tough... it can be ever tougher on your skin when you couple a non-stop lifestyle with grit, grime, and other toxins. At the end of the day, a powerful cleanser that purifies deep into your pores is a must, but fighting free radicals and protecting skin from the stresses of everyday life is even more important. As a psuedo-professional 'online - shopper,' I know which products I like to use to achieve healthy, glowing skin but finding the time for yoga, fun and relaxation is the ultimate key to taking care of one's self on-the-go. Finding that time to unwind and counter a busy lifestyle is what keeps me balanced & healthy - and looking good! Sun exposure, free-radicals, environmental toxins and a busy lifestyle can rob your skin of essential nourishment, resulting in noticeably stressed skin that looks dry, tired and blotchy. The AVEENO® SMART ESSENTIALS™ Collection, formulated with ACTIVE NATURALS® Southerwood, keeps environmental stress out and keeps essential nourishment and moisture in. The collection features a full regimen of daily skincare products that cleanse, nourish, protect and treat stressed skin, leaving it nourished and refreshed. For more information, visit Aveeno.com. Disclosure: Compensation was provided by AVEENO® SMART ESSENTIALS™ via Glam Media. The opinions expressed herein are those of the author and are not indicative of the opinions or positions of AVEENO® SMART ESSENTIALS™.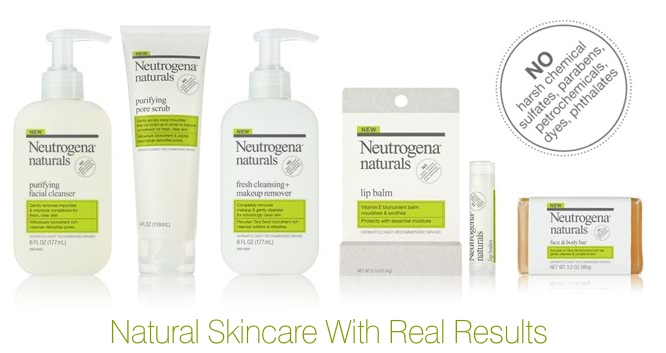 Sponsored Post: Protect Your Skin (and Your Health) with Neutrogena Naturals
Phenoxyethanol, propylparaben, peg-7 glyceral cocoate, methylchloroisothiazolinone. If you know what any of those things are, please give yourself a round of applause because most people don't. And most people don't realize the slew of chemicals that abound in everyday beauty products. Neutrogena Naturals aims to stop the string of un-pronounceables on the back of your skin care products. Each item from the Naturals line is free of harsh chemicals, sulfates, parabens, petrochemicals, dyes and phthalates. They tell you what you are putting on your skin, and where it came from. Avocado, olive oil, willowbark... Neutrogena speaks my language. It gives you peace of mind to know that you are cleaning your skin effectively, while keeping yourself safe. Plus, when you use the Naturals products, you are giving your skin a healthy dose of essential nutrients, like vitamin E, amino acids, and antioxidants. (more…)
Freebie Friday: Win a $50 Movie Theater Gift Card
Not sure what to do this weekend? Why not head to the theater to check out the newest take on Charlotte Bronte's classic novel, "Jane Eyre" from acclaimed director Cary Fukunaga ("Sin Nombre"). Starring Mia Wasikowska (Alice in "Alice in Wonderland") and cutie Michael Fassbender from "Inglorious Basterds," this romantic drama set in mid-1800s England is the perfect movie to watch with your sweetheart. Focus Features is partnering with SHEfinds to provide one lucky reader with a $50 gift card eligible for your local film haunt, plus a soundtrack sampler from the movie. Not only that, but the prize pack includes something all fashionable book worms will appreciate: a sleek bookmark, journal and pencil. (more…)
Sponsored Post: Pass On Financial Wisdom With PASS From American Express
Back when I was a kid, the standard allowance was a few bucks a week for doing some household chores. Needless to say, it wasn't until I had a job and actually had to start paying bills that I learned about saving, budgeting, and tracking my expenses. Nowadays, kids get more money and more responsibility, which is all the more reason to start passing on your financial knowledge to them at an earlier age. One of the best ways to capitalize on this ritual of growing up is to check out the reloadable PASS Card from American Express. Thanks to our friends at SheSpeaks you can get $25 if you enter the code SS25 when you sign up for the PASS Card. Simply load up the PASS Card with your son or daughter's weekly allowance and they have a risk-free way to take control of their spending. Plus, you teach them a valuable lesson about money management. Kids can add funds, withdraw cash from an ATM, or shop online. Rest assured, through the online system you can track how much your child is spending and where. Most importantly, they cannot overdraw, and if they lose the PASS Card, the money is protected. How much better is that than giving cash? To find out more about this offer and get a Card, go to www.americanexpress.com/shespeakspass. This offer expires April 15, 2011 Must be 13 years old or older to own the PASS Card. To get your PASS Card using the SS25 offer, click here, enter your shipping information and load at least $25 to Card. Then enter Promotion Code SS25 to get an additional $25.
Freebie Friday: Win A Deliciously Slimming $250 Shopping Spree From Yummie Tummie
This week's Freebie Friday prize will keep your wallet fat, your thighs slim, and your style in check (sorry, Prince Charming is not part of the deal.) The Lindsay Tank ($48) above is a universally flattering style that can be layered under blazers or cardigans and will become your go-to cami. Enter below to win $250 worth of Yummie Tummie shapewear. Shapewear is not only supposed to make you look slimmer, but it should also make you feel more beautiful... not like a human sausage. That nuance is what makes Yummie Tummie one of the best selling brands out there; not only will it make you look great, but you'll still be able to breathe and go about your daily life like a human being. Think Wow, not Ow! (more…)
Win It Wednesday: $500 Worth Of Thinner Thighs & A Tighter Tush from Vedette
Vedette, the maker of bombshell-worthy shapewear, is giving MOMfinds readers the chance to win $500--yes, you read that right--worth of their luxury shapewear. Whether you are looking to boost your bum or cinch your waist, you can do so stylishly and effortlessly with the help of Vedette. From full-body slimmers that go perfectly under a sheath dress to targeted garments that promise to tuck, tighten and lift, there are myriad options for your figure woes. And fret not about looking stylish, as there are plenty of sexy options to choose from, including lacy "Sensuale" Collection bustiers or strapless waist cinchers. Want to see more? Visit VedetteStore.com to see what you could win. Also be sure to check out the Vedette blog, a great place to learn about how to pair your look with the right shapewear. Don't forget to follow Vedette on Facebook and Twitter to stay up to date on their latest sales, specials and promotions. To enter to win visit VedetteStore.com and comment below on which pieces you'd love to own. Then, like us on Facebook and sign up for our newsletter. That's it! Rules: 1. You must be a subscriber to our newsletter and like us on Facebook to be eligible. Sign up here if you haven't already done so. 2. To enter, comment below about which items are your favorite from VedetteStore.com. 3. You must supply us with a valid email address. 4. The contest starts now and entries must be date stamped by our server no later than Wednesday, April 6, 2011 at 11:59 AM Eastern Time to be eligible. 5. One winner will be selected during a random drawing and will be notified via e-mail and must respond as instructed to receive the prize. 6. No prize substitutions. 7. You must be 18 years old or older and a resident of the US to enter. Entries from the state of Florida are void. 8. No purchase necessary. 9. Void where prohibited. 10. Click here to see the full rules.
Sponsored: Save Time & See Clearer with Pearle's Try On Tool
You are probably familiar with online makeover tools; you upload your photo, then test out new 'do's, makeup, hair colors, you name it. Pearle Vision took that idea and transformed it into a powerful tool to test out new eye wear. Forget going to the store and trying on a hundred pairs. Just go to the Try-On Tool, upload a photo (or snap one from your webcam) and you can test out all the hottest styles from the comfort of your home. You can also start off your search by using their Pick my Pair Style Recommender. Just answer a few questions and Pearle Vision selects a short roster of eye wear MVPs just for you. It's especially helpful if you are wondering what glasses look best for your face shape, whether it be round, square or heart-shaped. Once you have your photo uploaded, the Try-On Tool is easy to use and has a range of brands to choose from, whether you like the classic look of a Burberry set of frames or a feminine pair from Tiffany's. What really makes it fun is that you can save shots of yourself wearing your top five pairs, then share the pics with your friends and family on Facebook or Twitter for them to vote on their favorites. Check out our marketing coordinator, Hilary, in her picks! Pearle Vision offers a clearly different optical experience by helping you find your perfect pair of eyeglasses before going to the store. Try frames online, vote for your favorites, or get a style recommendation at www.PearleVision.com/tryonframes/. Disclosure: Compensation was provided by Pearle Vision via Glam Media. The opinions expressed herein are those of the author and are not indicative of the opinions or positions of Pearle Vision.

Sponsored Post: Find The Perfect Pair of Eyeglasses…From The Comfort of Your Living Room
It can be so hard to figure out what glasses work best with your face shape; do you go with the trendy cat-eye frames or a tried-and-true rimless style? With the Try-On Tool from Pearle Vision you can find the perfect eye wear style for you--right from the comfy nook on your couch. No more guessing and no more wasting time in a store trying on pair after pair to see what looks good. Give it a try by heading to the Pearle Vision Try-On Tool. It's easy to upload your own picture or shoot one directly from your webcam. Then try on all of the most popular styles from top brands, like Prada, Tory Burch, DKNY, and more. It's fast and saves you the time of heading to the store until you are ready to buy. Plus, once you think you've found the perfect pair, you can share your favorite looks with your friends via Facebook, so they can vote on which style they think suits you best before you buy. Still stumped? You can always test out the Pick my Pair Style Recommender that offers a personalized selection of frames that fits your needs. It takes less than a minute to input your information, and in seconds you have a concise list of options to try on. It's perfect if you want to know what glasses are best for your face shape. Check out our SHEfinds Editorial Assitant, Charlotte, in her picks! (more…)
Sponsored Post: Win a $50 Staples Gift Card and Give Your Laptop a Spring Cleaning
Every so often it pays to give your home PC a good tuneup, whether it's been acting a little slow, needs some virus removal, or if it could just use a good cleaning inside and out. All of this can be had with the help of Staples EasyTech services. They offer a number of low-priced, in-store treatments to get your laptop running smoother and faster. When you buy a new PC equipped with the latest Windows OS, you can get free setup and data transfer from EasyTech, too. You might recall that MOMfinds bought a new laptop a few weeks ago and took advantage of that great deal. Plus, the new Windows 7 can really help simplify your computing life if you've been itching to upgrade. Windows 7 features some new tools, like improved search, better desktop navigation, and seamless connectivity between your PCs, printers, and network, making it that much easier for the family to share things like music, pictures, and files. Perhaps the coolest feature, which all of you TV addicts will adore, is the ability to watch and record your favorite shows directly on your computer. So whether you want to get a new laptop and cash in on the great deal we got, or if you just want to spring clean your computer, don't miss this opportunity to win a $50 gift certificate to Staples. All you have to do is comment on your last computer purchase, below. You'll also need to like us on Facebook and sign up for our newsletter.
Sponsored Post: Start Your Family's Day Off Right with Heart-Healthy Quaker Oats Cereal
As an adult, you know how important it is to eat breakfast; it kick-starts your metabolism, gives you energy, and keeps you from overeating at lunch. Kids, however, tend to test every trick in the book to finagle their way out of breakfast. Since moms know best, give Quaker Oats a try. The Instant Oatmeal comes in a range flavors, like Apples and Cinnamon, and it's fast and easy to make when you're trying to get everyone on the bus in the morning. If you have extra time on your hands and want to make breakfast more fun, try the original Quaker Oats and let kids mix in their own toppings, like fresh strawberries, walnuts, raisins, or brown sugar.  Quaker even makes Oatmeal Squares, perfect for a fast and heart-healthy breakfast in the summer months topped with low-fat milk and ripe banana. With so many varieties to choose from, you can't go wrong with Quaker. The complex carbohydrates and whole grains give you and your family sustained energy without the refined sugars and excess fats that you might find in other breakfast cereals. Plus, you're not only giving kids a great start to their day, you're teaching them life lessons about nutrition. Check out what Quaker has to offer by clicking here. You can take advantage of printable shopping lists that will simplify your next trip to the supermarket, and even get coupons for discounts on your favorite product so you can make the most of the most important meal of the day.
Sponsored Post: Magnum Premium Ice Cream Bars
Move over, Häagen-Dazs. There's a new love in my life and its name is Magnum. If you've ever gone on a European summer vacation, you've probably had the opportunity to get to know these delicious ice cream bars, made with ridiculously thick and creamy ice cream and covered in a thick chocolate shell. I've personally had a long love affair with these chocolate-covered beauties and never pass up the chance to try out a new flavor. (more…)
Sponsored Post: Olay Total Effects 7-in-1 Anti-Aging Body Wash & Moisturizer
For the women in my family, Olay has been a favorite brand for three generations. Guaranteed quality at a low price has always been a key selling point. Yet Olay continues to get better, even after all these years. Now, Olay has converted one of their most technologically advanced formulas for your face into a body lotion, giving you the power to soften your way to a more youthful decolletage, firmer looking legs, and head-to-toe softness. The new Olay Total Effects 7-in-1 Advanced Anti-Aging Body Moisturizer does what other body lotions simply can't muster: hydrates, brightens, evens skin tone, smooths rough patches, and fights signs of aging, like fine lines and sagging. Try it for seven days and you'll see improved elasticity, along with a more radiant glow--just the thing to start prepping your skin for spring. Both the body wash and lotion are equipped with VitaNiacin--an age-defying blend of Vitamins A, B5, and B3 to fight off seven signs of aging. Olay's Total Effects Anti-Aging Body Wash and Moisturizer are available now everywhere Olay products are sold.
Sponsored Post: Win a $50 Staples Giftcard from Staples Easytech, A Technophobes Dream
Buying a laptop is easy, right? Pick your favorite model, with the 17-inch screen, slick processor, and you're good to go. But then there's that small nagging detail of your former computer... and the two-years worth (or more) of music, photos, emails, movies, and more buried somewhere on your hard drive. Enter the in-store "Easytech" service from Staples and you can take the hassle out of buying a new computer--while preserving your hundreds of gigs of data and your sanity. Our team hit the local Staples store this week with an old laptop and 24 hours later walked out the door with a brand new, fully equipped, Windows 7 laptop in hand. It was set-up and complete with all the data from the former laptop. Imagine buying a new house and having all your possessions perfectly moved into a new house, for no extra cost and without any smelly moving men. Thanks to a Staples sales associate who was like a walking "Consumer Reports" of laptop reviews, the purchase was a breeze. To top it off, the deal comes with four hours of free online Windows 7 training. All together, the setup, data transfer and training comes to $300 worth of services absolutely free when you buy a new laptop with Windows 7 from Staples. We're giving away $50 to Staples just for commenting about your last computer purchasing experience, below. You'll also need to like us on Facebook and sign up for our newsletter.
Don't Store The Boots Just Yet.. These Three Work In Warm Weather Too
The transition from winter to spring is inevitably unpredictable, which is why having a great pair of boots is key to surviving March, April, and so on. And now is the best time to buy as the season is coming to a close. Below are three boots perfect for pairing with warmer-weather dresses. 1. The studs on these Buckle Ankle Boots ($585) add necessary edge to this filrty coral Silk Flutter-Sleeve Dress ($130). And yes, you can wear suede after February. 2. For a more casual look, pair calf-length tan Andy Boots ($125, were $300) with a Floral Print Shift Dress ($68). 3. Combining black and white is a fail-safe option, so ground this ethereal Guy Baxter Shift Dress ($87, was $431) with some comfy Black Canvas Booties ($68).
What To Wear To: Nail The Interview
If you're one of the millions of Americans competing for jobs right now, you'll want to look extra sharp for your next face-to-face. And what you'll need more than anything in the coming months--aside from that stellar job offer--is the outfit to catch your future employer's eye. Here are two looks that are sure to impress, depending on the type of job you're seeking. Corporate: The business world requires you to be conservative, but that doesn't mean you have to wear a boring, buttoned-up suit to the interview. Show some semblance of a personality with a colorful silk twill blouse ($69) paired with classic black trousers ($55.30, were $79) and a crisp white blazer ($395). Opt for a burgundy patent bag ($190, was $350) big enough to fit your impressive resume, and wear comfortable, attractive pumps ($140, $295) that give you some commanding height. Creative: For a more creative job, try a fashion-forward approach to display your artistic side. This graphic shift dress ($150) is an ideal choice when worn with matte black tights ($14) and black booties ($198). Add some modern jewelry like a gold cuff ($23) and beaded necklace ($32), and finally, grab your most professional roomy bag ($237, was $525).
Rock Harem Pants (Without Looking Like MC Hammer)
Harem pants (aka genie pants) are back in a big way for 2009, and while they look ideal on long, lean figures, even those of us with a little extra padding can enjoy the billowing lines of these cuffed trousers. Making the look work depends on how you pair them, and of course, personality plays a large role in how you feel in them. These pants are ideal for transitional weather, as you can wear them with booties and a sweater in the cooler months, and strappy sandals and a tank as the weather warms up. With delicate jewelry, leaner lines, and heels, you can wear these Diane von Furstenberg harem pants ($165) out to dinner and a movie with your beau. This look closely resembles a loose-fitting tapered pant. Pure boho casual for the weekends, the wide cut of these linen pants ($69.50) complements drapey tops and sweaters, but also can juxtapose a form-fitting turtleneck or tee, for example. Bebe offers this unique cropped pair ($89) in silver that is befitting for a night out for cocktails when worn with a sharp blazer and strappy heels. Disclaimer: Please note that harem pants are not the same as parachute pants; the saggy, just-pooped-your-pants-look is not flattering on anyone. Period. Here's an example of what not to wear.
What To Wear With: Red And Pink (Yes You Can Wear Them Together)
When I was a little girl, I thought red and pink together was genius. My mother... not so much. But we promise you - and all the mothers out there -red and pink DO look cute together if done right. So here's how to make it work: Tone It Down: Use black, metallics or neutrals to help chill a seemingly contradicting color combo. Don't go overboard by matching your outfit to red and pink accessories. Play: Give this style a chance by experimenting with what you have in your closet and shopping for complementary hues in stores. Don't wait until Monday morning before work to try it out.Harmonize: Try wearing solid pieces in pinks and reds of the same brightness or intensity to create balance. Don't mix prints of red and pink together--that's just asking for trouble.For the office, pair a bold red knee-length skirt ($90) with a classic pink ruffle blouse ($54). Wear a crisp black blazer ($138) over the ensemble and slip on a pair of modern suede heels ($140). Finish the look with some metallic cuffs ($35) that will bring just enough sparkle to the outfit. If you're going for a more toned-down appearance, opt for muted tones and match a baby pink skirt ($117, was $234) with a deep red, almost burgundy, top ($178). Throw on a cozy taupe cardigan ($331.80, was $829.50) and some fun leopard print ballet flats ($134, were $259). Finally, grab an understated metallic bag ($695) and wear your pink and red combo with pride. And check out our post on what to wear with red (it is, after all, National Wear Red Day).
Halston Fall 2008 Hits Net-a-Porter… And Sells Out!
The iconic looks of Halston got the fashion world riled up back in February when news of a relaunch was announced. Despite mixed reviews and exorbitant prices SheFinds was still elated to hear that the pieces would be available on Net-a-Porter, from chic jersey dresses to sumptuous suede accessories, which can still be had here in case you missed the action. The Fall 2008 collection features typically elegant Halston fare in a palette of muted earth and jewel tones: sleek separates like turtlenecks, pencil skirts, suit jackets and wide leg trousers, classic drapey gowns and dresses, and even a stealthy trench. The collection has now been made available on Net-a-Porter, but is currently sold out due to popular demand. Gotta have it? Be sure to check back at SheFinds later this summer for an update on availability so as not to miss out on your favorite looks. Not up on Halston's latest looks for fall? Visit Halston.com to get inspired (and to get your credit card into shape) for when the collection is back up at Net-a-Porter.
Nice Coat, Ms. Michelin. Try Some Puffy Options That Don't Make You Look Like A Marshmallow
Michelin Man coat? Bad. Puffy coat that still shows your curves? Good. For those in need of a demonstration, behold the dos and don'ts of donning winter's favorite puffy jacket.Exhibit A: Short Coats I'm not sure what was going through the minds of the designers when they created this LaRok Puff Breaker jacket ($268), but it reminds me of Missy Elliot's Supa Dupa Fly get-up--you know, the black Hefty bag? A better (read warmer, more sophisticated and stylish) option is the Nine West Cropped Puffer jacket ($80). It has long lines and plenty of warmth, but the unique wrap shape gives the impression that you still have a figure under all that polyfill. Exhibit B: Medium-Length CoatsI understand Helmut Lang is a very prestigious designer. This $500 coat, however, looks like a big, ugly sack. Who wants to spend all that time at the gym if your new-found size 4 looks like a 16? If you're going to wear white--which looks uber-chic in winter--at least make it a crisp white with pretty accents and a tailored fit. This Juicy Couture Angel Button Puffer Coat ($400) is a fine example. For girls on a budget, check out this longer-length Mossimo look-alike at Target ($50). Exhibit C: Long CoatsWhy? That's all I can say. Kira Plastinina seems to have gotten a little carried away with the pouf in this black camo puffer coat ($118). Much preferred is this streamlined Kenneth Cole New York Long Puffer ($228) with a cinched waist and high collar.I rest my case.
Nothing To Wear? Go For Bargain Vintage At Ruche.com
OK, so Ruche.com doesn't sell vintage goods per se, but the duds it sells definitely have that vibe. More importantly, the prices can't be beat. This heart locket for example? $13. The inspirational ring? Only $7. And shipping is just an additional $3 to $7 depending on how much you spend. The best part of this online boutique--aside from the really chic, yet earthy fashions and ultra-low prices--is the "Outfits" page. Truth be told, I really wish I could afford a personal stylist to make my mornings easier. Alas.... until then, the folks at Ruche.com have me set. This "Ruche at Work" ensemble is darling and very work appropriate. The cream flutter sleeve shirt, ($30) purple suede t-strap heels, ($37) and high waisted black skirt ($30) go perfectly together, and those peacock feather earrings ($13) are simply fabulous.But this is just a taste of what Ruche has to offer. Go shop Ruche.com for yourself. It's a guilt-free way to get those vintage-esque looks you crave when you're short on cash or stuck for style inspiration.
Don't Let That Blazer Just Sit In Your Closet… It Deserves Much Better
I have always had a blazer--or three--in my closet. It has taken me, however, years to finally assimilate the piece into my fashion repertoire. SheFinds already showed you how to sport a blazer for a formal (and patriotic) night out, but wearing it casually is something that takes time. Once you learn to wear a blazer, though, it can carry you through years of I-have-nothing-to-wear days. This impeccably crafted Twenty8twelve Calandra Blazer ($290, was $470) can be dressed up or down for an office-appropriate look or something you can wear out on a Friday night. Underneath, throw in some color with a satin belted tank ($40). On the bottom, try a pair of grey pants like these gabardine wool BCBG slacks ($142) for work. For something less dressy, grey stovepipe jeans ($115) and booties ($128) will look a little edgier. Silver earrings ($35) and necklace ($59) finish both ensembles. And for a warm palette, try this Alvin Valley brown stretch gabardine peak lapel blazer ($250); it still has a classic shape and can easily be dressed up or down with something like crisp beige slacks or blue jeans. Check out some budget-friendlier blazers below:
What Are Your Favorite Sports Bras?
In the past SheFinds has brought you comprehensive reviews of the best underwear, bras (even for big busts) and slimming shapewear. Now we're on a quest to find the best sports bras. All of you ladies out there into staying fit have surely gone through a sports bra or two -- I know I have. Since we can't possibly test all the bras out there (although we are trying), we need your help to decide which should be honored with the prestigious title of "The Best Sports Bra." So you spinning junkies, aerobics-aholics, seasoned marathoners and exercise newbies, let your voice be heard! Email me at [email protected] to vote for your favorites!
The Must-Have Winter Boot: UGG® Nightfall
UGG® Nightfall and all the top winter boots here! What: UGG® Australia Nightfall Why: Are those UGG®s from last season looking like you haven't taken them off since you've bought them? Then it might be time to invest in a second pair. If you've never bought a pair of UGG® boots, pay close attention to the following sentence: These are quite possibly the most comfortable pairs of winter boots ever made. Let me retrace my steps and explain where I'm coming from. Ever heard of Sorels? Mom, I'm sorry, but I have to be honest -- they were never cool looking and they were heavy, clunky and still rarely kept my feet that warm (or dry) despite your best intentions. These lovely boots by UGG® Australia, on the other hand, are not only fashionable, comfortable and warm, but they are lightweight and easy to move in. You can easily wear them on your commute without fearing you'll look like the abominable snowman and if you're late for the bus, you can run without the fear of falling on the slippery snow (or slush, depending where you winter). Price: $200 Get Yours: UGGAustralia.com More from SheFinds: The UGG® Guide
YESSTYLE Offers A Unique, Welcome Break From The H&M Clothes Everybody Owns
If all I could ever do in life was travel--and shop at the coolest local stores--I would be a very happy lady. Unfortunately, there's this thing called responsibility... and rent. So what could be better than to shop the world from your couch? I recently came across YESSTYLE.com, which offers a wide selection of popular and designer styles from Korean, Taiwanese, Japanese, and Chinese labels--and at great prices. Now, is it me, or do Asian women have the most amazing fashion sense? I never fail to marvel at their ability to not just find the most unique clothes, but to wear them in ways that I would never have imagined. And that's so refreshing in a daily sea of H&M frocks. This Soloist Alpaca Wool Coat ($126), has a comfy long, loose fit. With all of the ways you can wear it, tell me it's not fabulous. (FYI, it's not made of real alpaca.) This very Parisian-chic Celli Cowl Neck Knitted Dress ($45) looks great over skinny jeans and has the perfect laid-back, yet fashionable vibe for a weekend around town. Demure, but really cute in an innocent sort of way, this Raikenz Mandarin Collar Belted Dress ($91) comes in three colors and is made of a cozy wool blend. Perfect for winter. YESSTYLE.com offers free international shipping. Yes, you heard right. Now go check it out!
Don't Let Animal Prints Freak You Out: Start Slow With Accessories
Last week we showed you what to wear with an animal print blouse. But if this bold trend still makes you nervous, you can add a hint of the exotic to your look by way of accessories. Retaliers are offering up some of the chicest styles we've seen yet. These Dolce & Gabbana Contrast-Trim Leopard Pumps ($695) feature pony hair in leopard with top-stiched leather trim and a fashionable stacked heel. They're the perfect combination of sex appeal and smarts.Add animal to your everyday with this Dooney & Bourke June Bag ($225). It also comes in fun giraffe and leopard prints, and will prove to be surprisingly versatile.Exotic doesn't always have to come from the expected, and feathered earrings are far from it. Urban Outfitters' Feather Filigree Earrings ($15) feature natural feathers and baby jewels.
Fashion Top Five: Statement Jewelry
More is less? Not this season. The bigger, more colorful, more sparkly you can find, the better. Below are our top five picks for no-holds-barred, unapologetic adornment. This shimmering Fossil Crystal Ball Cocktail Ring ($36) is ultra-glam and very in for fall. Pin on a gorgeous brooch to spice up a blazer or a shift dress. Ann Taylor's Cabachon pin ($34) is super retro, and the perfect rich color for fall. How about a decadent gold Peacock Brooch Necklace ($98) by Banana Republic? Its big, bold style is just the right impact for a new season. Or consider glamming up your wrist with a dreamy Kara by Kara Ross Pearlised Anaconda bracelet ($315) in 18K gold with tiger's eye accents. And these glitzy, geometric Disco Chic Earrings ($5.80) will revitalize any tired LBD.
Keep Your Head Warm And French-Looking In A Beret
Now that cold weather has officially arrived, it's time to start thinking about fall accessories. And what wardrobe addition could be better than a beret? They are an easy and fun way to dress up your look, and depending on the style, they can convey very different moods. What's your beret style? ClassicBlack is the easiest thing to pair with everything. This classy beret ($188) will dress up any look - and keep you warm in the process. SexyThis beret is pretty simple; a touch slouchier and less structured than a classic style, but made of 100 percent cashmere in an eye-popping candy apple red ($75). Casual ChicThis chunky, multi-colored beret ($38) is laid back, but cool. Pair it with your favorite flat boots and jeans for the ideal weekend ensemble. Not your style? Here are many more styles to suit your fancy.
Own An Eco-Friendly Tote? Who Cares… Unless You Use It
Today, Whole Foods premieres an exclusive reusable bag designed by crooner and environmental activist Sheryl Crow. In honor of the release, we picked our favorite eco-friendly totes - but keep in mind, you actually have to use them in order to remain faithfully green. If you buy one, but don't use it, it's just another waste of production materials and another big black carbon footprint on your bill.Envirosax: Sturdy, durable, tiny, and great looking. I use mine all the time and for $10, it's the cheapest way I've found to help cut down on plastic. They also make an organic hemp version. Acme Bags: Made from recycled bottles and containers, this bag boasts 98% post-consumer product and fair-trade production. It's plain black, but it'll match everything and costs a mere $15. Skeeda: This bag ($15) is also available in a bunch of unique colors and prints. Plus now through Jan 1st, purchase the bag below and a percentage of the proceeds will go to Count Me In to help women entrepreneurs.
Week Of What I Wear To Work: How A Grad Student Dresses Smartly
As a grad student there are three things that inevitably influence my choice of dress:1. If it's not on sale, forget it.2. I don't get paid to sit through three hour lectures and live in the library, so comfort is paramount.3. At this stage in the game, you have to look the part. Suits are slightly overkill, but looking polished and put together is of utmost importance.Slim cut, dark wash jeans or dress pants with a touch of stretch are clean looking, but easy going. These Diesel Lowky Jeans ($167) are hot, but classy. With jeans, a tailored suit jacket or wool blazer ($235) looks smart over a plain white tee ($49).Depending on where I plan to wind up after class, I choose between cute, no-fuss flats (for a date with the library) or classic pumps ($55) (for drinks with the girls). Jewelry stays simple with plain diamond studs ($195) and a pendant ($698). As for the rest of the accessories, a big, sturdy bag ($40) is a must for my books, and a scarf ($87) for cooler days is crucial. The outfit isn't complete without a classic trench ($225) to bring it all together.
Halloween Costumes: Dress Like A Moose Huntin' Maverick… A.K.A. Sarah Palin
For all of you wannabe politicos out there, there's no better Halloween costume than, you guessed it, Sarah Palin. While everything you would need to get the look can be purchased here, you'll need to supply your own Alaskan accent. Faux shotgun or hockey stick optional.Start off with her signature 'do. This Raquel Welch Valentine wig is a dead knock-off of the governer's cut and color. Next up, and key for nailing the look, are her Tina Fey glasses. The actual Kawasakis she wears are hard to come by (and quite expensive) but you can opt for some cheap Governess specs from BleuDame.com for just $14.80. As for the clothing, a conservative dress suit is the only way to go. This may not be a bargain costume, but if you find a suit you might actually wear again, it could be an entertaining, but also worthwhile investment. This Tahari suit ($280) would be a great pick... although it might be a tad too stylish, even for Sarah. Add a pair of Naughty Monkeys ($89.95) - Palin's preferred footwear. And don't leave home without your signature Real Women Hunt Moose Tote ($17) to carry around all your Halloween treats.