As much as we love to look back on the year's best dressed celebs, we figured we'd round-up the worst dressed ones too:
Jessica Simpson: Repeat Offender
Come on, Jess, printed tents and picnic blankets do not make maxi dresses. Too bad you didn't learn that the first time.
Lady Gaga: Most Likely To Get Stopped In Security
Whether its 7 inch platforms or a white lace bra, neither of which are quite airplane appropriate.
Britney Spears: Lifetime Achievement Award
Yikes – we think a Dr. Phil "What Were You Thinking?" intervention is the only cure for Britney's poor fashion choices.
Madonna: Head-To-Toe Hot Mess

The queen of pop really has no other excuse as to why she combined swishy pants, argyle socks, and a fedora. And if she does, she should lie.
Dancing With The Stars: Worst Of Prime Time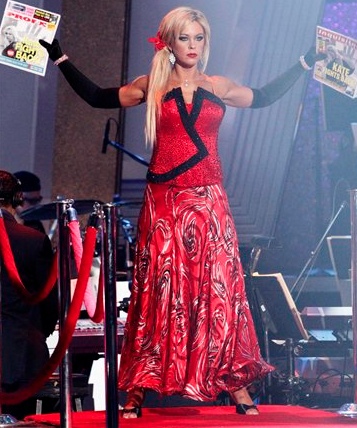 Although we love see Kate Gosselin make a fool or herself, these 16 worse DWTS outfits were hard to watch.
Christina Aguilera: Worst Coffee Run

It looks like Christina is hiding more than just a genie in a bottle under her extremely baggy sweats.
Lindsay Lohan: Most In Need Of Fashion Rehab
Lilo's beyond ugly outfits might have something to do with why she's isn't Hollwood's next It Girl.
Miley Cyrus: You Can Take The Girl Out Of The Country…

Miley, we get it – you have nice legs. Stop dressing like a hooker to show them off.
Gossip Girls: When Good Girls Do Bad Things

Blake and Leighton are going to start their own gossip in these dresses, which should have been left in the bedroom.
Katherine Heigl: Worst Cupcake-Like Confection

The brown hair aside, we'd rather see Heigl's ruffled cupcake dress at a birthday party than on the red carpet.
For more holiday must-haves, check our Sold Out list, more Going Going Gone posts, and then head over to our guides of the best cocktail rings, party dresses, earrings, party shoes.