Shopping for new tops and blouses can be a hassle, especially if you have big boobs. Most tops fail to cover your boobs properly, leaving you to display way more cleavage than you intended. Or, they're really uncomfortable. You have to avoid certain fabrics that are restrictive and feel like they're suffocating your boobs. Plus, certain styles, like button-up shirts, never look as good on girls with a bigger busts as they do on girls with smaller chests–and we all know what I'm talking about with that!
And, if you find tops that are designed for big boobs, they often look like they were meant for your grandma–and not in a cool, stylish way. Seriously, sometimes it feels like us chesty girls can't win!
Thankfully, brands like ASOS offer an amazing solution to this common shopping dilemma. Their ASOS Fuller Bust line is every big chested girl's dream; it's filled with comfortable, stylish, flattering and affordable pieces for cup sizes DD-G. We did a little digging (because we always love an opportunity to online shop!) and found some really cute tops from ASOS' Fuller Bust selection. Here are some of our faves:
ASOS Fuller Bust Sleeveless Shirt in Stretch Cotton ($26)
This trendy top is made with 100% stretchable and breathable cotton that won't make your boobs feel trapped. It's a wardrobe essential and can be paired with so many different outfits for different occasions. You can rock it during a big presentation at work, or out to brunch with your friends. Trust us, shirts like go well with everything in your closet!
ASOS Fuller Bust Luxe High Neck Blouse ($48)
This high neck blouse is perfect for the office, or even for a fun night out the town. It features trendy ruffle detailing and an open back to help you make a stylish and bold entrance.
ASOS TALL Fuller Bust Double Pephem Top ($45)
This top was designed with all of the tall and busty women out there! It's got a flattering peplum hem and can be worn when you want to impress at the office, or if you want to look super cute at your next big event. Wherever you decide to wear it, know that you'll be fully supported, covered and on-trend.
ASOS Fuller Bust Deep Plunge Lace Insert Camisole Tank ($45)
Bring the heat with this plunge neck tank top. We're obsessed with it because of its sexy, sheer lace trims. Wear this top when you're grabbing drinks with friends, or if you've got a tropical island vacation coming up!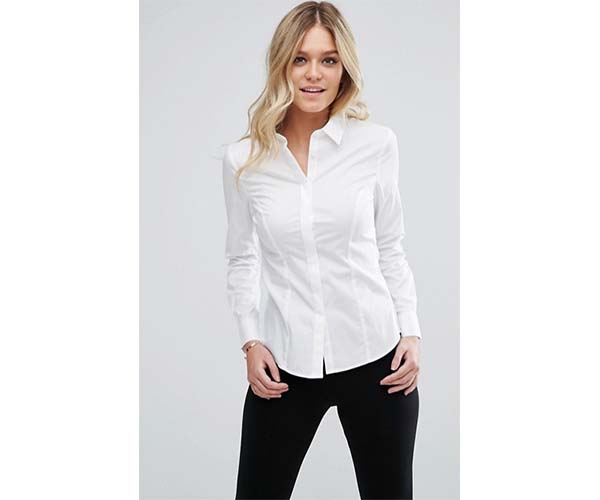 ASOS Fuller Bust Long Sleeve Shirt in Stretch Cotton ($29)
Like we mentioned before, button-up shirts are never kind to women with big boobs; it usually results in an uncomfortable fit and "Button-Down Boob Gap" as Buzzfeed calls it. If you need a new button-up shirt that will actually fit and keep everything in place, this ASOS Fuller Bust Long Sleeve shirt should be on your radar. It's made with breathable stretch cotton, but still offers a slim fit so you can pair it with your favorite jeans and trousers for a put-together look.
ASOS Fuller Bust Smock Cami in Cotton ($23)
Summer is just around the corner–kind of, not really. But when it does eventually get here, you're going to want to have this cute smock cami on deck. You can wear it to the beach, on a bike ride and any other fun summer activities that fill your itinerary. Its wide straps will keep your boobs secure, while also allowing you to show some skin without worrying.
And, while we've got you in the shopping mood, you should definitely check out the best swimsuits for women with big boobs and other big boob-approved tops at SheFinds.com
SheFinds receives commissions for purchases made through the links in this post.