The Rails craze continues! Beyonce wore a Rails Shirt in Hunter Plaid ($128) and she took it a new direction from all those other rails-obsessed celebs (Kourtney Kardashian…) and paired it with a gray leather skirt and booties. Her 'casual' outfit puts everyone else to shame. Also, this tartan shirt is a great fall color so even if you own a rails shirt (or two, or three), it is still worth it. Haven't joined this club yet? Shame on you. Snag this below and enjoy the baby face softness of rails!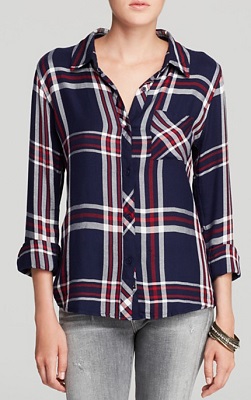 Rails Shirt in Hunter Plaid ($128)
Don't miss Emily Blunt's shearling vest, Kourtney Kardashian's $31 shirt, and Olivia Palermo's hat.
[Photo: Splash News]