Stan Smiths are a footwear force to be reckoned with. Run errands on any given day and you'll see at least 5 people tutting around in a pair of them. But when 90 percent of the shoe is white, you know right when you buy them that their pristine color is going to fade faster than you can say, "where's the bleach?" Even walking around in them outside for a brief period of time can make the soles super dirty. Like any form of cleaning for shoes and accessories, you run a large risk of making your beloved item even dirtier or ruining it completely. We already covered how to clean the soles of your Stan Smiths, so avoid any further potential shoe meltdowns and get your entire kicks back to their true angelic color with these steps.
The same tools for cleaning the soles of your Stan Smiths still apply to the rest of the shoe: dish soap, a bowl of water, a wash cloth, and a towel. You can also use a toothbrush for an even deeper (but more time-consuming) clean.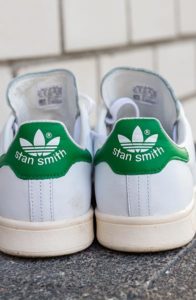 Pour dish soap into the bowl of water. Then, take off your shoelaces so you can cover all areas of the shoes with more flexibility, especially the tongue so you have better visibility of Stan Smith's face (very important). Dip a wash cloth into the soap and water and scrub your heart out, thoroughly covering every part of the shoe. Make sure the wash cloth has plenty of soap, but not too much water. If you would rather use a toothbrush, follow the same procedure and scrub all the tiny nooks and crannies. When you're done, pat the shoes dry with a towel and let them air out for a few hours.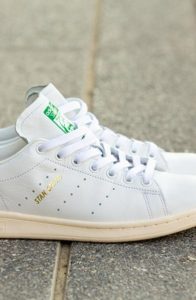 If you notice a stain on your formerly spotless Stans, you need to treat it ASAP. A Tide To Go pen can work wonders on any fresh spots, so act fast before they get ground into your shoe permanently.
Cleaning the laces will also help restore your shoes to their former glory. Having crisp, white Stan Smiths with grungy looking, dirty laces is like getting a car wash on only half of your car. It just doesn't look right. On the bright side, you can stick your shoelaces in the washer, so you can give your hands a rest and not have to have to worry about scrubbing them manually. Put the laces in a mesh laundry bag and let your washer work its magic. If you're really getting into the cleaning spirit and are on a roll, you can scrub your shoelaces clean with a toothbrush, toothpaste, and a little bit of elbow grease. Either way, hang them to dry on a towel rack and then return them to their rightful spot on your shoes.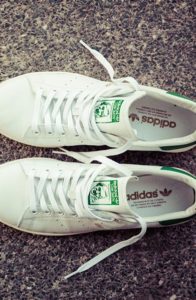 To give your Stan Smiths a full spring clean, you can also get rid of any odors they might have picked up from your feet. Because sneakers aren't fully clean if they have a stanky smell attached to them. Stick a dryer sheet or baby powder inside your Stans overnight. Come morning, they'll smell like you've never even stepped foot in them before.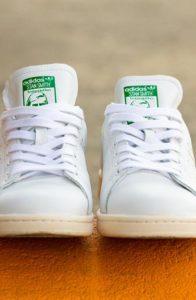 READ MORE: How To Clean Converse