For many women of a certain — yet fabulous — age, there may come a time where a makeup overhaul is necessary. As skin changes, the products you once reached to as your tried-and-true staple may no longer be the best choice for your skin's texture. Because our skin tends to become drier with fine lines and wrinkles popping up as we age, knowing the type of makeup products to create a youthful, radiant glow is a must.
If you've swapped out your foundation, makeup brushes, and mascara for the latest age-appropriate pick, it's time to do the same for your blush. And while many women shy away from blush because they think it may "age" them, there's an arsenal of makeup hacks out there to make the most of using blush to achieve a youthful appearance!
Ready to turn back the clock? Here are 4 blush tips for achieving an instant glow: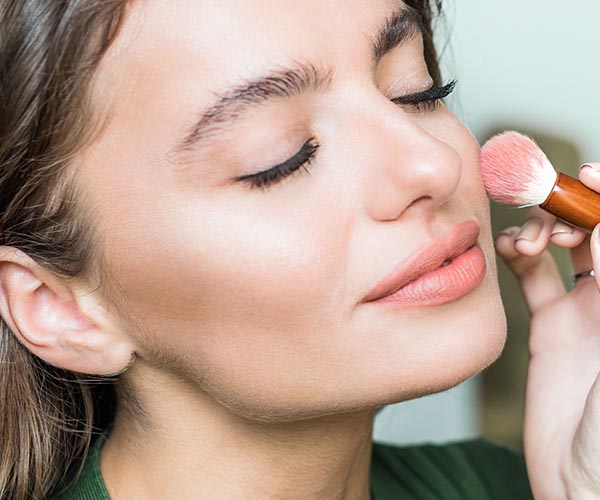 Shutterstock
Switch Up Your Formula
Once upon a time using a powder blush formula may have done the trick, but it's best to opt for a cream-based blush instead. Powder formulas (both blush and foundation) tend to cause the skin to look dry, which in the case of mature women isn't exactly the look we're trying to achieve. A hydrating, pigmented cream-based blush is the easiest way to perk up your makeup look with a pop of long-lasting color.
We love this nourishing Multi-Stick formula from ILIA and it's available in eight flattering tones!
TRY IT: ILIA Multi-Stick ($34)
Shutterstock
Hydrate
Of course, it's crucial to prep your canvas with a hydrating moisturizer. Even with a cream-based blush, more attention will be drawn to dry spots and fine lines if your skin isn't quenched.
Start your makeup routine with a drink of moisture for your skin by using Tarte's H2O Hydrating Boost formula. From there, you'll be prepped with a moisturized canvas ready for makeup without creasing. Not feeling a full-face? Moisturize your skin thoroughly and swipe a dab of blush on the apples of your cheek for a dewy glow.
TRY IT: Tarte Drink of H2O Hydrating Boost Moisturizer Sea ($39)
Use An Angled Brush
If you've found a powder formula that does the trick and don't want to switch it up entirely, then why not revisit your application techniques? Rather than an oversized, fluffy blush brush, you'll want to get one designed for contouring and blending, like this one from e.l.f. Cosmetics.
Simply tap the excess powder from your compact and apply it to your cheekbones to the temples with light-as-a-feather brush strokes. The secret to maintaining a youthful, anti-aging blush look is the "less is more" approach and instead, relying on strategic placement to show off your facial structure!
TRY IT: e.l.f. Cosmetics Blush Brush ($3)
Shutterstock
Play With Different Shades
One of the easiest ways to upgrade your blush to its utmost anti-aging ability is to ensure you're grabbing the right shade. While it's dependent on your skin tone, a good rule of thumb is to opt for a subdued shade that complements your natural coloring — meaning this isn't a time to reach for the poppy-pinks.
Instead, opt for glowing, buildable shades like this one by Charlotte Tilbury to guarantee a youthful glow and highlight. Even though it's a powder formula, the compact is hydrating enough for even the most sensitive of skin.
TRY IT: Charlotte Tilbury Cheek To Chic Blush ($40)
SheFinds receives commissions for purchases made through the links in this post.