What can be worse than hair breakage? No matter how well you think you're treating your hair, most of us find thinning strands or breaking ends. This happens for many reasons, the most common one being heat damage from the use of blow dryers or hair straighteners over a long period of time. Even though you make your best efforts to protect your hair from heat, damage can still occur after a while. Chemical treatments like dyeing or relaxing your hair can also cause breakage or shedding in your hair, and sometimes simply dry, winter air is the cause of all your hair problems – including breakage.
No matter what is causing your hair to break or split, you're probably going to want to put an end to it, ASAP. The best way to do this is with a naturally-derived hair oil, but those can often set you back a few bucks. Well, lucky for you, we've found an amazing, AFFORDABLE, hair oil on Amazon that has a ton of great reviews because it can fight the causes of breakage and thinning in just one use! Called the OGX Damage Remedy + Coconut Miracle Oil, this hair oil is about to become a part of your daily hair care routine.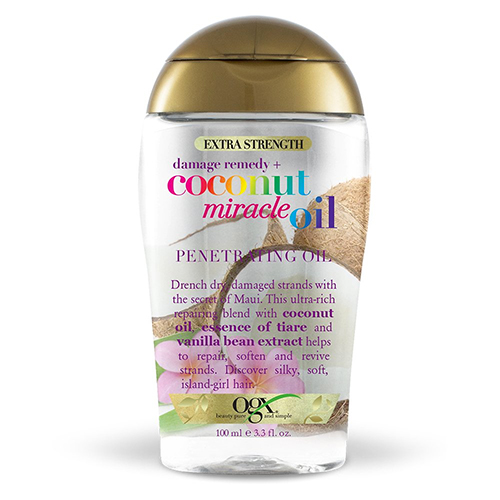 OGX Damage Remedy + Coconut Miracle Oil ($6.49)
What The Best Hair Oil Does For Thinning Hair
The OGX Miracle Oil uses a natural yet rich blend of coconut oil and vanilla extract to deliver powerful hydration to your hair, leaving it with an overall healthy look that is soft and touchable with the right amount of bounce and shine. It is designed to work with your hair's natural properties to make it look like its best self.
Key Benefits Of The OGX Damage Remedy + Coconut Miracle Oil
- Delivers healthier-looking hair with an ultra-rich blend of coconut oil and vanilla extract
- Remedies damage for a look that is high in moisture, with a shining finish
- Leaves hair soft to the touch with perfect texture
Shutterstock
Promising Reviews
"I have used this particular product line for several years. Recently, I noticed my hair showing signs of damage, even with it being "virgin". I trust this brand so took a shot. After ONE use my hair was almost as good as before I started having problems! I got all the ladies in my family a bottle for the holidays. Hope they LOVE it too!" - J.N
"I have big, long, thick, 45-yr old Italian hair and washing/conditioning/styling it is a CHORE. I also work ridiculous hours and sometimes the extra time needed to 'do my hair' is off the menu. This little can of hair-joy is AWESOME. I smells wonnnnnnnderful, it aerosol-sprays a strong, well-controlled, superfine dose (use short blasts!) that smooths and shines my hair perfectly, right where I need it to." - K
"I have loved OGX products for a while now. I used to use the regular coconut one until my sister told me to try a new shampoo since I started using color in my hair and it started to get damaged. I should not have listened to her. I used a bunch of different products from expensive organic shampoos to non organic shampoo. After trying for 2 1/2 years I decided to give up and go back to my original shampoo. When I was looking to purchase I found this miracle. I've been using it for about two weeks now. My hair is damaged dry from the bottom and oily from the looks and this has helped it a lot. I also have wavy/curly help and it tangles a lot and this shampoo with the conditioner help with the tangles. Once my hair dries it feels weightless and super soft. I can feel the ends of my hair soft again. I highly recommend this product." - Diana