No matter your politics, if you're a woman who loves lipstick you are probably asking yourself, "What lipstick is Alexandria Ocasio-Cortez wearing? Because I must have it RIGHT NOW."
Who Is Alexandria Ocasio-Cortez?
In case you don't know who Ocasio-Cortez is, she just unseated a long time Democratic Congressman for New York in the House of Representatives. She is 27 years old and a force. She also loves a red lip–as do I.
What lipstick was Alexandria Ocasio-Cortez wearing?
Ocasio-Cortez shared via Twitter that the lipstick she wore on election night is Stila Stay All Day Liquid Lipstick in Beso (which means kiss in Spanish!).
https://twitter.com/Ocasio2018/status/1008390250589249538?ref_src=twsrc%5Etfw%7Ctwcamp%5Etweetembed%7Ctwterm%5E1008390250589249538&ref_url=https%3A%2F%2Fquartzy.qz.com%2F1317281%2Falexandria-ocasio-cortez-name-dropped-a-stila-liquid-lipstick-and-it-sold-out%2F
She's worn it on several occasions, actually–it's her go-to lipstick:
What does Stila Beso look like on a medium skin color?
I was able to get my hands on the color; here I am rocking it (below). I'm of Indian descent and have medium skin color. I also happen to be 47 years old. Here's what Stila Beso looks like on someone who isn't 28 years old, FYI:
It turns out that I had heard of this lip color before because there had been a big email discussion in a power woman networking group I'm in called The List about go-to lipsticks for everything from speeches to book tours–basically the lipsticks you need if you plan to kick-ass.
Here are some of their best red lipstick picks – Beso and beyond.
These Are The Best Red Lipsticks, According To Female Leaders:
I'm wearing Stila's beso for my entire book tour. It matches the red letters I had put onto a #SheLikesToWin sweater from Lingua Franca. Every time I get in front of an audience in this color I feel powerful and amazing even if my baby puked on me right before I left the house. I was out in LA talking to TV execs about Charlotte Walsh Likes to Win last week and I think I had the best meetings of my life….I credit the lipstick. — Jo Piazza, bestselling author
In the past couple of years, a bold coral lipstick [editor note: Tesoro shade, not the Beso, but still the Stila] has become my suit of armor when the spotlight is on me. That's a surprise to me, because I literally didn't own makeup until I was well into my twenties. But I've discovered as I get older that there's something about a really great color that's unabashedly feminine and strong at the same time. If I'm going to speak for 40 minutes and do 20 minutes of Q&A, as I did when keynoting SXSW in 2017, I need a sucker that's going to stay put. And if I'm going to go toe-to-toe on the economic and human case for transgender rights and have a state legislator shout at me and refuse to shake my hand, I want to feel badass while doing that. — Jessica Shortall, Managing Director of Texas competes, a coalition of 1,300+ employers making the economic case for LGBT rights in Texas
"The Lip product that lasts forever: Stila Liquid Lipstick. They have a variety of reds that i love, but Besos is my signature lip choice. 'It [Beso] is the ultimate color for brown skin you guys… I love it so much, I'd write a love letter to it.
I also encourage everyone to try a bright pink (Stila Flamingo or Laura Mercier).There's something about a bold/bright lip that feels like it's for no one but me. Which is liberating in a weird way." — Benish Shah, VP Marketing at @raisedreal
"I pulled out a lip pencil that I love, love and said, "I'm having the hardest time finding this exact color in a stain and I'd like to do a stain more because I notice when I do a long book signing lines, etc those pics need to be sharp an hour in". In about 2 seconds, my friend, Benish Shah, who knows everything…gave me the answer. Stila Beso, I had popped it in my Sephora basket and BOOM, lip game perfected." — Nilofer Merchant, Innovation expert; "not everyone will, but anyone can". Author 3 books on #futureofwork. Former @Apple + tech Exec. Speaker @tedtalks. Ranked #22 @thinkers50
Is this the lipstick color of the year? We think so. Shop STILA stay all day liquid lipstick in Beso ($22) now.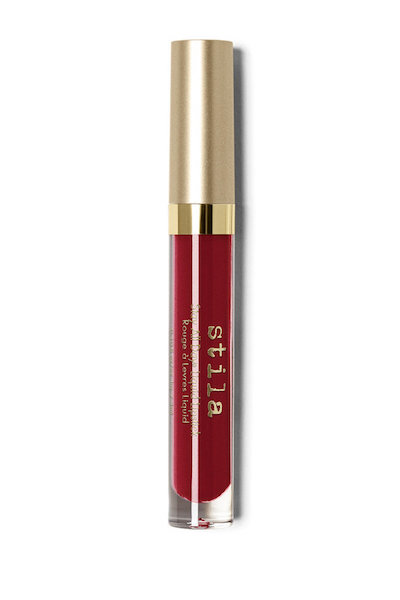 It has almost a 5-star rating on Nordstrom. Customers call the color "beautiful" and especially love the consistency--"It goes on wet but then dries matte."
Get one now: STILA stay all day liquid lipstick in Beso ($22)
SheFinds receives commissions for purchases made through the links in this post.