Everyone knows that they need to cleanse and moisturize their skin, but not many are aware of the importance of using a serum. These powerful anti-aging products are formulated with skin-healthy ingredients, vitamins, and minerals that transform the complexion and keep it protected.
"A serum is a skincare product with a gel or light lotion consistency that contains a high concentration of 'performance ingredients,'" Debra Jaliman, M.D., New York City dermatologist, assistant professor of dermatology at Icahn School of Medicine at Mount Sinai, and author of the book Skin Rules: Trade Secrets from a Top New York Dermatologist, tells Prevention.com.
Benefits Of Serum For The Skin
But, not every serum on the market is going to help you get that radiant, younger-looking complexion that you're after. Jaliman says that it's best to use one that contains antioxidants as they add an extra level of protection to the skin. "Antioxidant specific serums are ones that prevent free radical damage and inhibit oxidation. Free radicals cause damage to the DNA and our cells. Antioxidants complex the free radicals, which are missing a molecule, and neutralize them," she continues.
And, they're an excellent solution for common skincare concerns like wrinkles and uneven texture. "They improve the appearance of fine lines and wrinkles and the overall texture of the skin," Jaliman says. "It's a great treatment for those worried about aging skin. Antioxidants also help boost the immune system from inside and out."
Best Anti-Aging Serum For Mature Skin
Not sure which serum will work for your skin? Sephora shoppers have declared that Omorovicza's Acid Fix AHA BHA Treatment is one of the best available, and it even has a 5-star rating on the site.
Omorovicza Acid Fix AHA BHA Treatment ($115.00)
This multi-purpose glycolic, salicylic, and lactic acid treatment exfoliates, peels, resurfaces, brightens, and visibly plumps the skin. It combines a potent blend of AHA and BHA acids, which work together to combat and reverse any damage caused from the sun, pollution, and acne to reveal glowy, youthful skin.
What people are saying about it:
"I have only had this product for a week, but let me tell you, in that week it has dramatically affected the quality of my skin. Although it's an acid product, it works gently while still being effective. I have acne-prone skin that is sensitive and reactive, and this has helped with the texture of my skin, discoloration, and increasing skin turnover. It is a splurge product, but you really only need 2 drops to cover your entire face, and since you use it only 2 (3 max) times per week, this will last a LONG time. In sum, if you want a gentle, yet effective, way to improve your skin using a night treatment, this is the product for you." - EBee
"My skin had a lot of dark spots, hormonal acne around the chin and it was just dull. Since using this product for twice a week for about 4 weeks now I can honestly say it's a life changer. My acne is just about gone and I don't bother using foundation every day. Just a little concealer under the eyes and I'm out. I have a pretty horrible diet, but I can't wait to see what my skin will look like once I treat it right from the inside out." - Kekes
"Ugh, I know this product is expensive, but it's honestly worth it. I have hormonal acne around my jaw that can be red and painful. I also have closed comedones all over my face as well that are really hard to get rid of, which makes my skin texture rough and gross feeling. I have only used this product twice and I've already noticed a huge difference. My skin looks and feels more smooth already, I haven't had a breakout since using it, the scars are already lighter and the closed comedones are going away, which almost never happens. I wake up in the morning with my skin looking glowy and healthy and it makes me so happy. The product does sting a little bit on application, but it goes away quickly, and it's not overly drying on my dry and sensitive skin. I layer the youth to the people hydrate and glow oil on top and its a gorgeous combination. MUST TRY." - iza99
Now, we know that this product is expensive, but reviewers say that it's worth its steep price tag. If you're not looking to spend your entire paycheck on a new serum, we found some cheaper brands and formulas that deliver the same results: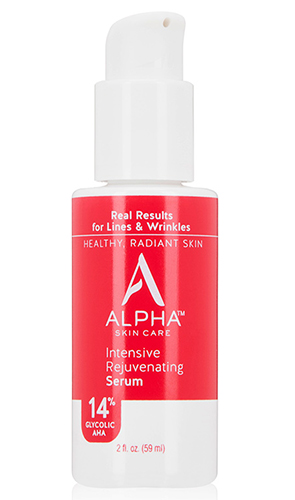 Alpha Skincare Intensive Renewal Serum 14% Glycolic AHA ($23.75)
This lightweight, water-like serum is specially formulated to refine your skin's appearance, improving clarity and texture. Glycolic acid exfoliates dead skin cells to minimize the appearance of fine lines, wrinkles, and large pores. It's also got hyaluronic acid, green tea extract, and aloe vera, which help improve hydration and brightness, repair the moisture barrier and relieving irritation, puffiness, and inflammation.
What people are saying about it:
"I was hesitant to buy this AHA serum at first because I was scared of irritation, but I'm so happy I went for it and even bought the 14%! I have had no irritation at all using 3 times a week. It's a nice silky serum that does not make my skin feel tacky, but soft and smooth. I use before bed and wake up with baby soft skin that has the most amazing glow to it. I highly recommend!" - Melissa W.
La Roche-Posay Effaclar Serum ($44.99)
This serum provides mild exfoliation to help accelerate your skin's renewal process and aids in clearing your skin and revealing a smoother complexion. It gets its power from LHA and AHA-glycolic acids, which work together to tighten enlarged pores, minimize wrinkles, clear skin and enhance radiance.
What people are saying about it:
"La Roche-Posay Effaclar Serum is a product that meets all of my needs. Having oily and acne prone skin combined with aging Effaclar Serum addresses both those needs!! Not only has it improved clarity and texture on my face it has had a great effect on my neck!! I love this product and would suggest it for anyone who has acne plus aging skin conditions!! Thank you to dermstore.com!! You are the best!!" - MF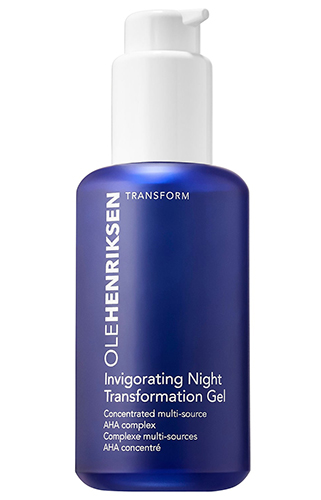 OleHenriksen Invigorating Night Transformation Gel ($48.00)
This potent anti-aging gel uses AHAs to smooth skin texture, even tone, and reduce the look of fine lines and wrinkles while you sleep. Its cooling gel texture is lightweight to absorb quickly, even as it delivers skin-nurturing hydration, allowing you to wake up seeing results every morning after using it.
What people are saying about it:
"Sometimes I wonder if there is anything Ole Henriksen doesn't do better than most everyone else. I tried a few different serums, etc. under moisturizer at night to address early aging and bad texture from old acne scars. When I use this with the Sheer Perfection Moisturizer my skin looks surprisingly good in the morning. I can't use it alone for moisture--it has a more tightening effect. But with the Sheer Perfection, it feels really nourishing." - today123

Are you a fan of any of these serums? Let us know which one you swear by for younger-looking skin in the comments below!
[Photo: Shutterstock]
SheFinds receives commissions for purchases made through the links in this post.