Not sure what to eat to get flat abs fast? A diet filled with anti-inflammatory, protein-packed foods can balance your gut bacteria, help prevent obesity, and provide enough energy to get you through tough workouts.
"If you want your abs to feel flatter, choose foods that will help decrease bloating in your stomach, such as water-packed fruits and veggies," says Keri Gans, RD, a New York City-based nutrition consultant and author of The Small Change Diet.
Getting a stronger core requires a combination of strategies that include a healthier diet that's free from a lot of sugar, alcohol, and processed foods, as well as a balance of cardio and strength training. These four anti-inflammatory foods contain plenty of vitamins, minerals, and protein and are excellent at helping you get flat abs fast.
Watercress
In keeping in line with Gans' advice to eat more water-based veggies, watercress is a fantastic choice. This veggie is low in calories and contains more protein than most vegetables, plus it's a good source of folate, copper, and vitamins A and C. Add it to salads and soups or drizzle olive oil on top and serve it as a light, flavorful side dish.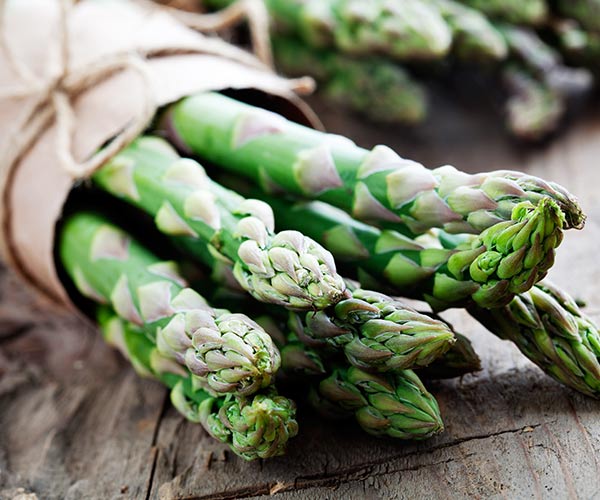 Asparagus
Like watercress, asparagus is a veggie that provides protein, as well as important soluble and insoluble fiber, both of which keep you feeling fuller for longer by slowing down the time it takes to digest your food. Asparagus also contains prebiotics and is an anti-inflammatory food that maintains a healthy balance of good bacteria in your gut. This is the perfect green veg to add to your diet in order to reduce bloating and remove waste from your system, which is key to getting a flat tummy fast.
Bananas
The fiber content in bananas prompts your body to digest food slowly, which makes you feel full and prevents you from snacking throughout the day. Bananas are also, of course, a rich source of potassium and other nutrients, and they can even regulate the amount of sodium in your body, which prevents water retention and belly bloat.
Lentils
Along with beans and other legumes, lentils are the ideal food to fill up on when you want protein, fiber, iron, and vitamins without packing on carbs, calories, and saturated fat.
"They provide a good source of protein and are gluten-free," Dietitian Breanna Crawley told Express. "I'd recommend including them in your lunch as they can be rather heavy on the stomach in the evening."
For more flat belly tips, check out 8 Foods you should eat to get a flat stomach on SHEFinds.com.
[Photos: Shutterstock]