Whether you're just unpacking your swimsuit from last year or have already clocked in major beach time, it's never too late to eat healthier, lose weight, and feel better. When it comes to choosing the best foods for weight loss, you won't find a single nutritionist who knows their stuff pushing non-fat, processed foods your way.
Instead, health experts rely on real, whole foods that can fight inflammation and add all of the right nutrients to your diet.
Here are four anti-inflammatory foods you should start eating to lose weight faster this summer, according to nutritionists.
Shutterstock
Blueberries

Sweet, slightly tart, and bursting with both flavor and anti-inflammatory goodness, blueberries pack a lot of nutrients in a small berry. They also happen to be one of many nutritionists' favorite fruits.

Nutritionist Dana James told Byrdie that blueberries provide "healthy, fiber-rich carbs," while Michelle Babb, registered dietitian and author of Anti-Inflammatory Eating for a Happy, Healthy Brain, raved about their antioxidants: "There are at least 15 different types of phytonutrients found in blueberries and all of them are potent antioxidants that protect virtually every system in the body. Antioxidants guard against damage to cells, tissues, and muscles and are important for cardiovascular health, brain health, and exercise recovery."
Shutterstock
Apples
Turns out an apple a day can do even more than keep the doctor away — it's equally as good for weight loss and weight management.

"An apple a day may keep extra pounds away," Katherine Brooking, RD, co-founder of Appetite for Health, told Health.com.

One apple packs just 95 calories and 5 grams of fiber. And don't skip out on the peel — apple peels contain unsolicited acid, which has been shown in studies to help burn more fat.
Shutterstock
Kale

All leafy greens have off-the-charts health benefits. But if you're looking to add just one new green to your diet, you can't do much better than fiber-rich, vitamins-packed kale.

"Kale contains high levels of antioxidants, which help prevent many diseases, like cancer and heart disease," certified nutrition specialist Scott Schreiber, MD, told Byrdie "Kale is also great for the heart by lowering cholesterol. It promotes liver and digestive health, and it is a great detox food."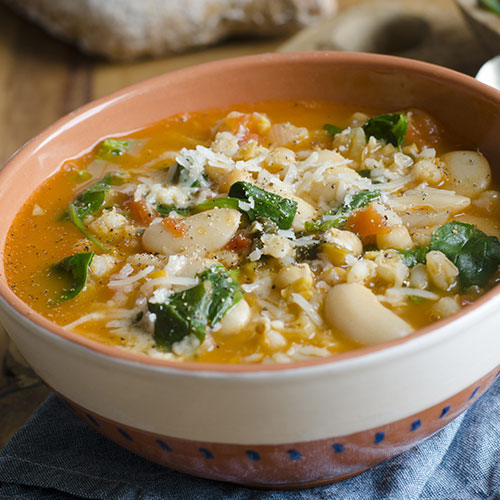 Shutterstock
Beans

Beans are nutrient dense, high in protein that helps build muscle (and burn more fat), and high in fiber, which suppresses your appetite and works wonders on your digestive system.

"Beans are metabolized slowly, so they may aid in weight loss by keeping you feeling fuller longer," Bonnie Taub-Dix, RDN, told Health.com

it doesn't hurt that beans are so versatile. In soups, salads, and dozens of dishes in between, this super healthy food is one you can incorporate into a number of meals each week.