It's the most wonderful time of the year! Yes, I'm talking about summer, but more specifically the launch of the Bath & Body Works' new summer scents. This year, Bath & Body Works took it to a globe-trotting new level by releasing over 53 new products that are sure to take you on a scent-filled journey from the crystal clear beaches of Tahiti, to the nostalgia of an afternoon spent at the boardwalk. The new summer 2019 scents are available in 3-wick candles, hand soaps, and Wallflower Fragrance Plug-Ins, and they all come in new, warm weather-themed packaging.
The summer-inspired launch dropped just before Bath & Body Works Semi-Annual Sale, a.k.a. one of the most exciting shopping days on the calendar! After all, a gal can never have too many scented candles and body lotions, am I right?
Bath & Body Works has been a longtime favorite for everything body care, candle, and skincare related, ever since the days of its Art Stuff glitter roll-on, we all loved! With an extensive catalog of scents spanning decades, it's almost impossible to narrow down what the best Bath & Body Works scents are.
Everything You Need To Know About Bath & Body Works' New Summer Scents
No matter what your favorite scent is, this summer's seasonal launch of new fragrances is sure to shake things up. We've rounded up a few of our picks you'll want to shop before the semi-annual sale, because trust us, they're sure to go fast!
Keep scrolling to learn more about some of the new Bath & Body Works Summer Scents will be joining the brand's other best-selling (& best-smelling) products: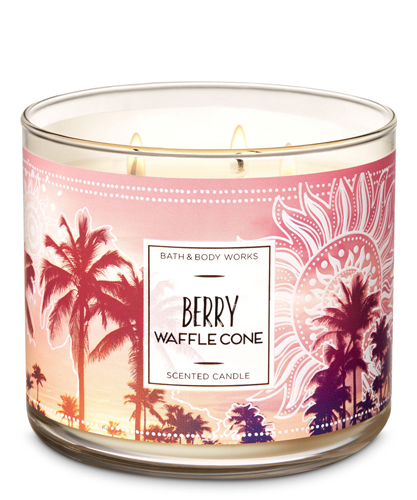 1. Waffle Cone
TRY IT: Bath and Body Works Berry Waffle Cone 3-Wick Candle ($24.50)
Travel back in time to days spent at the shore, enjoying ice cream in a sweet waffle cone, with Bath & Body Works' new Waffle Cone scent. You can get your favorite 3-wick candles and hand soaps in the scent Berry Waffle Cone or Vanilla Waffle Cone depending on your preference.
2. Endless Weekend
TRY IT: Bath & Body Works Endless Weekend Gentle Foaming Hand Soap ($6.50)
Bath & Body Works' new Endless Weekend Collection transports you to your favorite summer vacation with its mesmerizing new scents, each inspired by popular summer travel destinations like New York City, California, Barcelona, Paris, London, Hawaii, and more.
We're loving the California Endless Weekend Gentle Foaming Hand Soap, which features a fresh, floral fusion of white hydrangea, violet blossoms, and sparkling citrus in an adorable souvenir bottle.
3. Coconut Sandalwood
TRY IT: Bath & Body Works Coconut Sandalwood Wallflowers Fragrance Refill ($6.50)
Coconut palm, luxurious sandalwood, and warm musk are the scents at work in Bath & Body Works' new Coconut Sandalwood fragrance. It's also available in a 3-wick candle, which will help fill your home with the perfect blend of summer.
4. White Gardenia
TRY IT: Bath & Body Works White Gardenia 3-Wick Candle ($24.50)
Classic white gardenia, sweet apple water, bamboo, white woods, and a blend of essential oils come together to make this timeless, floral scent. Get the new White Gardenia Wallflower Fragrance Plug-In to fill your favorite room with this amazing scent.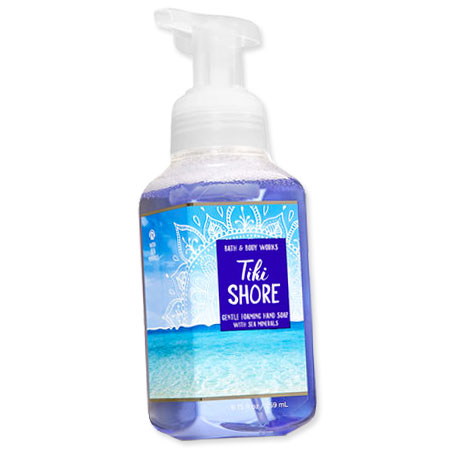 5. Tiki Shore
TRY IT: Bath & Body Works Tiki Shore Gentle Foaming Hand Soap ($6.50)
Tiki Shore is made up of a fruity, seaside blend of coconut milk, vanilla orchid, and golden pineapple. This new scent is available as B&B's Gentle Foaming Hand Soap or its Deep Cleansing Hand Soap, which uses exfoliating pearls to gently buff away dull skin and condition hands.

6. Island Papaya
TRY IT: Bath & Body Works Island Papaya 3-Wick Candle ($24.50)
This tropical new scent is comprised of notes of coconut, fresh papaya, and sugarcane with essential oils. Loving this Island Papaya? You can also get it as a Gentle Foaming Hand Soap, Deep Cleansing Hand Soap, or a Wallflower Fragrance Plug-In.
7. Turquoise Waters
TRY IT: Turquoise Waters Gentle Foaming Hand Soap ($6.50)
Turquoise Waters is described as a calming blend of bergamot, day lily, and sea spray by the brand. This ocean-inspired scent is available has been a part of Bath & Body Works' roster prior to the launch, and is now available as a Gentle Foaming Hand Soap and Deep Cleansing Hand Soap with new packaging for summer 2019. You can also get Turquoise Waters as a Wallflower Fragrance Plug-In if you really love it...
Other Scents Featured In The New Bath & Body Works Summer 2019 Collection Include:
Coastal Watermelon
Juicy Watermelon, Pink Sea Salt, Ocean Waves
Suntan
Sun-Kissed Citrus, Orange Blossoms, Coconut Husk with Essential Oils
Pineapple Mango
Fresh Pineapple Juice, Mango, Vine-Ripened Raspberry with Essential Oils
Beach Sage & Mint
Vibrant Mint Sprigs, Coastal Sage, Crisp Bergamot with Essential Oils
Beachscape
Fresh Sea Breeze, Warm Cotton, Sweet Lotus Flower with Essential Oils
Sea Island Cotton
Clean Cotton, White Freesia, Musk
Almond Blossom
Almond Milk, Coriander, Vanilla Sugar
Salted Ocean Air
Ocean Mist, Summer Winds, Beach Musk
Beach Cabana
Jasmine, Orange Blossom, Warm Sands
Blackberry Garden
Pomegranate, Blackberry Leaves, Chilled Cranberries
SheFinds receives commissions for purchases made through the links in this post.