When it comes to erasing fine lines and promoting younger-looking skin, no anti-aging ingredient compares to retinol. "Retinoids cause skin cells to turn over at a faster rate, decrease oil production, and help skin exfoliate," dermatologist Rita Linkner, M.D., says of the powerful vitamin A derivative. This is especially the case when applying a retinol anti-wrinkle facial serum as they're designed to penetrate deep into the cells to smooth wrinkles and prevent new lines from forming. Need help finding the best affordable retinol serum? It looks like Sephora shoppers have nothing but amazing things to say about The Ordinary's Granactive Retinoid* 2% Emulsion, a serum formulated with a next-generation retinoid active that is proven to reduce the appearance of fine lines without any irritation.
Learn More About The Best Affordable Retinol Serum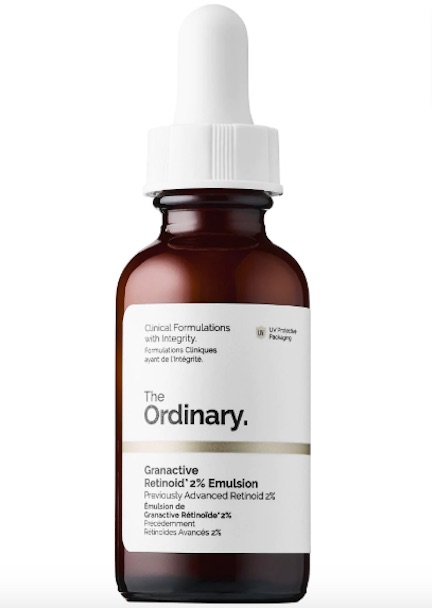 TRY IT: The Ordinary Granactive Retinoid* 2% Emulsion ($9.80)
Shutterstock
Benefits Of Using A Retinol Anti-Wrinkle Facial Serum
How The Ordinary's Granactive Retinoid* 2% Emulsion Works:
-Formulated with Granactive Retinoid, a highly-advanced form of retinoid that is designed to work without causing skin irritation.
-Offers a multi-fold better effect against the common signs of aging including fine lines and wrinkles.
-Also works as a solution dullness and uneven texture.
Shutterstock
Promising Reviews From Sephora Shoppers:
"Very impressed. At 26, I noticed I had some fine lines developing on my forehead. After about a week of use, they are barely visible. I haven't reacted to this product at all. It's texture and scent aren't bothersome. Super happy with my purchase, especially the price!" - SunnyLynn
"I don't typically write reviews but this stuff is amazing! I've been using it nightly for a week and my skin is noticeably smoother, less red, and so soft! You can't beat it for the price!" - courtney10981
"I have been using this along with the rose hip oil, the caffeine solution, and one more of their serums for about 5 weeks now and I have noticed that my skin looks more even and not as textured. I even got a compliment from a woman that worked at Sephora that said my skin didn't need makeup :) I'm not sure if it is specifically this product that is making my skin look better but I recommend finding a regimen from The Ordinary!" - manda444
SheFinds receives commissions for purchases made through the links in this post.