Your skin is only as good as your skincare routine, so it's important to make sure that you're using effective products that feature the vital ingredients your skin needs to be healthy! After all, the ingredients are what make skincare products truly great.
Anti-Aging Skin Care Ingredients
So, which ones are the best for younger-looking skin? Dermatologists say that you should always use products that contain these powerful anti-aging ingredients:
Alpha-Lipoic Acid
"Also known as thioctic acid, alpha-lipoic acid improves cellular energy production and reduces inflammation, a major cause of aging," says Lisamarie Gargulio, Director of Education at Luzern Laboratories. "It also provides your skin with superior antioxidant protection, further activating antioxidants such as coenzyme Q10."
Ceramides 
"Ceramides are natural lipids that your skin produces," says Gargulio. "They are crucial components of the epidermis and play a key role in barrier protection of the skin, allowing it to capture and bind water to stay hydrated."
Coenzyme Q10
"Also known as ubiquinone, coenzyme Q10 is present in every cell of the body," according to Gargiulo. "It provides powerful antioxidant protection and collagen-boosting capabilities."
Glycolic Acid 
"It is an alpha hydroxy acid that's used as an exfoliator to remove dead skin cells and smoothes skin texture," says Gargulio. "Glycolic acid can reduce the look of fine lines and aging."
Hyaluronic Acid
"Compared to other polymers, hyaluronic has the greatest ability to hold water," says board-certified dermatologist Dr. Fayne Frey, who suggests using topical hyaluronic acid twice a day (day and night) for maximum effects and results.
Kojic Acid
"Kojic acid lightens pigmented skin, which is usually the result of sun exposure. Kojic acid is also an antioxidant that helps with the premature damage or malfunction of skin cells," explains esthetician Renee Gilanshah.
Lactic Acid
"Lactic acid has the amazing ability to attract and hold moisture since it is a humectant," according to Gilanshah. "This helps bring additional moisture to dry or dehydrated skin."
Retinol
"It's a form of vitamin A that when in concentrations of 0.25 percent or higher can increase cell turnover, helping to improve skin texture, fine lines, and brown spots," says Heather D. Rodgers, MD of Modern Dermatology in Seattle. "You want to apply this to cleansed skin before your moisturizer."
Vitamin C
"Vitamin C increases skin's collagen, making it appear plumper while reducing signs of wrinkles and fine lines," says  Dr. Eric Braverman, founder of the PATH Medical Center.
Best Anti-Aging Products
Now that you know what you need, here are the five of the best anti-aging products that dermatologists say will help you maintain a youthful and radiant complexion: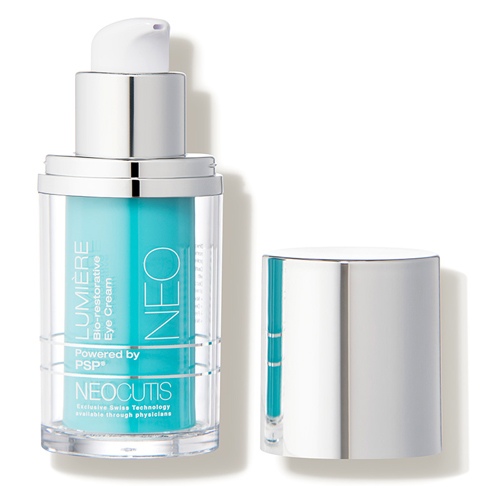 NeoCutis Lumiere Bio-restorative Eye Cream With PSP ($97)
This eye cream features a gentle yet effective formula of advanced complex of PSP growth factors, which boost the cell's ability to repair and revitalize skin and increase firmness and reducing wrinkles, and hyaluronic acid to plump and hydrate. It also contains powerful antioxidants to protect the sensitive eye area from environmental damage for a youthful appearance.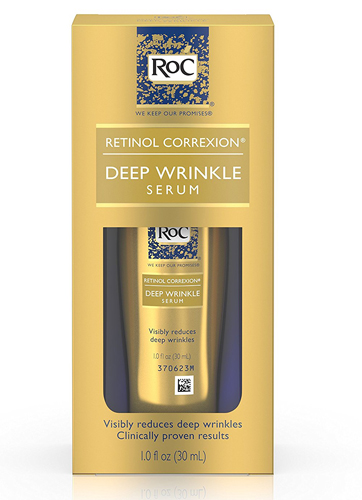 Roc Retinol Correxion Anti-Aging Deep Wrinkle Serum ($17.90)
This drugstore-favorite wrinkle cream complements the skin's renewal process to deliver smoother, softer and more youthful skin using ingredients like retinol, magnesium, zinc, and copper. It's clinically proven to erase fine lines and wrinkles in as little as 12 weeks!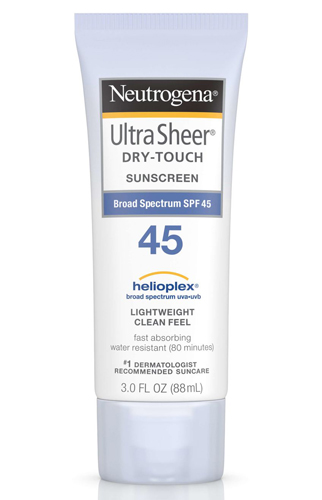 Neutrogena Ultra Sheer Dry-Touch Sunblock Spf 45 ($10.99)
Sunscreen is one of the best anti-aging products out there because it protects the skin from dangerous UVA/UVB rays, which have been proven to cause wrinkles and other signs of premature aging. This dermatologist-tested formula uses Avobenzone to provide advanced protection against damaging UVA and UVB rays, along with Dry-Touch technology and antioxidants for an ultra-light, non-shiny finish that keeps the skin protected against environmental stressors.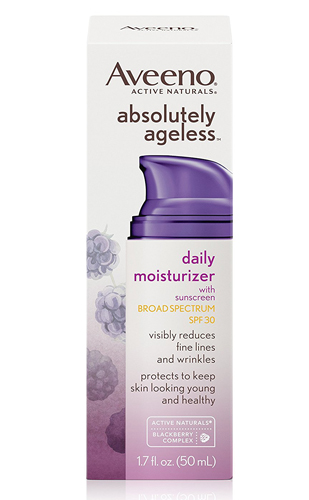 Aveeno Absolutely Ageless Daily Moisturizer ($16.49)
This product works as a moisturizer and a sunscreen with its hydrating formula that contains broad spectrum SPF 30 protection. It's proven to help improve skin's firmness and elasticity and contains the brand's powerful Active Naturals Blackberry Complex for fast, lasting results.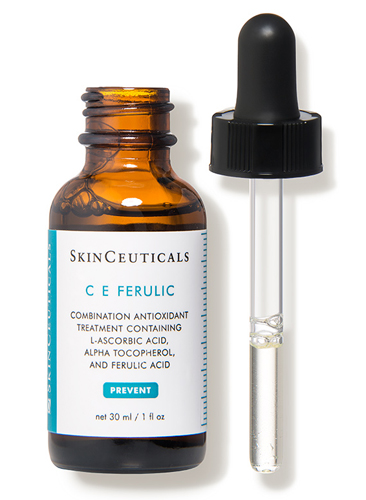 SkinCeuticals C E Ferulic ($166)
This serum features a combination of ferulic acid and pure vitamin C and E to enhance your skin's protection against environmental damage caused by free radicals. It also improves signs of aging and photodamage to reduce the appearance of lines and wrinkles while firming and brightening your complexion.
SheFinds receives commissions for purchases made through the links in this post.