Cannabis-based skincare seemed like a fad at first, but the trendy ingredient is proving to be one of the most powerful forces in the skincare industry. Known for its calming and restorative effects on the skin, cannabis is becoming a go-to for those suffering from dryness, irritation, stress, inflammation, and redness. "It's one of the most amazing ingredients for skincare," High Beauty founder Melissa Jochim tells SheFinds.
Not sure how to navigate the cannabis-CBD-hemp skincare world? Here's everything you need to know:
What Is CBD?
CBD, short for cannabidiol, is a chemical compound from the cannabis plant. Will CBD get you high? Nope. Junella Chin, DO, an osteopathic physician and a medical cannabis expert for cannabisMD, assures that the buzzworthy ingredient will not alter you in any way. "CBD is the non-psychoactive portion of the plant, so what that means is you won't have any effects like euphoria," she tells Health.com. When used in skincare and wellness products, CBD effects the body by soothing any pain, discomfort, or inflammation and promoting relaxation and calmness.
CBD Vs. THC
THC is the other compound found in the cannabis plant that is responsible for creating the psychoactive effects of "getting high." But like CBD, THC also provides benefits for the body. There's evidence that suggests CBD works best for pain management when combined with THC. "Depending on what type of pain you have, you might be able to do just CBD, but sometimes you need CBD and THC," Houman Danesh, MD, director of integrative pain management for the Mount Sinai Hospital in New York City, says. Talk to your doctor to find the appropriate dosage of each to manage your pain levels.
CBD Vs. Hemp Oil
Hemp oil is another cannabis term that often gets thrown into the mix when talking about CBD beauty products. Hemp is one of the two primary species of the Cannabis sativa plant (the other is marijuana) and it contains a higher percentage of CBD. When used in skincare and wellness products, hemp oil refers to the oil that has been extracted from the seeds of the hemp plant, meaning that it is free of CBD and THC. Hemp oil beauty benefits those with dry or irritated skin and can help alleviate the symptoms associated with stress and inflammation, including uneven texture and tone and redness. That's because this natural oil is rich in omega fatty acids and vitamin E, giving it great skin-healing powers. The nourishing, amino acid-rich oil helps soothe irritation and impart a glow.
Cannabis oil, however, is made from the leaves and the flowers of the plant and does not contain much THC. But like hemp oil, it boasts several skincare benefits and can make an excellent addition to your current regimen. "[It's] awesome for inflammation and [is] going to be healing, especially if you have breakouts," Jochim explains. "It also helps with overall aging and inflammation that leads to aging. It's apoptogenic, which means it's going to balance your skin if you're oily and it's going to give you oil if you're dry. And then beyond that, it's jammed with antioxidants and bioflavonoids." Cannabis sativa oil is also used in skincare to provide essential moisture and nourishment while helping strengthen skin's barrier. It contains less than 0.3% of THC and does not possess any non-psychoactive properties.
The Best Cannabis Beauty Products
Now that you're up to speed, check out some of our editors' favorite CBD beauty brands and products. We've also included some cannabis sativa oil picks and hemp health and beauty products that will help get your skin even and radiant as well:
High Beauty uses cannabis sativa seed oil and potent actives to rebalance skin and reduce inflammation. The High Expectations Cannabis Seed Facial Oil works to calm skin and deliver high-speed overnight repair, while the High Five Cannabis Seed Facial Moisturizer provides hydration and protection using a blend of soothing ingredients.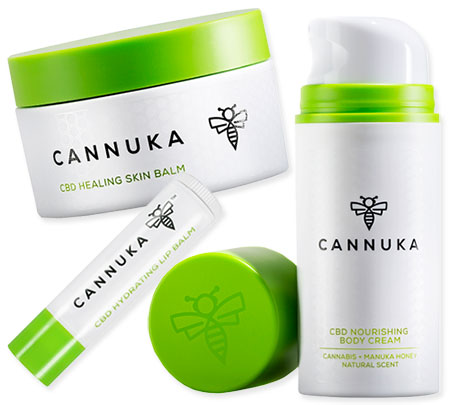 Cannuka combines the unique healing properties of cannabis and Manuka honey that provides a daily skin therapy that both calms and heals everything from your face, lips, cuticles, elbows, and anywhere else there's dryness or inflammation. "We believe the best products are simple, natural and only include essential beneficial ingredients. [Cannuka] combines some of the purest, most natural elements on Earth in a way that reflects the changing needs and interests of consumers," the brand says.
SheaMoisture's Mongongo & Hemp Seed Oils High Porosity Moisture-Seal Masque deeply conditions to transform hair using ultra-hydrating Mongongo and Hemp Seed Oils. Other key ingredients include shea butter and fortifying baobab protein, which work together to create a protective cushion over damaged hair fibers that strengthens and improves elasticity.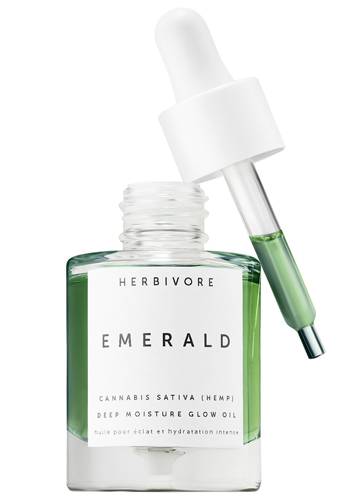 High in moisture and flash-absorbing, this lightweight glow oil infuses skin with non-intoxicating cannabis sativa hemp seed oil and olive-derived, moisture-locking squalane to give skin a glow that is lit. Potent adaptogens give skin a calming dose of protection from environmental stress.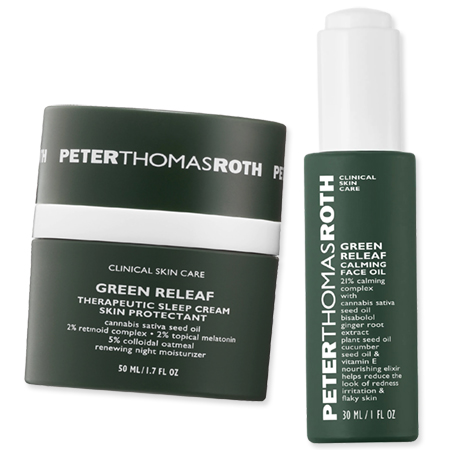 Peter Thomas Roth's Green Releaf Collection uses hemp-derived cannabis sativa seed oil to nourish skin and promote a healthier complexion. The Therapeutic Sleep Cream gently smooths the look of fine lines, wrinkles, and uneven skin tone and texture while relieving irritation and revitalizing the skin's appearance. The Calming Face Oil delivers provides skin-nurturing antioxidants to reduce the appearance of the look of inflammation and redness while smoothing the look of fine lines and wrinkles.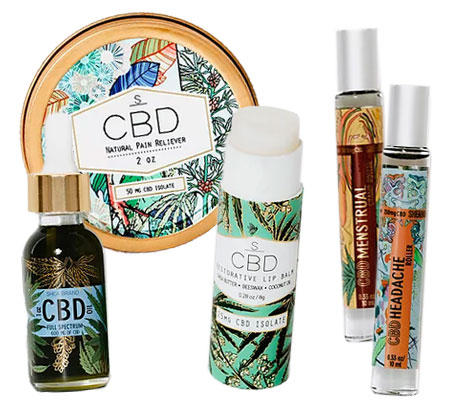 Every Shea Brand product formula and packaging bring together urban and natural elements that in many ways reflect our efforts as New Yorkers to live as sustainably as possible. The brand uses minimal-plastic, 100% recyclable packaging and mailers, and manufacture everything in small batches. It was created as a means to combat eczema and has expanded its offering to treat a variety of different skincare and body concerns using raw ingredients like shea butter, CBD, and more.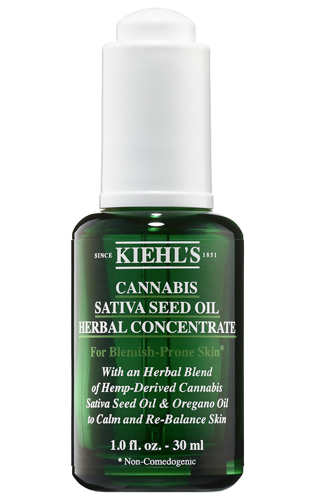 This lightweight, noncomedogenic herbal concentrate facial oil is infused with cannabis sativa hemp-derived seed oil and calms skin and reduces redness.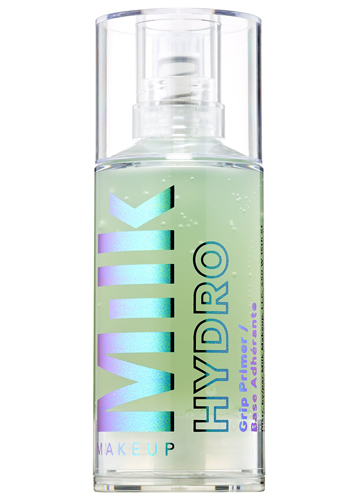 Milk Makeup formulated its new Hydro Grip Primer with hemp-derived cannabis seed extract and blue agave extract to deliver all-day hydration and hold.
This new restorative moisturizer is infused with non-psychoactive CBD oil (50 mg) and adaptogens to help balance dry, distressed skin without a greasy feel. The Better Daze Ahead CBD Moisturizer is also formulated with a stress-fighting adaptogen blend of reishi mushroom, purple ginseng, and holy basil to leave skin feeling smooth and comfortable with no greasy residue.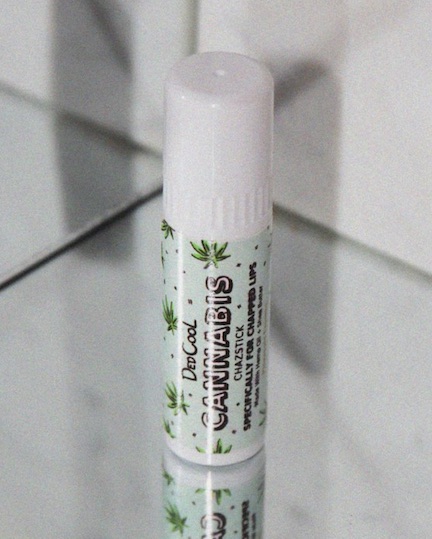 Relieve chapped lips with this 100% all natural and vegan lip balm from DedCool. It's formulated with shea butter and hemp seed oil to provide instant, soothing hydration.
The CBD Melatonin Lotion with Magnesium is the ultimate lotion for boosting your bedtime routine. It features powerhouse ingredients (CBD, melatonin, magnesium, OPTIMSM®, Vitamins A and E) to create a sense of calm and soften your skin for a good night's sleep.
This premium hemp phytocannabinoid + 16 plant-based oil blend is designed to work with your skin, acting as a solution for any sighs of stress and uneven tone and texture caused by dryness, redness, irritation, and inflammation.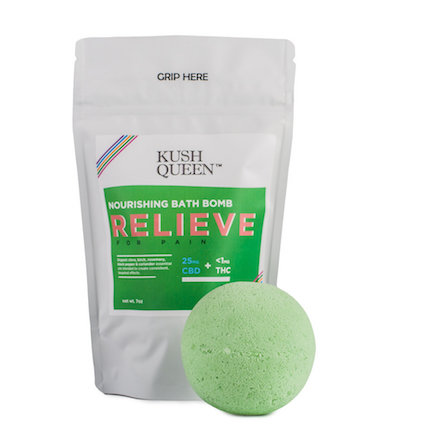 The Relieve Bath Bomb is the ultimate combination of essential oils for maximum pain relief. The brand carefully selected each oil to support the relief of sore muscles and aching bones while also lifting away stress and offering mental clarity.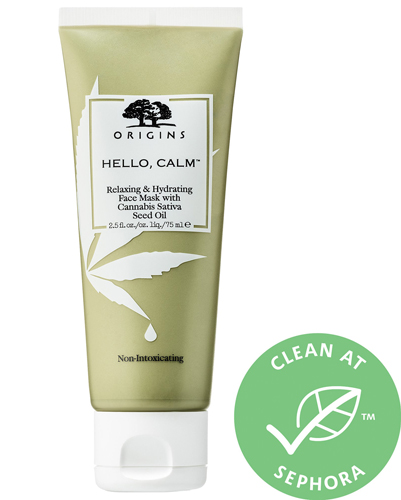 Origins' Hello, Calm Relaxing & Hydrating Face Mask is an ultra-hydrating mask that is infused with natural cannabis sativa seed oil to instantly calm skin, visibly reduce irritation, and de-stress the senses.
This restorative, extra-strength CBD-infused moisturizing lotion uses CBD derived exclusively from cultivated hemp, grown in the USA. The lotion is non-psychoactive and contains zero THC, making it an excellent solution for redness and dryness.

SheFinds receives commissions for purchases made through the links in this post.