As the temperatures drop, finding a good moisturizer is even more important than ever. Winter doesn't have to mean dry, cracked skin, as long as you have the right skin care products in your beauty arsenal.
Taking care of your skin and keeping it hydrated now is the best anti-aging measure you can take — forget about needing botox!
If you've started your hunt for the best anti-aging moisturizer, then you know the market is loaded with options at every price point meaning you don't have to spend an arm and a leg on an effective face cream. One of our favorites at Target costs just a little over $10!
The Best-Selling, Affordable Anti-Aging Moisturizer At Target
L'Oreal Paris Revitalift® Bright Reveal Brightening Day Moisturizer SPF 30 ($10.29)
The L'Oreal Paris Revitalift® Bright Reveal Brightening Day Moisturizer with SPF 30 is one of the best-selling anti-aging moisturizers at Target. It's recognized by dermatologists for its amazing brightening abilities. Formulated with Glycolic Acid, Vitamin C, and Pro-Retinol, this hydrating moisturizer will help visibly reduce the look of uneven skin tone, fine lines and wrinkles, discoloration, and dullness.
With regular use, it will help you reveal a more youthful and radiant complexion. The Brightening Day Moisturizer also contains broad spectrum SPF 30 sunscreen to further product your skin from harmful UV sun damage -- one of the leading causes to premature aging.
One of the 1,462 positive customer reviews reads, "The entire suite of Bright Reveal is now indispensable to me. This was recommended by my aesthetician whose salon actually sells much higher priced products. For me, there was a period of purging in the first few weeks of use but don't be disheartened. My skin has never been smoother and clearer and I am 100% certain that it is attributable to this line (sunblock, face scrub, peel, and moisturizer). During winter, it does make your skin drier than usual so I alternate between this and a hyaluronic-acid based regimen for moisture."
Shop More Anti-Aging Products From L'Oreal's Bright Reveal Line
L'Oreal® Paris Revitalift® Anti-Wrinkle + Firming Face/Neck Contour Cream 1.7oz ($10.39)
L'Oreal Paris Revitalift Derm Intensives Hyaluronic Acid Facial Serum ($23.99)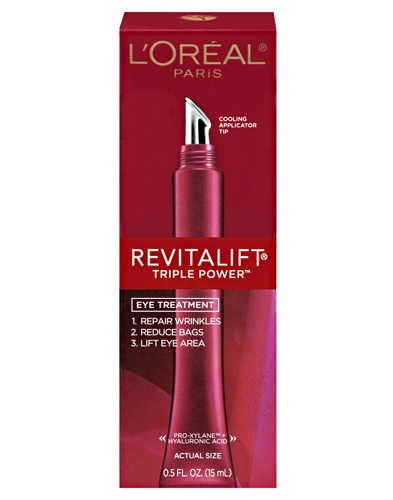 L'Oreal® Paris Revitalift® Triple Power™ Eye Treatment .5 fl oz ($16.49)
Unscented L'Oreal Paris Revitalift Cicacream Anti-Wrinkle Skin Barrier Repair ($11.59)
SheFinds receives commissions for purchases made through the links in this post.