No matter how badly we want to believe in a magic bullet for our skincare issues, one doesn't always exist. Some issues such as severe acne scarring and hyperpigmentation cannot be cured with an overnight cream, and require much more invasive (and pricier) solutions such as microdermabrasion and chemical peels (and even *those* occasionally don't work).
But the amazing news is that there's clinical hope when it comes to fine lines around the eye area. Dermatologists agree that there are some effective products on the market to combat these pesky, but curable conditions using ingredients that naturally hydrate and revitalize the skin are. And when those products are actually affordable, you bet that they won't stay in stock for very long.
One such product with proven lab results is the recently-launched clean beauty product Brandless Depuffing Eye Gel.
Best Eye Gel For Wrinkles
Brandless just launched a Depuffing Eye Gel that is made with Revital-Eyes™, a combination of probiotics, green tea, pomegranate and caffeine. These skin-firming agents have had amazing clinical results—and the product retails for just $8!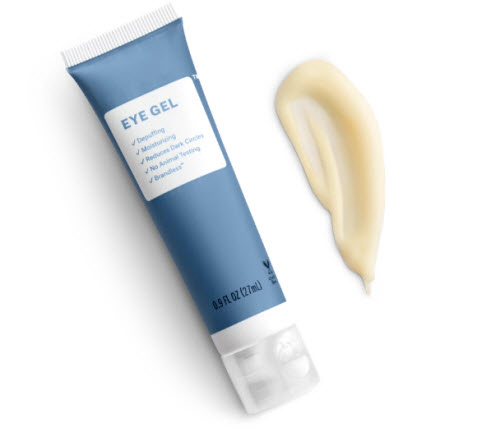 Brandless Depuffing Eye Gel ($8)
Promising Clinical Study Results
Yes, you read that right—the Gel is under $10 and in a two-week clinical and consumer study, 97% of participants reported an immediate improvement in hydration by the eyes; 94% saw a decrease in the appearance of wrinkles and 91% saw a decrease in the appearance of fine lines. So, more than 9 out of 10 women who participated in the study noticed results.
According to the brand, the 32 women who participated had different ages and ethnicities, proving that this product can work for virtually anyone.
Eye Gel Benefits
Eye gel like Brandless' can be used not only for depuffing, but for dark circles and fine lines as well.
Green Tea For Skin Texture
Thanks to the proanthocyanidins it contains, green tea is known for increasing capillary strength. It also assists in the stabilization of collagen and maintenance of elastin, which can help support thinner skin surrounding the eyes.
Pomegranate For Lifting
This citrus fruit contains high molecular weight carbohydrates, which can then be extracted and applied to the skin to create an immediate lifting effect under the eye.
Caffeine For Eye Bags
Caffeine can be used in skincare products to reduce puffiness and diminish the appearance of under eye bags.
How To Use Eye Gel
Here are the directions for using Eye Gel around the delicate eye area to effectively diminish puffiness, fine lines and dark circles without pulling on the skin: After cleansing the face in the morning or evening, apply a small amount of the gel to your finger (a pea size will do). Dermatologists suggest gently patting or tapping with the pad of your finger. You can also lightly massage the product onto skin so that it is fully absorbed and the benefits will be seen.
Brandless' Clean Beauty Standard
All Brandless products are made without 400+ questionable ingredients. They're also vegan, cruelty free and never tested on animals.