It's no secret that in the summer, you should never step outside without sunscreen on your face. Whether you're planning a full beach day in the sun or just walking to your 9-5 job, you should never, ever, skimp on the SPF sunscreen. Which brought me to my search for the best face sunscreens.
Surely in the year 2018, we all know tanning is bad for our skin, however, let's not pretend like practically everyone doesn't still do it. Yes, even me. I'm guilty of spending as much time as possible in the summer laying out at the beach or by my pool to achieve a perfect skin-kissed glow–sue me!
But, I always wear sunscreen, especially on my face.
Overexposure to the sun and its harmful UVA/UVB rays can damage your skin in numerous ways. Wrinkles, fine lines, dark sun spots, dryness, and of course the scariest one of them all, skin cancer can all occur. No one wants that! Enter, a quality face to protect you from all of these issues.
The Best Face Sunscreens For Every Skin Type
Moroccanoil® Face Lotion SPF 30 ($38)
The Best Hydrating Face Sunscreen To Wear Under Makeup
The Moroccanoil Face Lotion with SPF 30 is designed specifically to be applied to your face. It's a lightweight, fast-absorbing face lotion that won't leave you feeling sticky or greasy after applying it--my biggest pet peeve with a lot of face sunscreens on the market. The SPF 30 will protect you from sunburns and premature signs of aging from UVA and UVB rays. Another great thing about this face sunscreen: the formula is infused with argan oil and a powerful fruit complex with provides hydration and nourishment to your skin. This is a serious must for daily wear, in addition to beach trips. We all know how dry and thirsty our skin gets after spending hours in the sun!
Customer review:
"Not greasy. Absorbs in completely. Great product. Will definitely buy again."
Algenist Sublime Defense Ultra Lightweight UV Defense Fluid SPF 50 ($28)
The Best Anti-Aging Face Sunscreen
If you already have early signs of aging from overexposure to the sun, not all hope is lost. The Algenist SUBLIME DEFENSE Ultra Lightweight UV Defense Fluid SPF 50 is designed to fight and delay further signs of aging. It's fast-absorbing and ultra-lightweight so you can wear it every day, with or without makeup, to protect against broad-spectrum UVA/UVB damage. It's formulated with Alguronic Acid, a unique and powerful regenerative compound from microalgae, and antioxidant-rich botanicals to delay aging-signs. This can protect you from both sun and environmental stressors. The formula is also oil-free and non-greasy. If you do wear it under your makeup, it will leave you with a soft, matte finish
Customer review:
"Best facial sunscreen ever!
I've been searching for years for a sunscreen that didn't leave my face greasy and I've finally found it! Don't be put off and make a snap judgment when you first apply it. The shiny slightly greasy feeling will disappear in minutes and in its place will be a matte, greaseless sunscreen. Oh and it doesn't have an order either. It does make your face a little white but foundation covers it nicely. You don't have to use a ton of it either. I'm on my third bottle."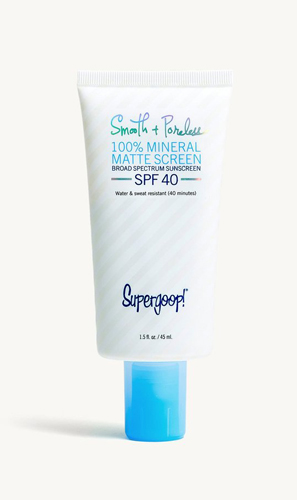 Supergoop! 100% Mineral Smooth & Poreless Matte Screen SPF 40 ($38)
The Best Tinted Face Sunscreen
Supergoop! prides themselves on being the first protective skincare brand that dedicates every product to protection and defense all year round. This newly launched 100% Mineral Matte Screen SPF 40 was only released on August 1st, but it already has a 5-star review on Sephora. It's a weightless, hydrating formula that comes in a highly-blendable, universal tint. Personally, I love going without foundation in the summer and just wearing a tinted sunscreen so this product is a dream come true for me! The tint will help make your skin appear smooth and poreless. The matte finish also works as a great makeup primer, should you choose to layer it under your other products. Possibly my favorite thing about this face sunscreen is that it's made with clean beauty ingredients. It includes a plant-powered antioxidant blend from White Mulberry, Blue Skull Cap, and Hydrangea along with resveratrol and peptides that protect from free radical damage and provide a brightening effect.
Customer review:
"I'm always on the lookout for the best tinted sunscreen, mainly because they usually provide the perfect amount of coverage for mild imperfections while still providing the SPF protection that I believe keeps me looking young. A mineral formula? Even better! Supergoop really thought this product through and gave us a tinted SPF with a really comfortable feel on the skin as well as a clean, even tone as an end result. It has a sort of mouse consistency, but with a realistic tint that actually matches my skin. I find a lot of other tinted SPF's are a shade too light, which during the summer isn't a good look for anyone! Honestly, give this product a try, I think you'll be pleasantly surprised."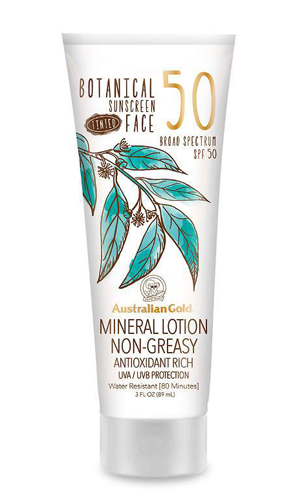 Australian Gold Botanical SPF 50 Tinted Face Lotion ($13.99)
The Best Non-Chemical Face Sunscreen
If I really think about it, the idea of putting a chemical sunscreen on my face honestly makes me shiver. Chemicals do not belong on our skin--end of story. The Australian Gold Botanical SPF 50 Tinted Face Mineral Lotion will give you that powerful sun protection, while also being gentle on your skin. It's a non-chemical lotion that gives you a luxurious, powdery clean feel. It's lightly tinted and blends effortlessly into your skin. Suitable for sensitive skin, the mineral formula will not clog pores or cause breakouts. It's also rich in vitamins and antioxidants from native Australian botanical ingredients.
Customer review:
"Love this! It is lightweight, easily rubs in, gives sun protection, and does not look greasy. I love the tint and the way it evens out my skin tone. I wear it by itself on days not wearing makeup. It is amazing how well it holds up while getting hot and sweaty working in the yard. Yes, I will purchase again and would recommend."
Dermalogica Oil Free Matte SPF 30 ($53)
The Best Matte Face Sunscreen For Acne-Prone Skin
Face sunscreens are often associated with shiny, greasy-looking skin. Not to mention, many formulas are terrible for acne-prone skin, but not this one. The Dermalogica Oil Free Matte SPF 30 is oil-free and helps prevent shine on oily and breakout-prone skin. The sunscreen contains an advanced blend of Zinc Gluconate, Caffeine, Niacinamide, Biotin and Yeast extract to help regulate oil production and soothe inflammation. Oil-absorbers help maintain an all-day matte finish and prevent shine without any powdery residue. If you break out in the summer from oil, sweat, or greasy products, you need this sunscreen.
Customer review:
"This product goes on smoothly. I did not notice any white residue on my face. There was no smell. And it really provides an excellent matte finish especially for my T-zone area which gets oily the most. So far, I have applied this first and then my bare minerals foundation. It goes on beautifully over this. I have even noticed I have decreased oil production on my face throughout most of the day."
EltaMD UV Clear Broad-Spectrum SPF 46 ($23.96)
The Best Dermatologist-Recommended Face Sunscreen
If a product is backed by a dermatologist, you know it has to be good for your skin. This EltaMD UV Clear Broad-Spectrum SPF 46 is recommended by The Skin Cancer Foundation as effective broad-spectrum sunscreen. It's formulated with transparent zinc oxide, niacinamide (vitamin B3), hyaluronic acid and lactic acid, ingredients that promote the appearance of healthy-looking skin. The oil-free formula is also noncomedogenic, sensitivity-free, fragrance-free and paraben-free. All skin types, even those prone to breakouts, rosacea and discoloration, are safe to use it.
Customer review:
"This sunscreen was the holy grail at the end of a decade plus search for the perfect sunscreen. It has this smooth, silky feel with no greasiness or the rebound tightness that you get from "mattifying" products."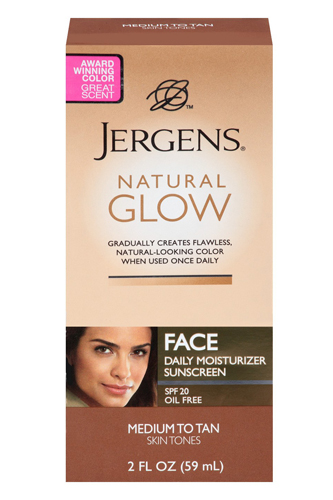 Jergens Natural Glow Face Moisturizer ($8.59)
The Best Gradual Self-Tanning Face Sunscreen
If you're wearing SPF daily and trying to avoid getting any sun on your face, a gradual self-tanner is helpful in making your complexion looked bronzed for the summer. The Jergens Natural Glow Face Moisturizer With SPF 20 will give your face a healthy summer glow without the sun. The daily sunscreen gradually darkens your skin to create a tan that looks natural, while the oil-free formula won't clog your pores.
Customer review:
"I have dry skin (not oily) and purchased it a bit skeptical and I LOVE it. It gives the skin a great glow and it's incredibly natural looking. It is also a good moisturizer under your makeup. I have gotten compliments on my "natural skintone" since using the product and I have literally never gotten that before. LOVE!"
La Roche-Posay Anthelios Clear Skin Oil Free Dry Touch Sunscreen Lotion SPF 60 ($19.99)
The Best Face Sunscreen For Teens
La Roche-Posay Anthelios Clear Skin Dry Touch Sunscreen contains an SPF 60 for optimal UV protection. La Roche-Posay conducted a global study with Ipsos to find out that 82% of teenagers, 15 to 19 years old do not wear sunscreen on their face when exposed to the sun. In an effort to change this and raise awareness about sun damage, the brand created Anthelios Clear Skin Dry Touch Sunscreen, a 100% oil-free formula tailored specifically to this younger demographic. The 100% oil-free free dry touch texture formula won't clog pores or cause breakouts.
Customer review:
"I am VERY careful with the sunscreens that I put on my face due to the fact that a lot of them make me greasy and break out. This one works AMAZINGLY for anyone dealing with acne or sensitive skin. It isn't greasy at all, and it doesn't make me break out. It only takes a few seconds for my skin to absorb it!"
SheFinds receives commissions for purchases made through the links in this post.