Choosing skincare products that are formulated with brightening ingredients can help dramatically fade the appearance of discoloration and hyperpigmentation. When it comes to finding the best moisturizer to get rid of dark spots, dermatologists recommend opting for formulas that contain vitamin C, kojic acid, retinol, hydroquinone, and niacinamide for their abilities to promote cellular turnover and exfoliate the skin. We did a little digging and found an affordable brightening moisturizer that has been generating a lot of buzz from Sephora shoppers–it's The Inkey List's Multi-Biotic Moisturizer. Keep scrolling to learn how this moisturizer helps reduce the appearance of dark spots and more: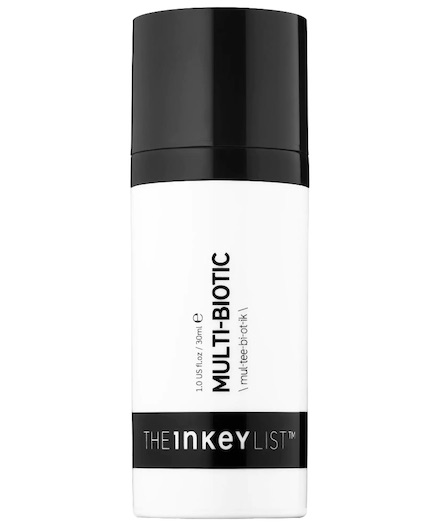 TRY IT: The Inkey List Multi-Biotic Moisturizer ($12.99)
Shutterstock
Everything You Need To Know About The Best Moisturizer To Get Rid Of Dark Spots
Key Benefits:
The Multi-Biotic Moisturizer uses pro-biotics along with its nutrients (pre) and byproducts (post), to help balance and promote healthy skin, making it an effective solution for dark spots and uneven tone and texture.
Ingredient Breakdown:
Yogurtene Balance 5%: Helps to provide the skin with all the benefits of yogurt.
Brightenyl 2%: Helps to provide an even skin tone.
Squalane 2%: Hydrates and protects skin.
Shutterstock
Promising Multi-Biotic Moisturizer Reviews
See What Sephora Shoppers Are Saying About This Best-Selling Brightening Moisturizer:
"The Multi-biotic Moisturizer works very well on me (dry, very sensitive, over 35 skin), but I'm certain it will not work for everyone. I recommend this product to experienced skin-care users looking to dial-in a routine. As a moisturizer, it's very lightweight and fast absorbing, more like a serum. It's primarily a pre-biotic intended to feed the good bacteria naturally occurring on your skin. It contains unspecified probiotics, but I think it's the same as TO's Buffet's probiotic. Additionally, it contains Heptapeptide-7 which is a peptide complex aimed at boosting collagen. This is playing well with my current serums, and the effect is calming (reduced redness), plumping (reduced fine lines and pores), and possibly brightening. Not certain of the brightening aspects, since I use a few brightening serums. But really, anything that aids or doesn't hinder brightening is worth adding for those with maturing skin and need a break or can't use acids." - Sunscreen4Life
"I am in love with this. I noticed a change in my skin immediately. A glow and radiance that wasn't there before. It has a slight funky smell, like sour milk. It's minimal and doesn't linger. I love it in combination with the hyaluronic acid serum and niacinamide serum. Gold. For dry skin, you might want a heavier moisturizer on top." - ebrant
"I buy 200 face creams and this brand really impressed me. The smell is not good but it only lasts a few second and I can get over it. This moisturizer is light but hydrating, perfect for spring and summer or somewhere humid. It's also rich enough to use at night and I often add a drop of oil into it. It also peels a little bit for me occasionally which I agree is annoying so I took off one star. It's still a great night time moisturizer for the price! I think people are too harsh given the price tag." - rainbcrystal
SheFinds receives commissions for purchases made through the links in this post.