Visible and enlarged pores are, unfortunately, a skincare concern that never goes away for some. If you feel like you're in a never-ending battle with pores, blackheads, and uneven skin tone and texture, then dermatologists recommend using products that are formulated with chemical exfoliants to clear any blockage. "If the problem is clogged pores, you've got to unclog them," New York dermatologist Robert Anolik, MD, tells goop. "I use alpha or beta hydroxy acids (salicylic acid is great if the skin is breakout-prone; glycolic can be great even if skin is dry), prescription Retin-A, over-the-counter retinols to help exfoliate, prevent the clogging of the pores, and help build up a little collagen in the process."
One product that's proving to be a big win for those with clogged pores is Dr. Dennis Gross Skincare's Alpha Beta Pore-Perfecting & Refining Serum for its ability to tackle existing pores and fight the common signs of aging. This silicone-free serum uses a blend of adipic and salicylic acids to target pores, fine lines, and loss of firmness, making it the best serum for pores and wrinkles.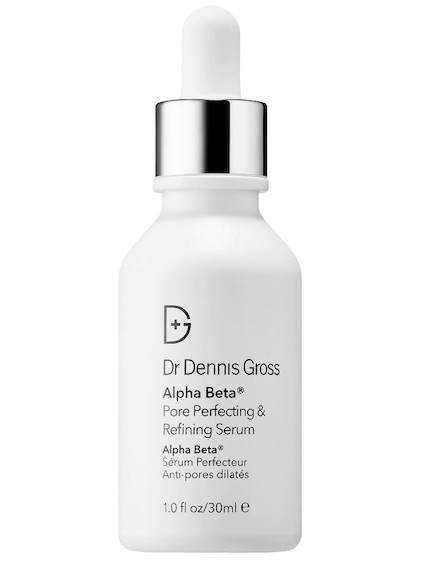 Shop The Best Serum For Pores And Wrinkles:
Dr. Dennis Gross Skincare Alpha Beta Pore-Perfecting & Refining Serum ($65)
Shutterstock
How It Works:
This skin-refining treatment tackles existing pores and helps prevent new blackheads from forming, which is done by dissolving waxy buildup within pore walls and flushing away impurities. The brand's The Alpha Beta® complex supports natural cell turnover and helps reduce future blockage. The result: a flawless and filtered effect.
Highlighted Ingredients:
Agarikon Mushroom Extract: Helps reduce shine without drying skin and firms skin making pores appear smaller and tighter.
Adipic Acid: Smooths the look of skin by filling in the appearance of fine lines, wrinkles, and pores.
Salicylic Acid + Farnesol: Fights pore blockage.
Shutterstock
Promising Reviews:
"This is a really great serum! The very first time that I used it I noticed a difference in my skin texture immediately. It made my skin feel very smooth and soft! I noticed that my pores weren't as noticeable after using this for a few days, which is awesome. I can sometimes tend to have somewhat sensitive skin and I had no issues with this whatsoever." - Peachypie83
"Have been using this for 2 weeks now and have noticed a significant difference in my pore size. I suffer from black heads on my nose and this product has significantly reduced to the point of disappeared that problem. My skin looks and feels smoother and youthful. Will be buying this as soon as I run out." - estherl
"I really love this product! The formula is lightweight and it feels great on my skin. I have been using the product for 2 weeks and have noticed a huge difference in my skin. My pores appear smaller and my skin is softer. It also moisturizes my skin. If you want to see results, you must continuously use the product on a consistent basis. I love how this product feels on my skin. I highly recommend it!" - OutspokenK
SheFinds receives commissions for purchases made through the links in this post.