Eye creams can be expensive, but that usually means that it's a good formula, right? WRONG! You can find affordable and effective eye creams and serums that deliver the same results as the high-end brands. All you need to do is look in the right places–like Target!
Best Target Eye Cream
Target's eye cream selection is one of the best and it's filled with tons of wallet-friendly prices. But, there's one eye cream that's SO good that Target shoppers are always buying: Olay's Eyes Ultimate Eye Cream ($24.99).
It's perfect for those with aging under-eyes and dark circles as its filled with powerful anti-aging ingredients that will brighten the skin and visibly reduce any darkness, puffiness, or wrinkles.
Shop The Best Target Eye Cream For Dark Circles: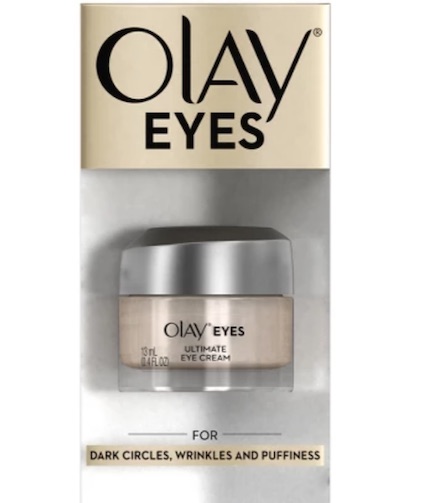 Olay Eyes Ultimate Eye Cream ($24.99)
This hydrating 3-in-1 de-circler, de-wrinkler, and de-puffer instantly reduces the appearance of fine lines and wrinkles. It's formulated with peptides and vitamins to renew the skin's surface over time and uses Olay's color-correcting technology to act as a touch of concealer that matches all skin tones.
Best Target Eye Cream Reviews:
"I have always used eye creams, did not have a favorite. After using ultimate eye cream, this is now the only one I will use. I'm 67 years old. After using this eye cream, I no longer need concealer under or around my eye area. My skin is clear, bright, no crows feet. I will stick with this eye cream." - Sluggo
"I have been using this product for about a month and the dark circles and puffy eyes are gone. I don't notice less wrinkles but the fact that they took the dark color away has sold me. I found the cream to be the perfect consistency. It didn't dry my eyes out or make them greasy. I will continue to use this product." - Crash1048
"Love this stuff! It does it all at once- lines diminished, bags de-puffed, dark circles look brighter." - NLK63
Olay Night Of Olay Firming Cream ($5.89)
Looking for more amazing anti-aging products with an affordable price tag? You should definitely give Olay's Night Of Olay Firming Cream a try. It's another Target bestseller because of its super moisturizing formula that penetrates deep into the skin to correct dryness and repair any damage from the day.
This light, non-greasy formula is also dermatologist tested and non-comedogenic, so it won't clog your pores! That's always a plus with night creams, especially if you've got acne-prone skin.
Are you a fan of these bestselling Target skincare products? Let us know which ones YOU love in the comments below!
SheFinds receives commissions for purchases made through the links in this post.