There are some days when going without makeup is not an option and caking on your usual seven-product beauty routine seems like too much. That's when tinted moisturizers and CC creams come into play! These innovative base products give you the full-coverage and color correction you need to have flawless, even skin. Plus, their formulas are super lightweight and allow for a barely-there, natural-looking glow. Need help finding the best tinted CC cream for mature skin? Sephora shoppers have dubbed the NARS Pure Radiant Tinted Moisturizer Broad Spectrum SPF 30 as one of the beauty retailer's most effective products, giving it over 1,000 5-star ratings for its ability to hydrate the skin and hide dark spots, discoloration, fine lines, and wrinkles, making it perfect for those over 30! Keep scrolling to learn more about this Sephora best selling tinted moisturizer and read some promising NARS Pure Radiant Tinted Moisturizer reviews!
Shop The Best Tinted CC Cream For Mature Skin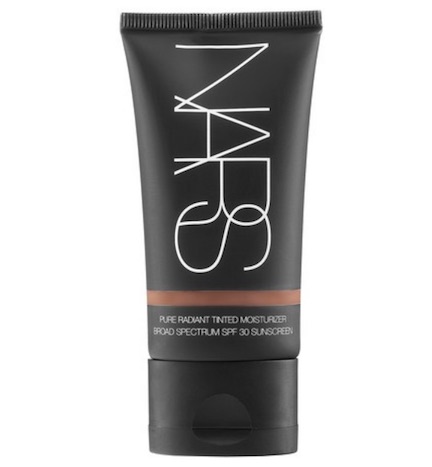 TRY IT: NARS Pure Radiant Tinted Moisturizer Broad Spectrum SPF 30 ($45)
Shutterstock
Key Benefits Of This Sephora Bestselling Tinted Moisturizer
-Lightweight tinted moisturizer that evens skin tone and provides a translucent veil of protection.
-Infused with lush, naturally-derived ingredients to immediately help thirsty skin feel hydrated.
-Reduces the appearance of discoloration and dark spots caused by hyperpigmentation for a clearer and brighter complexion in as little as four weeks.
-Obscures the appearance of lines, wrinkles, pores, and other imperfections.
-Protects skin with broad-spectrum SPF 30.
Shutterstock
NARS Pure Radiant Tinted Moisturizer Reviews
See What Sephora Shoppers Are Saying:
"This is my summer go to product. It's got spf and medium coverage. I feel it's light on my face and using a light setting powder is perfect. I have used this since it came out for years now and is my favorite for summer or all year if desired for a lighter feeling look. I use nars Santa Fe foundation in winter but I find that I like the spf and light coverage most days with tinted moisturizer. It does last a long time and I receive many compliments." - aflemin2
"I've been using this product for two years now as my everyday moisturizer/foundation. It's is so lightweight, yet it covers REALLY WELL! Really does a great job evening out my skin tone. It only takes a little (another perk to getting your money's worth), and my skin has a nice dewy finish. I use a small bit of translucent finishing powder to finish." - abiddy
"I recently went into Sephora looking for either a tinted moisturizer or light foundation, didn't have any specific brand in mind, although I do love NARS. Turns out, a makeup artist from NARS happened to be in the store that day and he applied this tinted moisturizer and I immediately had to have it. I love this product because it is fairly light on your skin and I was looking for light coverage, but something that would still even out my skin tone and this is perfect! Definitely would recommend. NARS is the best!" - dre56
"This is THE best tinted moisturizer I've come across in years. Living in the desert, having something light on your face in the summer is imperative, but I still need something with good coverage to tackle my awesome sun spots. This does it. It has a light, but not overpowering, fragrance, great coverage, and stays on all day. Recommending to everyone I know!" - marlob
SheFinds receives commissions for purchases made through the links in this post.