An apple a day keeps the doctor away — and blueberries, bananas, and raspberries are chockfull of antioxidants, fiber, and nutrients. The nutritional benefits of common fruits are well documented. But there are a number of fruits that aren't winning any popularity contests anytime soon, and that may not even be available at your local grocery store, but that deserve a second glance and even a taste or two.
You can thank a few fruit-loving celebrities for making these five bizarre fruits an (almost) household name. They may eat them because they're rare and delicious, but they have another added benefit: they're extremely healthy and never cause weight gain.
Kylie Jenner/Pomegranate Seeds

In a now viral series of Snapchat videos, Kylie Jenner returns home from a night of partying and proceeds to eat pomegranate seeds by the spoonful — while still wearing a shimmering bronze gown. Her choice of attire might be unconventional, but pomegranate seeds have quickly risen from obscure, bizarre fruit to a household staple for many. The fact that Jenner finishes the entire carton of pomegranate isn't all the shocking — the fruit is low in calories and high in nutritional content.

One serving of pomegranate has 72 calories, 3.5 grams of fiber, and plenty of vitamin K, vitamin C, and potassium. Pomegranates are also loaded with antioxidants that fight cancer and boost your immune system.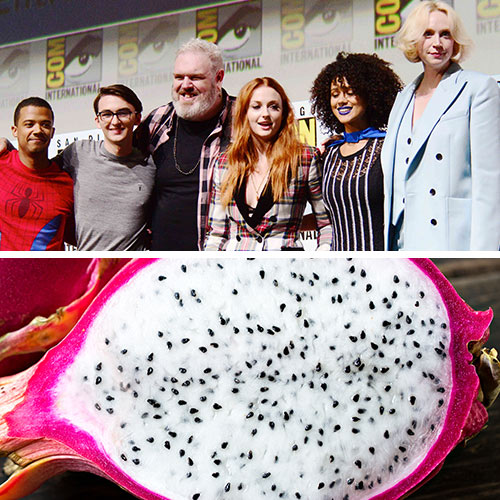 Game of Thrones Cast/Dragon Fruit

The cast of Game of Thrones has the Mother of Dragons to thank for the fact that they were served dragon fruit cocktails at the show's premiere. Cute reference aside, dragon fruit hails from Central America and is a somewhat flavorless take on the kiwi fruit. Sure, you can squeeze its juice into a shaker and whip up a party-worthy cocktail, but it's also a really healthy fruit to eat on its own.

Dragon fruit has 50 calories per serving and is a good source of fiber, vitamin C, iron, thiamine, B vitamins, and calcium. It even contains small amounts of protein, which is unusual for a fruit.
Miranda Kerr/Goji Berries

Miranda Kerr is more than a supermodel and the CEO of Kora Organics skincare line. She's a certified nutritionist and health coach, which means she knows all about the benefits of goji berries, which she adds to homemade shakes and juices to help maintain her glow.

A quarter-cup serving of goji berries contains 90 calories and four grams of protein, along with vitamin C, iron, selenium, and vitamin B2. They may be small and sweet, but they're one superfood you can easily incorporate into your morning bowl of oatmeal or afternoon smoothie.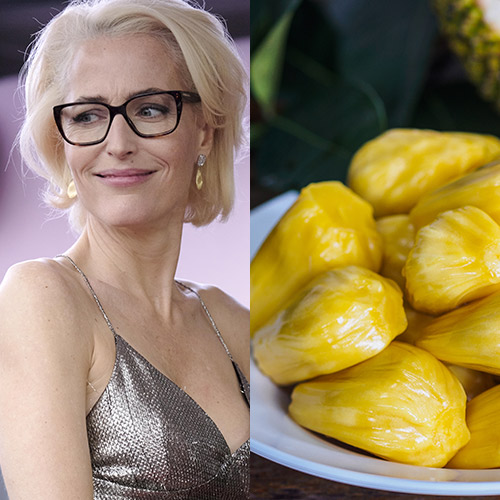 Gillian Anderson/Jackfruit
Actress Gillian Anderson has a favorite fruit but it isn't strawberries or watermelon — it's jackfruit. It isn't every day that you hear someone namedrop the tropical fruit, but if you can find jackfruit in your neck of the woods, do yourself and your health a favor and give it a try.

One cup of jackfruit has 157 calories and is loaded with potassium, vitamins C and B6, and magnesium. It's also a source of antioxidants like phytonutrients and flavonoids that combat free radicals in your body and keep cells healthy.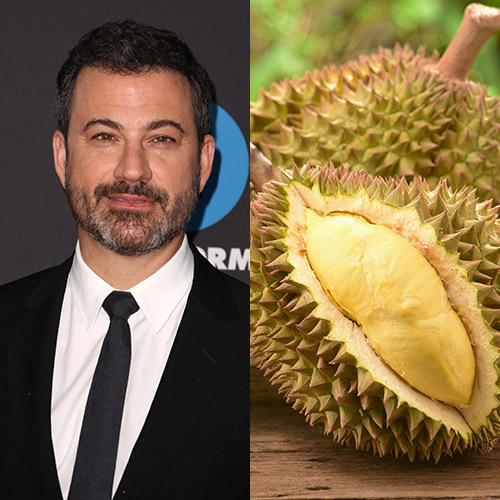 Jimmy Kimmel/Durian Fruit

Jimmy Kimmel didn't back away from a challenge when actress Jessica Chastain convinced him to try durian fruit for the first time on Jimmy Kimmel Live. The stinky fruit, otherwise known as the "bleu cheese of fruit," is one of Chastain's favorites, but it's definitely an acquired taste. The fruit is native to Indonesia, Malaysia, Thailand, and the Philippines, where it's considered the "King of Fruits."

Despite its strong scent, durian fruit has a wealth of nutrients: vitamins C, B6, and A, folic acid, potassium, iron, and phytonutrients. Durian devotees even swear it raises serotonin levels and can help you ward off stress.
For more tips on fruit, check out The One Fruit You Should Never Eat For Breakfast and The One High Fiber Fruit You Should Eat Every Day For Weight Loss on SHEFinds.com.
Photos: Splash/Shutterstock