It seems like it was just yesterday that Rihanna teased her brand new Fenty Beauty Body Lava product on her Instagram in two illuminating hues: Who Needs Clothes and Brown Sugar. Less than two months after the release, Rihanna's Body Lava highlighter sold out practically everywhere.
If you just can't stand the idea of Rihanna's Fenty Beauty Body Lava products being gone for good or Fenty Beauty is just way out of your price range, we found a few full-body highlighters that will give you a Fenty Beauty approved shine.
Here Are The Best Body Lava Dupes By Fenty Beauty:
Sol De Janeiro Glow Oils ($35)
--Rated 4.0 out of 5 stars
--Available in two shades
--Free of parabens, sulfates, and phthalates
--Safe for all skin types
These skin-softening oils by Sol De Janeiro will give your body just the right amount of shimmer. The formula is designed to reflect light for a beautiful, illuminating full-body glow. Not only will you look sun-kissed, but you'll smell like a Brazilian goddess while wearing this delicious fragrance infused oil. Just like Fenty Beauty's Body Lava, it comes in two shades: a light Ipanema Sunset and a darker Copacabana Bronze.
CYO Bronzing Shimmer Oil Gift Of Gold ($7)
--Rated 4.2 out of 5 stars
--Safe for all skin types
Give your skin a subtle and luxurious glow with this CYO bronzing shimmer oil. Just a few drops will give your skin a bronzed, sun-kissed hue. The formula helps nourish your skin with vitamin E from coconut, hazelnut, almond, and soybeans.
Charlotte Tilbury 'Supermodel Body' Slimmer Shimmer Shape, Hydrate & Glow ($65)
--Rated 4.2 out of 5 stars
--Safe for all skin types
Moisturizer and glow with this 'Supermodel Body' pigmented shimmery lotion.
Promising reviews: "Love this stuff!!! Dries quick and doesn't get on clothes! The perfect shade to enhance all body parts!"
Becca Shimmering Skin Perfector® Liquid Highlighter Mini ($23)
--Rated 4.3 out of 5 stars
--Available in two shades
-Cruelty-free
--Safe for all skin types
This shimmering liquid body highlighter gives you a dewy glow all over. It's available in two shades, "Moonstone" is a pale gold and "Opal" is a golden pearl hue. Ultra-fine, light-reflecting pearls glisten on your skin for a healthy looking shine.
Kopari Coconut Body Glow ($55)
--Rated 3.6 out of 5 stars
--Organic and Clean at Sephora-certified
--Free of silicones, GMOs, and cruelty
--Safe for all skin types
This organic coconut oil-infused skin illuminator hydrates dry skin and leaves it with a natural glow. The formula is lightweight and will leave you smelling like a tropical destination.
Yves Saint Laurent YSL Black Opium Shimmering Moisture Fluid For The Body ($50)
--Rated 4.1 out of 5 stars
--Free of parabens, sulfates, and phthalates
--Safe for all skin types
This tinted moisturizing body liquid will leave you with a subtle but radiant shimmer.
NARS Monoi Body Glow ($59)
--Rated 3.9 out of 5 stars
--Safe for all skin types
This popular body glow by NARS will give you a deep, shimmery skin glow that looks like you were just in the sun all day.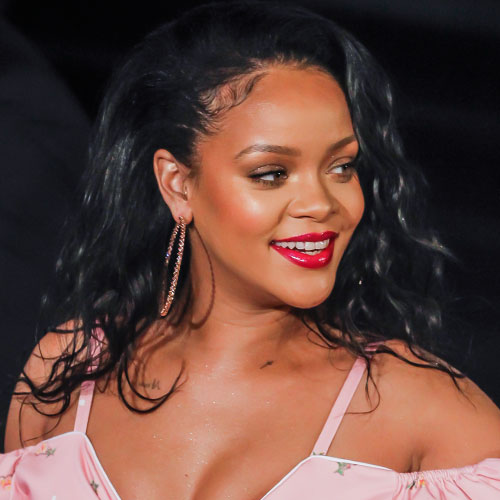 Splash
The Release Of Body Lava by Fenty Beauty
Rihanna gave fans a sneak peek at her new Fenty Beauty collection on her Instagram stories on March 26, featuring two bottles of the shimmery product with a caption that read "Say hello to the brand new #BodyLava."
We all know that Rihanna is a mastermind when it comes to giving people want they want. Every collaboration and collection she touches takes off before the merchandise even hits the shelves. Get ready for body glitter to be everywhere this summer because Rihanna just made a new line of the product and it's everything we could have ever hoped for. Who wouldn't want to glow like Rihanna?! We know we do.
Almost as quickly as Rihanna's highly anticipated Body Lava products became available, they sold out. While the rest of the Fenty Beauty Beach, Please summer collection is still available on Fenty Beauty's website, the body glitters are long gone. While one can only hope that Rihanna will be gracious enough to restock the Body Lava body highlighter, the Beach, Please collection is limited edition and could very well be gone for good. *cries*
Fenty Beauty Beach, Please Summer Collection
Rihanna released Fenty Beauty Body Lava as part of her limited edition Beach, Please summer collection. The shimmery body makeup gave your skin the perfect sun-kissed glow for summer.
SheFinds receives commissions for purchases made through the links in this post.