Never skip breakfast — no matter how hard you're trying to lose weight (especially if you're trying to lose weight). Your first meal of the day gives you a chance to fuel up for the long day ahead and, when you make good food and beverage choices at breakfast that contain plenty of protein and vitamins and minerals, it leads to more weight loss and fat burning.
But there are certain popular breakfast options that aren't the best around, and that goes double if your goal is a flatter belly. Here are five breakfast foods you shouldn't be eating for a flat stomach over 30.
Shutterstock
All too many refined carbs and processed meats have been passed off as perfectly viable breakfast options, when in fact they are among the worst foods you can eat to start your day.

One example of a well-balanced breakfast that will keep your belly full without adding sugar and trans fat is steel-cut oatmeal, fresh berries, and Greek yogurt. On the flip side you'll find foods like these five breakfast items that should be eaten only on occasion (or tossed to the curb).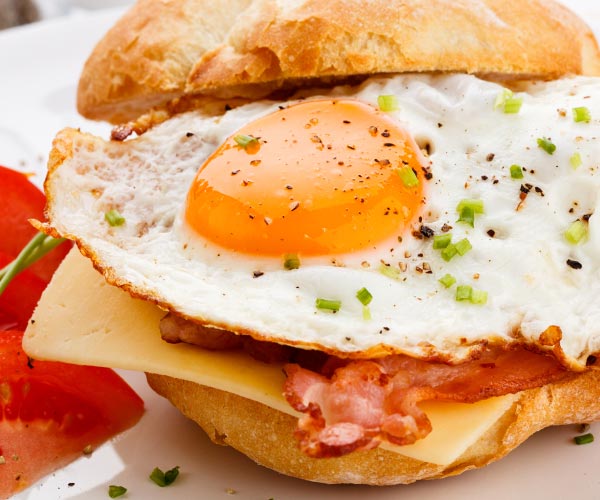 Shutterstock
Bacon

Bacon is a processed meat that contains about 40 percent saturated fat and cholesterol and can increase the risk of heart disease. And when bacon is cured, salt, nitrates, and even sugar is often added, according to Healthline.
Unfortunately, your flavorful bacon is not the best heart-healthy option for you, nor will it help you achieve flatter abs. This is definitely one food worth placing in the "eat on occasion" category.
Shutterstock
Bagels

Bagels are a refined carb that can contain as much as 350 to 400 calories per serving. Not only are bagels not the healthiest option because of the not-so-great ingredients we put on top of them (like sugary jams and margarine), but they simply lack enough nutrients to give you the boost you need in the morning.

"It's not that bagels are inherently bad. It's just that they aren't particularly healthy," Tanya Zuckerbrot, MS, RD told Fox News. "Most bagels lack vitamins, minerals and fiber. Without fiber, the carbohydrates in a bagel digest quickly, convert to sugar and then, very possibly, to fat."

Zuckerbrot suggests sticking to a whole grain English muffin or slice of toast.
Shutterstock
Non-Dairy Creamers

Non-dairy creamers give your coffee a delicious, rich taste, but most also contain trans fats, which are linked to obesity and belly fat, as well as artificial flavors and sugar.

A better option for your health: stick to a tablespoon of milk or a milk alternative like oat or almond milk.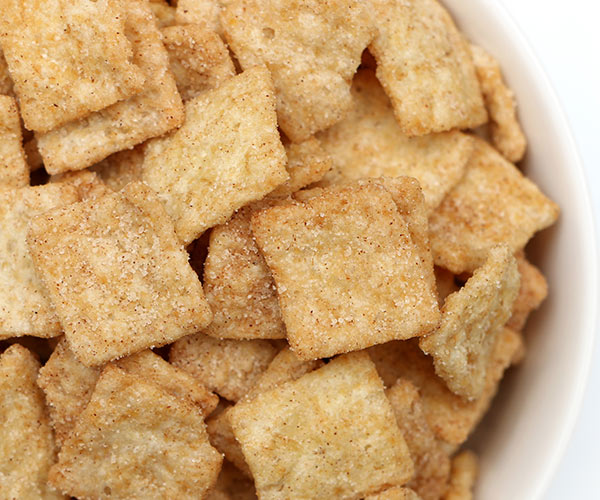 Shutterstock
Sugary Cereal

You may be surprised to find that your average breakfast cereal, often marketed as a healthy breakfast food, can contain as much sugar as dessert. Many popular cereals have upwards of 9 grams of sugar or more in a single cup-size serving. And even cereals that seem healthier, like Raisin Bran, can contain around 18 grams of sugar.

You don't have to give up cereals completely, but it helps to read labels, focus on the sugar contained in your choice, and maybe add fruit or yogurt to make your meal more balanced.
Shutterstock
Jelly and Jam

One tablespoon of jelly can have 55 calories and 11 grams of sugar — and there's a good chance you'll need two tablespoons to cover your toast.

It may take some getting used to, but substituting jelly with a healthier, protein-packed spread like peanut butter, avocado, or hummus will give you the long-lasting energy that a simple carb like jelly can't provide.