Winter is technically almost over, but that doesn't mean that drying effects it has on our skin will stop anytime soon. Not only does the cold weather make skin dry and patchy, but it also depletes it of its moisture and gets rid of your natural glow. When this happens, you need a good moisturizer or serum to help get your skin hydrated again.
"In general, maintaining good levels of hydration improves your skin overall," according to anti-aging skincare expert Dr. Thiago Freire, M.D. "Dehydration can make you look older than you are…When you're hydrated, your skin will retain more moisture. Moist skin looks younger. And it will be more elastic and supple, which also makes your skin look firmer and more toned. Supple and elastic skin also reduces the appearance of wrinkles because the plumpness smoothes the lined surface."
Now you're probably wondering which products work best to hydrate the skin, right? Take a cue from your favorite celebrities like Jessica Alba, Khloé Kardashian, and Gwyneth Paltrow to see which hydrating products they swear by to keep their skin looking youthful, supple and glowy:
Jessica Alba
The Honest Company Organic Body Oil ($9.95)
Jessica Alba's a fan of this organic body oil, which soothes the skin, keeps it protected and feeling silky-smooth. It's formulated without health-compromising chemicals and compounds, making it perfect for people of all ages.
Khloé Kardashian
La Mer Crème de la Mer ($230)
This moisturizer has a steep price tag, but it's used by some of Hollywood's finest--including Khloé Kardashian. The ultra-rich moisturizing cream leaves a dewy finish and acts as a solution to dryness, uneven skin tone and texture, and enlarged pores with its nourishing, antioxidant-rich formula.
Jourdan Dunn
Pixi Beauty Sleep Cream ($24)
Model Jourdan Dunn loves this fast-absorbing, nutrient-rich nighttime cream, which hydrates skin while you sleep. It contains 100% pure mango butter, plus oils of lavender, lemon & bergamot to help balance the skin while also keeping it calm and protected.
Olivia Culpo
kNutek Whipped Oxygen Cream ($35.07)
Olivia Culpo's secret to younger-looking skin lies in kNutek's Whipped Oxygen Cream, a product that protects collagen and elastin from UVA rays and prevents the formation of fine lines and wrinkles. Not only does this make for an effective moisturizer, but you can also use it as an eye cream, too! It contains licorice extract, which is known to reduce the appearance of under-eye puffiness and dark circles.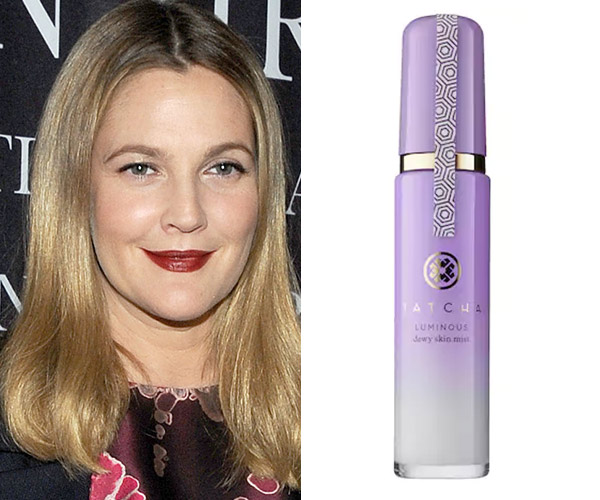 Drew Barrymore
Tatcha's Luminous Dewy Skin Mist ($45)
Drew Barrymore is a fan of this fine mist moisturizer from Tatcha, which delivers dewy skin with its silky, hydrating formula. It features more than 20 percent botanical oils and humectants, a proprietary complex of Okinawa red algae, and hyaluronic acid to lock in moisture and keep you looking radiant. Plus, you can use it as a primer for flawless makeup application or a setting spray to give your skin an extra glow!
Gwyneth Paltrow
Tammy Fender's Bulgarian Lavender Body Oil ($65)
This body oil is designed to bring a supple radiance and softness to the skin and nourishing hydration. It's formulated with aromatic and healing pure Bulgarian Lavender, which explains why it's one of Gwyneth Paltrow's favorites.
Rosie Huntington-Whiteley
Chantecaille Rose de Mai Cream ($210)
This is another pricey product, but Rosie Huntington-Whiteley says it's worth every penny. It's formulated with plant stem cell extracts that moisturize to help neutralize accumulated photodamage. It also soothes the skin and eliminates any redness to reveal a softer, more radiant complexion.
Looking for more tips from your favorite celebrities? Check out the 6 Foods Celebrities Swear By To Speed Up Their Metabolism In The Morning at SheFinds.com!
[Photos: Shutterstock]
SheFinds receives commissions for purchases made through the links in this post.