Up until recently, most major beauty brands were seriously lacking in terms of providing diverse makeup options. A walk down any makeup aisle would present a few different options labeled as "nude," even though what fell under that limited, fair-hued range rarely represented a variety of skin tones.
While progress is being made to create more inclusive beauty ranges, it's exciting to see brands come on the scene with this philosophy at the core. CTZN Cosmetics, a U.K.-based line, launched in May with a collection of 25 groundbreaking shades of nude lipsticks to ensure everyone has accessibility to a perfect match.
The double-ended products, which feature a matte lipstick on one end and a translucent lip gloss on the other, are available at CTZN's website for $25 each.
With concentrated pigment and a velvet-like texture, the lipsticks are infused with hydrating mango butter to soothe dry lips without skimping on color. The product's lip gloss end provides a balmy-textured softness, which can be paired over the lipstick or used separately for a high-impact shine.
The revolutionary new makeup brand is the creation of three LA-born and Dubai-raised Pakistanian sisters who noticed a lack of diverse representation within the makeup industry and wanted to make a change to provide genderless, inclusive options.
"We've worked tirelessly perfecting these formulas to ensure we had a nude lipstick shade for every skin tone—no more mixing required," Naseeha Khan, CTZN's co-founder said in a press release.
CTZN Cosmetics also launched a user-friendly "Get Matched" tool on its website so beauty lovers can easily find their perfect match in just three steps. In addition to offering 25 shades ranging from the deep fudge brown of Stockholm to the Coral peach of Bali, the collection is vegan and free of parabens, cruelty, talc, D5, and fragrance.
Keep scrolling to shop the globe-trotting collection: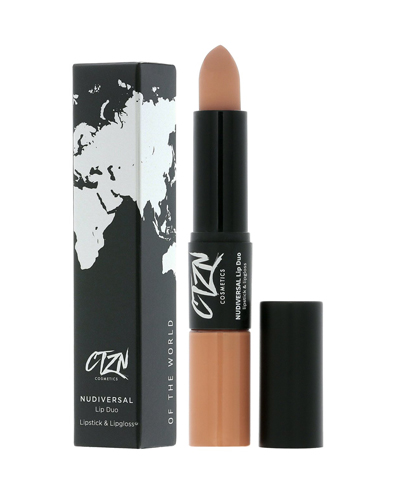 CTZN Cosmetics Nudiversal in Cannes ($25)
Cannes offers a deep coral with a warm undertone.
CTZN Cosmetics Nudiversal in D.C ($25)
This rich pink pops thanks to its cool undertones.
CTZN Cosmetics Nudiversal in Ibiza ($25)
No need to book your flight to Ibiza: just swipe a few strokes of this stone brown lippie with a blush pink undertone.
CTZN Cosmetics Nudiversal in London ($25)
A deep rose with cool, blue undertones.
CTZN Cosmetics Nudiversal in Los Angeles ($25)
A mauve lip with rich pink undertones named after the City of Angels.
CTZN Cosmetics Nudiversal in New York City ($25)
NYC offers a soft burgundy with brick-hued undertones.
CTZN Cosmetics Nudiversal in Milano ($25)
The boldest in the Nudiversal collection offers a deep terracotta hue with blue undertones.
CTZN Cosmetics Nudiversal in Rome ($25)
A pure plum pays tribute to Italy's capital city.
SheFinds receives commissions for purchases made through the links in this post.