A serum is one of the most – if not THE most – important parts of your beauty regimen as you and your skin age. While every other step in your routine serves an important role in its moment – a cleanser cleans your face as you use it, a moisturizer hydrates and softens your face right after you apply – a serum is different in that it delivers important ingredients and nutrients that your skin needs to maintain health over a longer period of time.
Serums are designed to deliver targeted ingredients deep into the layers of the skin. When you use one of these products daily, it can slowly but surely transform your skin as you need it. Most anti-aging serums use vitamins to brighten and soften the skin, leaving you with a glowing complexion and a reduced look of fine lines and wrinkles.
With any new beauty product, it is important to do your research to make sure you are putting the right ingredients into your skin, since every body is different. And this is especially true with serums, as they are made with highly concentrated formulas, so if you use a serum that doesn't agree with your body, you might put yourself at risk of skin irritations.
We started the research for you, and put together the best serums that dermatologists recommend to fight signs of aging and leave skin healthy, firm and bright.
The 8 Best Anti-Aging Serums For Women Over 40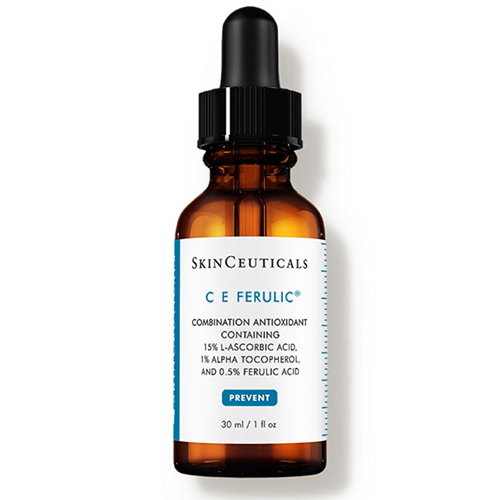 1. SkinCeuticals C E Ferulic
Skin Ceuticals C E Ferulic ($166)
What It Does
- Uses strong antioxidants from ferulic acid and vitamins C and E to protect the skin from environmental damage and brighten the complexion
- Reduces signs of aging and photodamage while minimizing the appearance of fine lines and wrinkles
- Firms texture and rejuvenates skin
Why Dermatologists Love It
"The ferulic acid helps with pigmentation, and the tocopherol—vitamin E—helps to restore lipids and moisture in the skin," Jordan Carqueville, MD told Shape. "I personally use this every day."
Promising Review
"This is an amazing product. I never write reviews. This is my first review. I am 43. I recently started noticing some fine lines on my face & neck. I was doing some research on products & luckily ended up here. I ordered this item exactly 3 weeks back, received it in 4 days & started using it. I really didn't expect some magic is going to happen with few weeks. But it did. I clearly notice a change in my skin quality. Wow!!! I am very happy. As other reviewers said, smell is a little strong. It gives somewhat smokey smell & that is very noticeable & strong." - Anonymous Dermstore shopper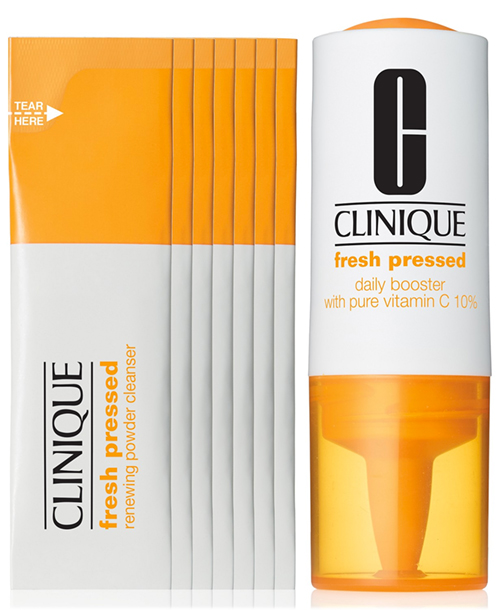 2. Clinique Fresh Pressed Vitamin C 7-Day Serum
Clinique Fresh Pressed Vitamin C 7-Day System ($21, down from $28)
What It Does
- 7-day system to provide younger-looking skin
- Diminishes lines and wrinkles while giving a firmer and more even-toned appearance with continued use
- Jump-starts the skin's natural cellular renewal process
Why Dermatologists Love It
Dr. Noelani Gonzalez of Mount Sinai Health System told New York Magazine that this serum has her vote of approval due to its powder form, which in more stable for Vitamin C as the benefits are less likely to be affected by light or oxygen.
Promising Review
"I tried the 7-day Fresh Press for the first time and I was amazed with the results from the first use, I noticed brighter glowing skin, friends and family had asked me what I had been wearing and told them about the 7day fresh press I had a flawless skin, even skin tone, I was so happy with results I did not want to wear any makeup at all my skin just likes great!" - LovelyLesley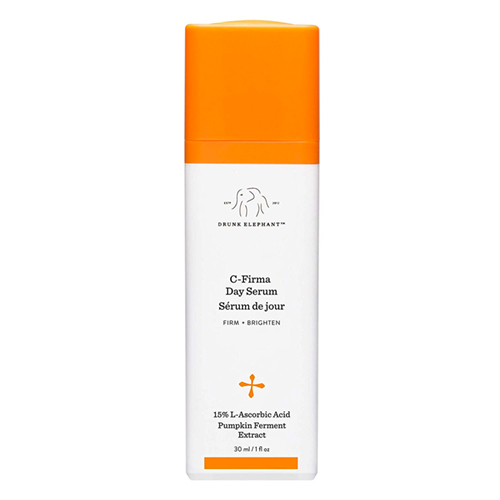 3. Drunk Elephant C-Firma Day Serum
Drunk Elephant C-Firma Day Serum. Brightening and Tightening Face Serum ($80)
What It Does
- Firms and brightens the appearance of skin
- Improves the signs of photoaging, dark spots and wrinkles
- Neutralizes environmental stressors and repairs damage
Why Dermatologists Love It
"This serum has the right amount of vitamin C and brightens, plumps, and hydrates," said Dr. Marmur of Marmur Metamorphosis Skincare.
Promising Review
"I am loving this serum! I have been using it for about two weeks, and my skin has improved so much! My skin tone is more even, and my skin seems more youthful! I am going to be trying A LOT more products from this company because of how much I love this!" - Anna Gallaher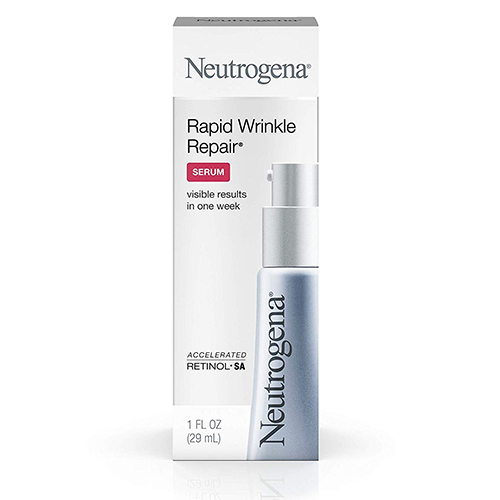 4. Neutrogena Rapid Wrinkle Repair Serum
Neutrogena Rapid Wrinkle Repair Hyaluronic Acid Face Serum & Retinol Serum ($15.98)
What It Does
- Absorbs quickly into skin to continuously renew the appearance
- Smooths fine lines and texture and plumps the complexion with hyaluronic acid
- Diminish the look of age spots while brightening and evening out the skin tone
Why Dermatologists Love It
"I really like that this product doesn't irritate like many other OTC retinol products and also has salicylic acid, which enhances penetration and makes a big difference. I truthfully haven't seen any of my patients have issues with it, and it still gives you the therapeutic benefits of retinol that you're looking for," Dhaval Bhanusali, MD told Shape.
Promising Review
"I am surprised with the other reviews! This product has no fragrance nor does it "pill up". Pilling happens when your face is still wet and you put on the serum. This isn't lotion, your face needs to be dry before application. Using this has kept my 40+ year old skin clear and glowing. Great product at an affordable price!" - Winnie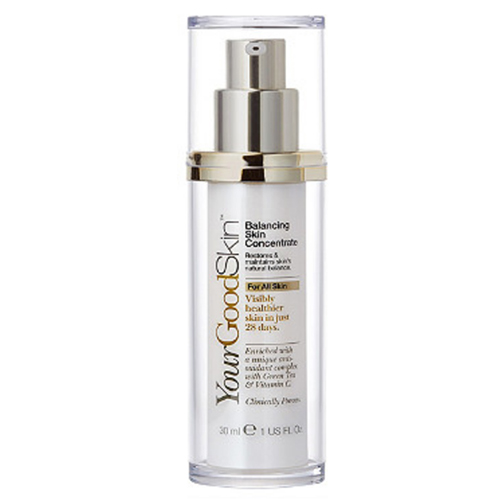 5. YourGoodSkin Balancing Skin Concentrate
YourGoodSkin Balancing Skin Concentrate ($19.99)
What It Does
- Maintains moisture levels in the skin for a smoother and healthier appearance
- Improves skin texture for a radiant complexion
- Keeps the skin tone even
Why Dermatologists Love It
"It contains a combination of several potent antioxidants, including vitamin C, E, and green tea, which prevent oxidative cellular damage due to the sun and even internal stress. It feels great on and makes my skin calmer and less reactive," Dr. Jacqueline Berliner of Marmur Medical in NYC told Martha Stewart Weddings.
Promising Review
"I NEVER leave reviews but I HAD to for this product/brand!!! This brand is COMPLETELY underrated, I have never found a product that really made a difference for my skin! I apply 1-2 times to a clean face/before makeup and it feels almost gel-like once applied and has a really elegant scent to it and melts right into my skin leaving a very refined and refreshing texture. As far as results- I have acne prone skin and get huge cystic craters around that time of the month, Clinique even makes my skin freak out!! Whereas this product I've only noticed positives, my pores are actually smaller whereas before I thought that was a phrase brands only said for marketing!! No acne freak outs, and the overall texture of my skin has felt so balanced and hydrated! Definitely 10/10 I had to go pick up their blackhead scrub and their chapstick (both are equally as amazing as this OG your good skin product!!)" - Lorbethy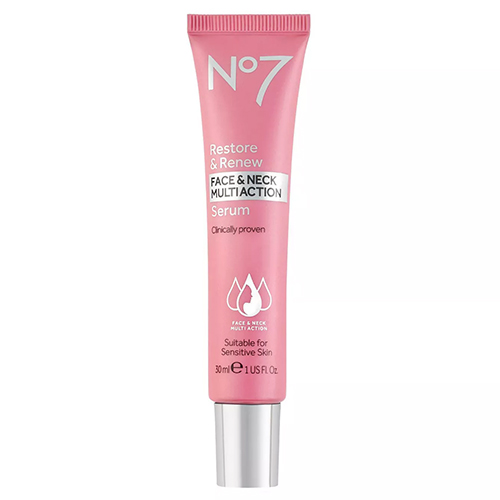 6. No7 Restore & Renew Multiaction Serum
No7 Restore & Renew Face & Neck Multi Action Serum ($33.99)
What It Does
- Firms skin while reducing the appearance of wrinkles and brightening the complexion
- Clinically proven to revitalize and lift the skin around the face and neck
- Made with a fortifying complex of calcium, amino acids and ceramides
Why Dermatologists Love It
"I love that this one serum can tackle all of the signs of aging on both the face and neck," Dr. Whitney Bowe told Martha Stewart Weddings. "It's packed with vitamin A and a powerful peptide blend to fight wrinkles; vitamin C for a more even skin tone, and calcium amino acids and ceramides that help firm the neck. Plus, it's just under $35 so you get a bang for your buck."
Promising Review
"I began using this range of skincare 3 months ago and within a few days I noticed my skin looked more even toned and radiant than it has for years. I was so impressed given I had been using another premium brand of skincare (which costs more than double the price) for many years. I would recommend this but would advise that you only need a small amount (about the size of a small peanut) then massage gently across the face." - Linda W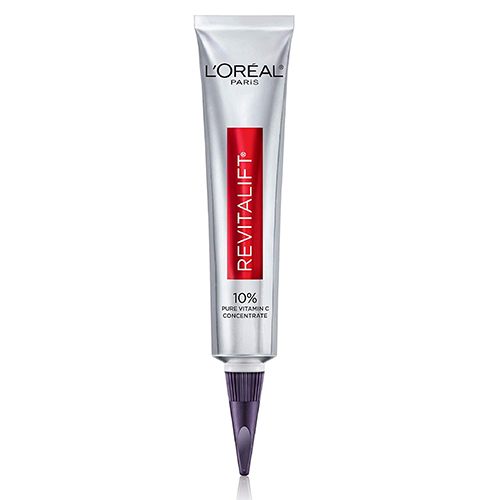 7. L'Oreal Paris Revitalift Serum
Vitamin C Serum by L'Oreal Paris ($19.50)
What It Does
- Made with a lightweight formula of vitamin C designed to deliver powerful results
- Promotes a soft texture and bright glow
- Even skin tone, reduces wrinkles and leaves skin with a firm complexion
Why Dermatologists Love It
"I've been using the L'Oreal Revitalift Derm Intensive 10% Pure Vitamin C Serum, which is a stabilized form of vitamin C that's one of the best-kept secrets at the drugstore," Joshua Zeichner of Mount Sinai Hospital in New York City told Allure
Promising Review
"I am a 31 year old female with combination, acne prone skin with some dark spots from sun/acne. I have been using the Vitamin C serum for a few weeks now and thought it was time to write a review. First off, the design and packaging of the tube is fantastic because it successfully keeps out light and air which will cause Vit C to go bad. Makes you wonder why all the other Vitamin C products are in glass bottles? Anyway - the price is right too. You have to be careful not to squeeze out too much of the product when you first open it (I just don't want to waste any of it)!
The application is great - it is a gel/lotion consistency and goes on the skin very smooth/silky and absorbs quickly. It does not leave a residue. It feels very moisturizing and sometimes I will skip my moisturizer because my skin feels hydrated enough with this product." - Maggie M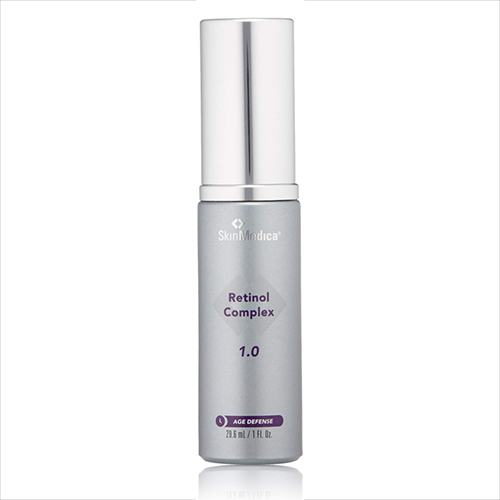 8. SkinMedica Retinol 1.0 Complex
SkinMedica Retinol 1.0 Complex ($93)
What It Does
- Uses strong retinol complex to reduce the signs of aging on the skin
- Diminishes the appearance of fine lines and coarse wrinkles
- Enhances skin tone and texture
Why Dermatologists Love It
"Retinol is a star ingredient as it is one of those rare ones that can get deep into your dermis to stimulate your collagen production right at the source," dermatologist Shereene Idriss told Allure
Promising Review
"This is my 2nd bottle so I am confident to say that it works! I thought I am a season user of peeling products since I've used TCA, AHA, Lactic Acid etc and this product still gave me a slight "burnt" when I first used it. But its my fault for under estimating it's strength and smeared on a little too much on first few applications. So my advice is to go slow and use only every other day if you have not use any peeling products before. I saw better cells turnover on my aging skin (52 yrs old and a golfer with lots of sun exposures) and my skin has been a lot brighter now." - mR2
SheFinds receives commissions for purchases made through the links in this post.