Ready to storm Area 51, fam? Alien memes filled our social media timelines this year thanks to all of the Area 51 memes, which makes us think that tons of alien believers are going to try their hand at a DIY Area 51 Halloween costume this year. We're definitely going to have a hard time deciding which meme to be for Halloween; it's between an Area 51 alien costume, a VSCO Girl costume, or a FaceApp Challenge costume, for sure.
Interest in the top-secret government facility peaked when a Facebook group called "Storm Area 51, They Can't Stop All Of Us" was created over the summer, inviting attendees to fly out to Lincoln Country, Nevada, and meet up at the Area 51 Alien Center tourist attraction. The event got over 2 million RSVPs and was slated to happen on Sept. 20. While no "raid" happened, the Facebook group sparked several social media that poked fun at the attendees that RSVPed, indulged Area 51-alien conspiracy theorists, and became a pop culture phenomenon.
Area 51 raiders not realizing that the government actually know all of this so they move the aliens to area 52 #Area51storm pic.twitter.com/v6jiELCyAF

— Dyaabs (@jayceeemmm) September 20, 2019
https://twitter.com/sphynxxxonyx/status/1175048650206191626
everybody waiting for the Area 51 results #Area51storm pic.twitter.com/syKTPcwugd

— swaggerbunny69 (@swaggerbunny69) September 20, 2019
People actually did, however, show up to Alienstock, a music festival in Rachel, Nevada, meant to celebrate the viral Facebook group. Attendees began setting up camp at a small campsite near Little A'Le'Inn on Sept. 19 and Mashable reports that there were about 500 campers at the campsite.
How To Make A DIY Storm Area 51 Halloween Costume:
The possibilities are truly endless when it comes to making an alien Halloween costume, but we figured those looking to recreate the popular meme would be looking for something easy and affordable to pull off. Keep scrolling to see how our editors will be making a DIY "Storm Area 51" Meme Halloween costume:
Men's Area 51 Alien Halloween Costume
For the dudes, we think that you can pull off a convincing Area 51 alien by opting for an all-green ensemble. Pair these super comfortable green sweatpants, which you can easily re-wear after your Halloween festivities are over, with a green t-shirt to get your extraterrestrial on. We found a black t-shirt with an alien on it that would be perfect for the DIY Area 51 Alien costume and some alien sunglasses that really tie together the look.
If you're really committed to the costume, you can purchase one of those green screen suits!
VSVO Face Open Zentai Lycra Spandex Bodysuit ($12.99)
Green Alien Head T-Shirt ($19.99)
Starter Men's Elastic-Bottom Sweatpants with Pockets ($19.99)
Alien Costume Mask Novelty Glasses ($7.98)
Women's Area 51 Alien Halloween Costume
Ladies can follow the same outfit structure as the guys when making their Area 51 Alien Halloween costume. Create an alien-inspired look by putting together an all-green ensemble with a green alien t-shirt, matching shorts, and fun alien antennas.
Forlisea Womens Casual Alien Print Short Sleeve Loose T-Shirt Top ($12.99)
BLACK JACKY Metallic Rave Booty Dance Shorts ($9.97)
Amscan 318819 Party Supplies, One Size, Silver ($6.95)
Area 51 Halloween Costume Makeup
This costume also opens up the opportunity to get really creative with your makeup. We put together some of the best green makeup products that will help you nail your Area 51 Halloween costume glam and create a truly out of this world look.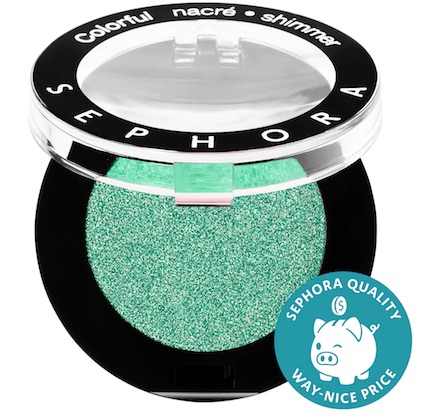 Sephora Collection Colorful Eyeshadow in Stadium Fever ($8)
This green eyeshadow single from Sephora Collection is perfect for eyeshadow novices. This shadow is super easy to apply and doesn't even require a brush; just use your finger!
Huda Beauty Obsessions Eyeshadow Palette ($27)
More experienced eyeshadow users will have a field day with Huda Beauty's Emerald Obsessions Eyeshadow Palette, which features nine highly-pigmented mattes and striking shimmers in varying green hues.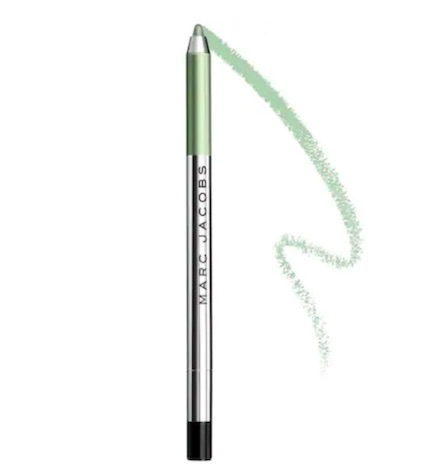 Marc Jacobs Beauty Highliner Gel Eye Crayon Eyeliner in Peridot ($25)
Not into the eyeshadow? Add a shimmery sweep of Marc Jacob Beauty's top-rated Highliner Gel Eye Crayon Eyeliner in this amazing sage-green shade.
Urban Decay Heavy Metal Face & Body Glitter Gel - Sparkle Out Loud Collection ($22)
No alien makeup look is complete without some glitter. Add some of Urban Decay's Heavy Metal Face & Body Glitter Gel to your glam to really take your Area 51 Halloween costume to the next level.
SheFinds receives commissions for purchases made through the links in this post.