There are loyal lovers of classic superheroes—Wonder Woman and Supergirl come to mind—and then there are those of us who appreciate a darker, more complex and maybe even a slightly twisted superhero.
And that's exactly why this DIY Jessica Jones Halloween costume is desperately needed.
Dressing Up As Jessica Jones For Halloween
Jessica Jones, played by Krysten Ritter in the Netflix television adaption, is one of Marvel's most mysterious superhero characters. After a rather traumatic stint as a classic crime-fighting superhero, Jessica pretty much throws in the towel and starts a new life as a private investigator. But since you can't exactly wish your powers of strength away, and Jessica has superhuman strength, she is trying to live a semi-normal life in New York City as an extraordinarily gifted person.
Naturally, a superhero who flies under the radar can't exactly be seen on the streets of Manhattan wearing a cape. Jessica's sulky, street-cool wardrobe is easy to recreate at home using a few affordable pieces that you might already own — and these budget-friendly grabs from Amazon will help.
How To Make A DIY Jessica Jones Costume
Yopo Black Bob Wig ($14)
1. A Black Wig
Jessica Jones has a distinctive New York City meets semi-goth look: complete with pale skin and jet-black hair. We don't recommend dying your hair black for the occasion (unless raven hair has always been your dream) because dark dye does not wash out well.
Here's the next best thing: a black wig without bangs. Wear it with plenty of Jessica Jones attitude.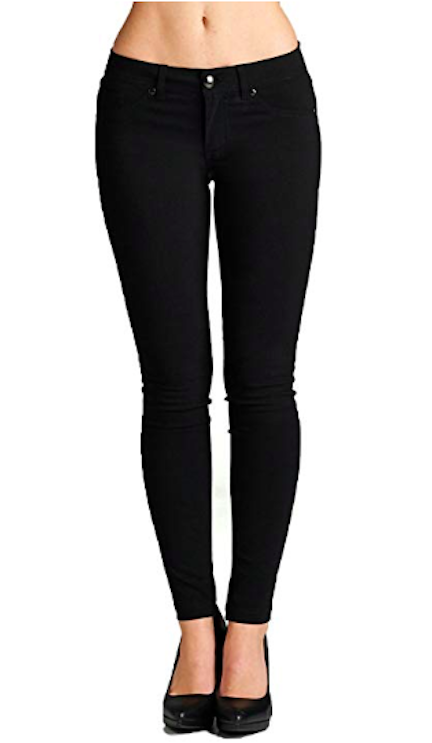 Emmalise Basic Jean Skinny Leggings ($15-18)
2. Black Jeans
You could spend a fortune on designer jeans — but there's absolutely no need to do so when these black skinny jeans cost less than $20. Jessica Jones doesn't earn a six-figure salary at her private investigator job and her wardrobe genuinely consists of basics in dark neutral tones like black, grey, and sometimes (but usually not) a pop of color courtesy of a moody mulberry. And, because she is a far more realistic superhero than someone like Black Widow from The Avengers, you won't catch her out spying and snapping photos of people through windows while wearing a more costume-y pair of black leather or vinyl pants (you won't spot a catsuit on her, either).
These affordable ankle-length jeans are stretchy, comfortable, and the perfect piece to wear while playing Jessica on Halloween. You'll also get tons of mileage out of them long after the holiday is over.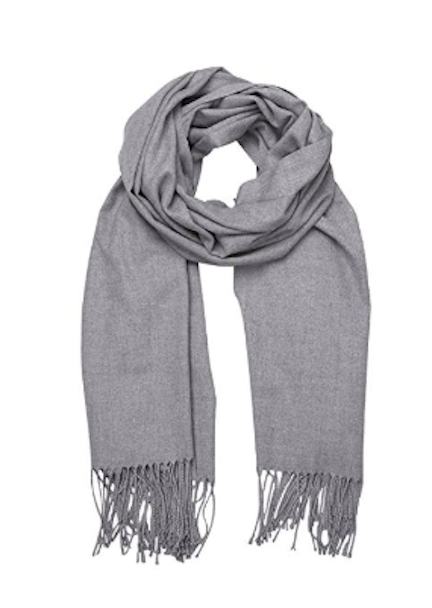 SOJOS Cashmere Scarf ($13)
3. A Grey Scarf
Living in New York City, the temperatures drop in the autumn and winter, and because Jessica Jones spends so much time outdoors and sneaking from place to place, she needs to keep warm. This grey scarf, wrapped several times around the neck, is a key look for Jessica in many of her scenes. It's also one of the only other colors in which she feels comfortable deviating from her typical basic black palette.
Lucky for you, this isn't just any grey scarf — it's a supremely affordable cashmere grey scarf that's neither too thick nor too thin, so you can wear it both outdoors and indoors.
Uaneo Classic Style Moto Faux Leather Jacket ($30)
4. A Faux Leather Black Motorcycle Jacket
There is no one piece that we associate more with Jessica Jones' spy style than a killer black motorcycle jacket — one she wears nearly every day. An authentic leather moto jacket can run you more than $100 (and sometimes several hundred dollars), but this faux leather black motorcycle jacket costs about $30 and mimics Jessica's style perfectly.
The jacket has a zipper closure, zip cuffs, and two hand pockets at the waist to keep your hands warm on a chilly October night. Wear the jacket over your black jeans and with a simple basic black or grey T-shirt or tank top.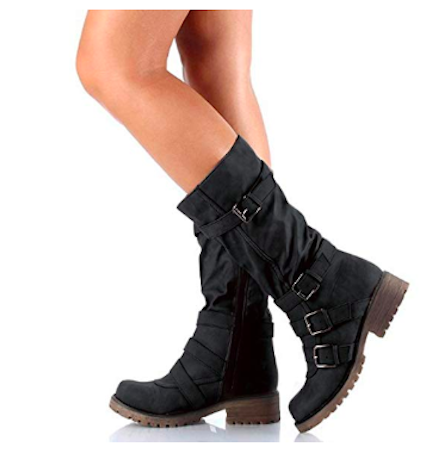 Rainlin Mid-Calf Boots ($23)
5. Black Boots
To complete your head-to-toe Jessica Jones DIY Halloween costume, these mid-calf black boots resemble Jessica's ever-present tough motorcycle boots, but cost about a fraction of the price of most boots.
A touch of brown-red lipstick and maybe a light swipe of black eyeliner and you've morphed into Jessica Jones — using pieces you'll wear again.
SheFinds receives commissions for purchases made through the links in this post.