Getting up in the morning and doing a full face of makeup before you head out the door can be really difficult when all you want to do is lay in bed. Has anyone else hit snooze one too many times and ended up having to do their makeup on the train? Same.
No one has better beauty tips and tricks than a professional makeup artist. We spoke with Kelli J. Bartlett, Glamsquad Artistic Director, to get her last-minute beauty advice for when you're lacking makeup inspo. Scroll down for all of her insider tips.
1. Put A Lip On It
Lip crayons are the easiest way to draw on a perfect pout and instantly elevate your look! These crayons eliminate the need for a lip pencil, where the importance of precision always takes extra time and attention. I love IL MAKIAGE Rave Sheer Lip Color. Pick a shade that complements your skin and style.
2. Add Some Shimmer
Use your ring finger to dab a little lip gloss along the tops of cheekbones and on the eyelid to add a light, reflective shine to your skin. This trick will give you an instant radiance without the time-consuming moisturizer, foundation, and concealer routine.
3. Smoke It Out
The easiest way to add a little drama to your look is to give yourself a quick smoky eye. Dig into the bottom of your purse and pull out that emergency eye pencil. Generously line the inner rim of the bottom lashline all the way from the tear duct to the outer edge. Then, use your ring finger to smudge the product into the lashline. Close your eyes tightly to transfer the product to the top lashline. Go lighter on the liner for a more subtle smoky-chic, or pile on the pencil and exaggerate the smudge for a seriously sultry smoke.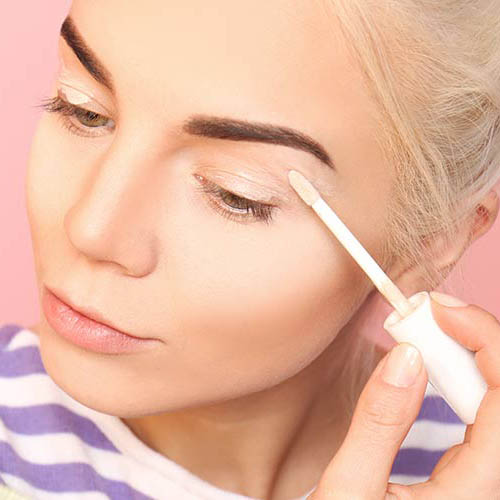 4. Fake Awake
To instantly open the eyes and fake an awake look, place a little white liner or shadow in the inner tear ducts of the eyes, patting with your finger to soften the brightness.
6. Curl Your Lashes
A quick hit of your lash curler will do wonders to open your eyes in seconds. Make sure to hold the curl for at least 30 seconds to ensure a wide-eye appearance.