Every makeup lover knows that a good liner can totally transform your glam. Not only does it have the power to create the illusion of thicker lashes and bigger eyes, but a good winged eyeliner can also help add a chic flair to your makeup. But, everyone who has tried to do a cat eye or wing before knows that it's not an easy feat, especially if you're using the wrong liner to get the job done. That's why makeup artists and beauty mavens are loving Fenty Beauty by Rihanna's new Flyliner from the Moroccan Spice Collection. Unfortunately, an eyeliner this good is bound to constantly fly off the shelves, which is why everyone's been trying to track down Fenty Beauty Flyliner dupes so they can get an expert-level cat eye without having to hop on a massive waitlist first.
The Best Fenty Beauty Moroccan Spice Flyliner Dupes
Why People Are Calling The Fenty Beauty Flyliner The Best Eyeliner For Cat Eyes
Fenty Beauty by Rihanna Flyliner Longwear Liquid Eyeliner ($20)
But let's be real, it's not surprising to learn that the Fenty Beauty by Rihanna Flyliner is the best eyeliner for cat eyes. After all, every product the singer has released since launching her the brand last year has been amazing. This hyper-saturated, water-resistant, liquid eyeliner has an innovative flex tip and easy-grip triangle shape that allows for effortless, easy application. It delivers everything you want in a liner including a fast-drying, long-lasting formula and intense color.
"Featuring a smart triangle shape that makes it easy to hold, Flyliner's all about eye-opening drama—minus the stress. It all comes down to its super-flex felt tip, an exclusive Fenty Beauty innovation that allows for smooth, uninterrupted ink flow from every angle. In other words? A hyper-saturated satin finish with each and every stroke—no dragging, skipping, or having to retrace your steps," according to the brand.
It was even revealed that Rihanna designed Flyliner's tapered precision point with all eye shapes in mind, ensuring that everyone could get their perfect wing or eyeliner look. We love a good inclusive beauty product!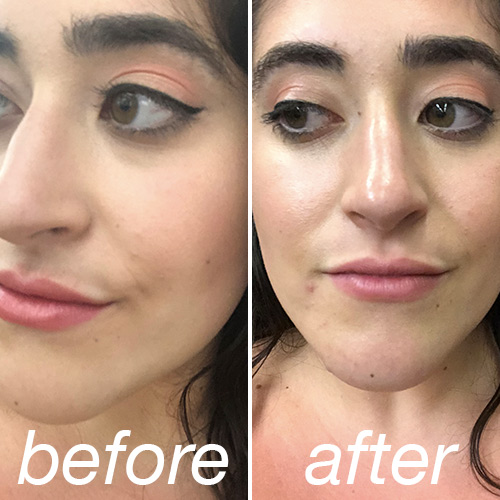 My Fenty Beauty Flyliner Review
I must say that the Flyliner definitely lives up to the hype. I was able to sample the product before it launched back in July and was impressed by how well designed it actually was. The point precision tip definitely delivered and made it incredibly easy to create a cat eye--mind you, I'm the absolute *worst* at winged liner! In addition to being bold and easy to use, this liner actually STAYED PUT all day. I applied it in the morning before work at around 9 a.m. and it lasted through the work day, an outdoor happy hour in the NYC humidity, and, a Sam Smith concert. I checked my liner after the show, which ended at 10 p.m. and my liner was perfectly intact. Literally, no smudging, fading or running. It looked the same as it did when I left for work!
Check Out The Best Fenty Beauty Flyliner Dupes
We definitely recommend trying Fenty Beauty's Flyliner if you can. But if its $20 price tag is too much for you or you're having trouble tracking it down, then you'll definitely love these affordable Fenty Beauty Moroccan Spice eyeliner dupes:
1. Maybelline
Maybelline Eye Studio Master Precise Liquid Eyeliner ($7.99)
Fenty Beauty's Flyliner has a precise tip, so it's important to make sure that your Fenty Beauty Moroccan Spice eyeliner dupe does as well. A good eyeliner to try is Maybelline's Eye Studio Master Precise Liquid Eyeliner. It's described as a next generation liquid eyeliner by the brand and features an ultra-thin 0.4mm brush tip to supply continuous flow for smooth, even perfect lines.
Like Flyliner, the Eye Studio Master never dries or skips and offers a super pigmented and super saturated color. One reviewer even said that it lasts all day, too!
Promising Review:
"Wonderful eyeliner. Glides on smooth. Bold color. No fade. Removes with ease. Lasts all day. I normally don't buy drugstore brands anymore but I love this its terrific." - XxColorfulStylistxX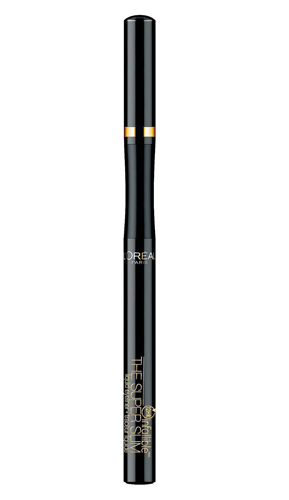 2. L'Oreal Paris
L'Oreal Paris Infallible Super Slim Liquid Eyeliner ($8.99)
One of Flyliner's other distinguishing qualities was that it was fast-drying, which can also be said for L'Oreal Paris' Infallible Super Slim Liquid Eyeliner. It has a 0.4mm ultra-fine felt tip that gives the wearer full control and delivers the perfect amount of liner. Expect this eyeliner to dry fast and last; the brand promises that it will remain smudge-proof for up to 12 hours.
Promising Review:
"I would purchase this again. Creates the perfect wing whether small or big does fade after swimming, which is pretty good because it doesn't run at all considering it isn't waterproof." - Jane
3. NYX
NYX Professional Makeup Epic Ink Liner ($8.99)
Flyliner is one of the best eyeliners for cat eyes because of its innovative flex tip that allows for an easy and precise application. NYX's Epic Ink Liner also had a flexible tip and makes drawing intensely pigmented lines a breeze. Its slender, flex brush tip helps the wearer achieve a defined and smooth satin finish.
Promising Review:
"So easy, even I can use it! I love a good cat eye as much as the next girl, but I am hopeless when it comes to creating one--until this! The fine tip gives me a lot of leeway on application, while the thicker base allows for quick fill in. The color is glossy and gorgeous and dries pretty quickly, minimizing lid transfer. It stays all day without smudging but removes with the slightest swipe of remover. Perfect!" - Artistry Impaired
SheFinds receives commissions for purchases made through the links in this post.