Thinning hair can benefit from a variety of different treatments and medications, but experts say that your diet and lifestyle really play the biggest role in your hair's overall health. In fact,  Francesca J. Fusco, MD, assistant clinical professor of dermatology at Mount Sinai Hospital in New York City, notes that eating a protein-rich diet helps promote stronger, thicker hair.
"Protein is critical to healthy hair," she tells Health.com. "Lean meat, fish, poultry, and beans are all great sources. Iron is also important; low iron can lead to anemia, which can lead to increased hair shedding. The great news is that with proper diet and supplementation, this type of hair loss is reversible."
Keep scrolling to find out which foods Dr. Fusco and other dermatologists recommend eating to prevent hair loss: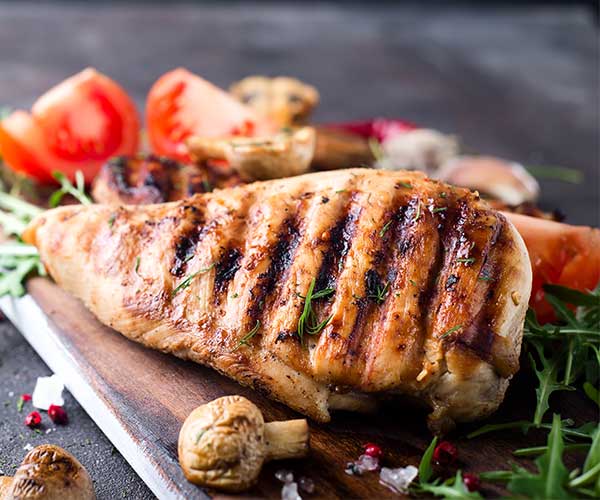 Shutterstock
1. Grilled Chicken
Dr. John Frank, an expert in hair growth, says another great source of protein for long locks is grilled chicken. "Chicken, beans, lentils, eggs, and seafood all tend to have healthy proteins in them, along with a low saturated fat content," he explains. "Leafy vegetables can provide iron as well as other essential minerals and vitamins to enrich your hair growth."
Shutterstock
2. Beans
As Dr. Fusco previously mentioned, beans are an excellent source of hair-healthy protein. They're also high in another mineral that helps promote strong, healthy hair: zinc.
"Zinc is yet another nutrient that's key to overall hair health and a deficiency is linked with hair loss," Dr. Josh Axe says. "Zinc is involved in tissue growth and repair including hair." Consider these benefits the next time you grab a burger for lunch!
Shutterstock
3. Sweet Potatoes
Sweet potatoes are rich in vitamin A, a powerful antioxidant that has anti-aging properties. "Vitamin A helps make the sebum that conditions your scalp," Dr. Axe continues. Oh, and did we mention sweet potatoes are practically fat-free?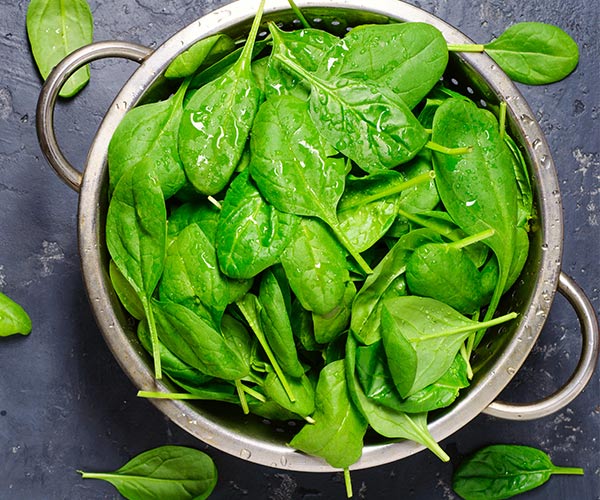 Shutterstock
4. Spinach
And when it comes to vegetables, you should turn to spinach to get fuller hair. Dermatologist Dr. Carolyn Jacob says that you need to focus on what you could be lacking in your diet when you analyze your hair loss, she tells Eat This, Not That! Since spinach is iron-rich it acts as a natural conditioner.
Shutterstock
5. Salmon
Wild cold water fish like Salmon is rich in protein and omega-3, an essential fatty acid that promotes hair growth. Omega-3s work to reduce inflammation, leaving your scalp nourished and your hair strong.
Shutterstock
6. Strawberries
Fruits like strawberries also help to boost hair growth alone because of their antioxidants--particularly vitamin C. Vitamin C is an antioxidant that plays a big role in helping to supply blood to your hair follicles. The site notes that other fruits rich in vitamin C include kiwi, mango, orange, and pineapple.