HBO's award-winning Game of Thrones is about to enter its eighth and final season. Rather than lament the end of an incredible show, this DIY Game of Thrones Halloween costume celebrates two strong female characters that have evolved so much over the years, yet remain incredibly complex and interesting: Daenerys, Khaleesi Mother of Dragons, and Sansa Stark.
The Best DIY Game Of Thrones Halloween Costume
Similar to how these two characters have changed as the result of taking on challenges and being forced to succumb to the will of other male characters, their wardrobes have also shifted from season to season to reflect their worlds.
A Daenerys Game Of Thrones Halloween Costume:
In season one of Game of Thrones, Daenerys, played by Emilia Clarke, is a beauty with very little power. Her clothing, which includes plenty of flowing, Grecian goddess gowns, reflects her status. As Daenerys' power increases and she becomes a bona fide warrior, her clothing style shifts to more structured dresses with severe shoulder padded capes and a signature palette of deep red and black.
A Sansa Stark Game Of Thrones Halloween Costume:
Sansa Stark, played by Sophie Turner, is a Northern girl through and through. At the show's start, she is often portrayed wearing cool shades of ice blue, ruffles that prove her high status, and feminine details like floral appliqués and wide sleeves. The eldest daughter of Lord Eddard Stark of Winterfell and Lady Catelyn is a victim of abuse at the hands of characters like King Joffrey. A romantic, naive woman at heart, she slowly learns to adapt and harden in order to survive, and in the process, her ruffles and pale blues give way to deep purples, gold (who can forget that wedding dress?!), and dark, somber shades of black and grey with cloaks and furs that will come in handy when she needs to wage and win wars.
No matter which character you choose to emulate on Halloween, these pieces from Amazon will help, and they won't cost you a fortune. In honor of GoT's eighth season, we stuck by Daenerys and Sansa's latest style choices.
Buy The Items You Need For A DIY Game of Thrones Halloween Costume: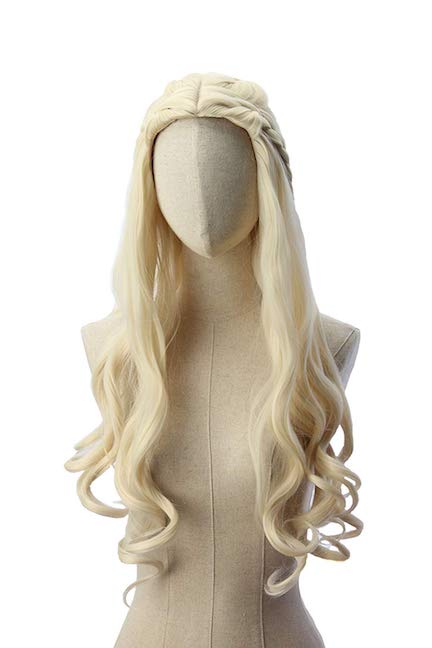 1. Daenerys: A Long Platinum Blonde Wig
cosplaywigs.com Khaleesi Wig ($18.99)
There is no way to dress up as Daenerys without including a long, wavy platinum blonde wig. This option, with its perfect shade of ice blonde and front braids that free you from having to style the wig itself, looks amazing and will save you tons of time.
2. Daenerys: A Long Dark Red Dress
Koh Koh Kimono Sleeve Maxi Dress ($20)
This deep red dress with its empire waist and Kimono sleeves is a fair replica for the burgundy dress that Daenerys pairs with a cape — but it's going to need a simple alteration. Cut the bottom (or ask a tailor to do this) to mid-calf length; Daenerys needs freedom of movement and this long maxi length would get in the way of her black boots.
3. Daenerys: A Black Cloak
HaoDuoYi Front Cape Duster Coat ($27)
This satin-lined cloak has structured square shoulders and a slim cut that would never interfere when Daenerys gets down to business on the battlefield. All you'll need to complete this costume is a pair of low heeled or flat black boots.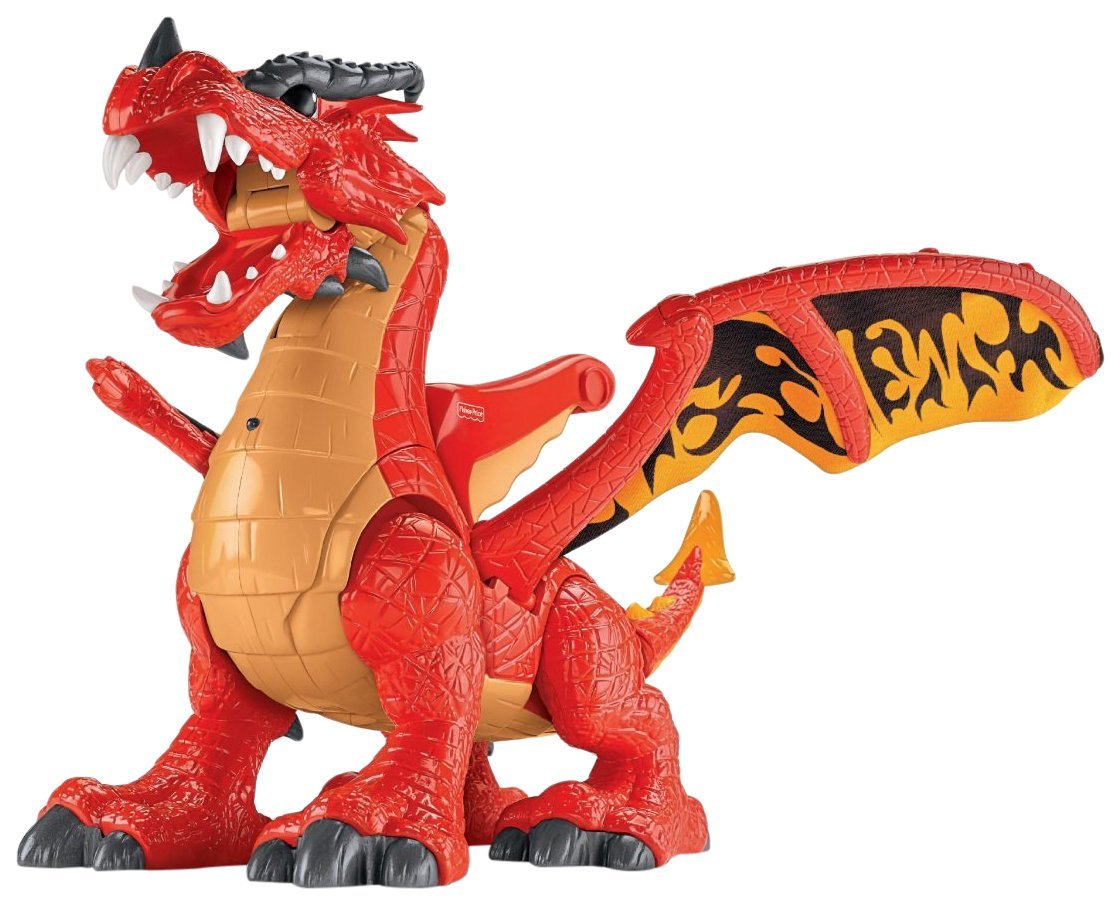 4. A Dragon
Fisher-Price Imaginext Eagle Talon Castle Dragon ($24.99)
This dragon is way cuter than the ones Daenerys tames on GoT, but carry this little guy around at your Halloween party and everyone will instantly know you are the Mother of Dragons.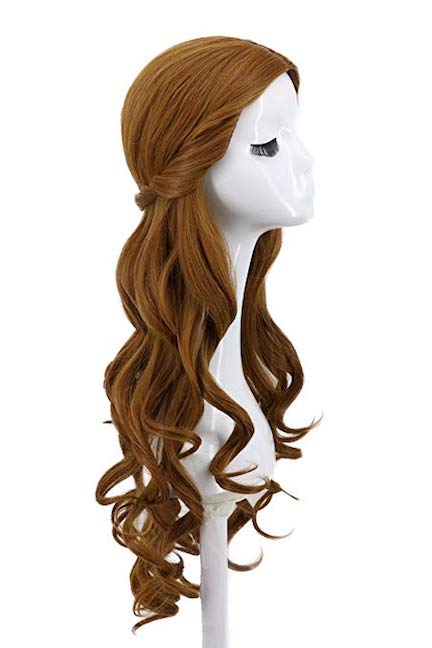 1. Sansa Stark: Red Wig
Karlery Braided Wig ($19.99)
Just as Daenerys is known for her long, light-blonde locks, Sansa Stark is known for her gorgeous red hair. Anyone trying to make a DIY Sansa Stark Halloween costume will need a long, red wavy wig--and this one comes already styled in a romantic half up/half down 'do.
2. Sansa: A Long Grey Dress
Koh Koh Maxi Dress ($15)
Start with this minimalist grey dress, which is in line with the darker, more serious shades Sansa is seen wearing in season seven.
3. Sansa: A Grey Military-Style Jacket
Noroze Military Style Jacket ($23)
The one constant throughout season seven is that Sansa's wardrobe begins to take on the feeling of armor. This military-style jacket over your grey dress provides warmth and, more importantly, protection for a character who needs it.
4. Sansa: A Corset Belt
Sunflyfashion Corset Belt ($9.99)
Cinch this wide corset belt around your military jacket for additional protection.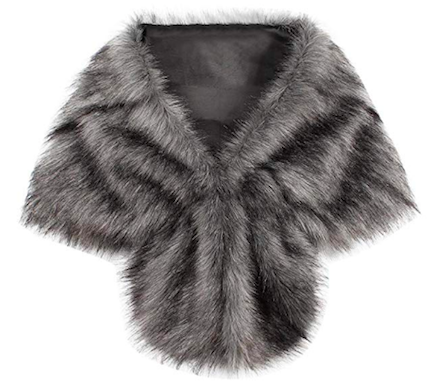 5. Sansa: A Faux Fur Shawl
RNTOP Faux Fur Shawl ($14.49)
And for the final touch: A grey faux fur shawl that represents Sansa's new status as a fighter--wait for it to happen in season eight--but that also pays homage to her Northern roots.
SheFinds receives commissions for purchases made through the links in this post.