It's the one piece of loungewear so heavily worn by celebrities we're convinced it deserves a few of our paychecks. That's right, we're talking about those coveted Gucci hoodies. Recognizable by their red and green stripes and bold graphics, these hoodies have earned a spot at the top of every fashion girl's wish list.
But before you pull decide to take the plunge and drop triple digits on one of these beauties, we're here to tell you that you can get a near replica for much, much less. Below, we've rounded up our favorite Gucci hoodie dupes that will earn you tons of compliments while saving your wallet from distress, too.
Shop Gucci hoodie look-alikes now:
Topshop Milan Graphic Sweatshirt ($58)
Although this next option isn't quite a hoodie, its stunning details are so similar to Gucci's we thought it would be a crime not to feature it. The thin gold and red stripes and lion plastered across the front nearly fooled us into thinking this piece is designer. Then, we saw the price tag, and knew immediately that it belonged in our shopping carts ASAP.
Short Hooded Sweatshirt ($24.99)
This vibrant H&M number may also make you do a double take. The dynamic block design closely mirrors that of the classic Logo Cotton Hoodie ($1,280) - which yes, is for men, but looks great on ladies, too. Not to mention, is that a lion we see in the middle there? Layered with a jean jacket or oversized shearling coat, this standout piece encompasses athleisure at its finest.
Hello Kitty x ASOS Cropped Color Block Hoodie ($60)
For its latest collection of ready-to-wear designs, Gucci featured tons of sweet cartoons and animated designs. While we're not all too surprised by the choice (after all, the brand is known for its often flamboyant and youthful looks), we're a little taken aback by many of the garments' price tags. So when we found this cute Hello Kitty version from ASOS, we were practically beaming from ear to ear. I mean just looking at this adorable piece, how could you not?
Can't get enough amazing designer dupes? Make sure to check out 8 Gucci Fashion Dupes That Look Like The Real Deal and 5 Balenciaga Triple S Sneaker Dupes That Are Just As Great As The Original.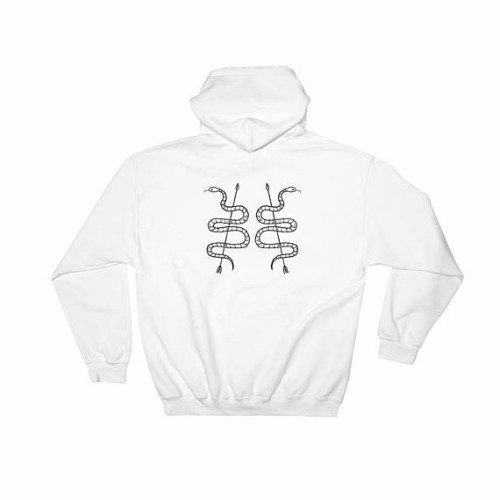 Hunted Snakes Hooded Sweatshirt ($42)
Gucci loves insects (think the coveted Marmont shoulder bag) and reptiles - particularly snakes. In fact, the slithering creature has made an appearance on practically every recent piece the brand has to offer. While we're obsessed with the Hooded Guccify Sweatshirt ($1,400), we think this version from Etsy gives it a run for its money. Plus, the simplicity of the piece makes it extremely versatile.
Embroidered Floral Hoodie ($23.99, origianlly $34.90)
While the original Embroidered Jersey Sweatshirt will cost you $2,700, we found this amazing lookalike from Forever 21 for only $24. The rose appliques create that iconic eye-catching texture and even extend to the back of the piece, just like they weave up the hood of the Gucci version. Wear this hoodie with a crop top and track pants for an impossibly chic look.

SheFinds receives commissions for purchases made through the links in this post.