If you haven't heard of Betabrand, we're here to give you the inside scoop. This revolutionary fashion company is shaking things up by having real women (like you and me) vote on items before they actually make them. What's more is that they even incorporate customer feedback into the designs before production. Wild, right?! Not only is this a great way for making the brand more eco-friendly and reducing waste, but it also means you save money in the process, too.
Betabrand's most popular item to date? Their Dress Pant Yoga Pants. And yes, these pants are exactly what you're thinking only even more amazing because they're insanely comfortable. Available in a bunch of different cuts, lengths, colors and sizes, these pants feel just as soft and stretchy as your favorite yoga pants, but they look totally sleek, chic and polished like work pants. Mind. Blown.
Women around the country are already loving these pants, so we just had to let you in on the secret and also help you out with some inspo for pulling off these pants in real life. Check out the outfits we styled using different silhouettes of Betabrand's Dress Pant Yoga Pants and some of their other amazing products.
PS: New customers will receive 20% off their first order at checkout!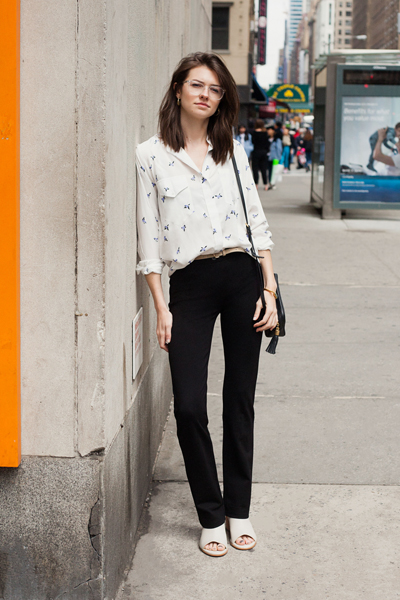 For The Office
We paired Betabrand's Straight-Leg Dress Pant Yoga Pants with the Bluebird Boyfriend Shirt and trendy pair of mule heels. The key to this look? The perfectly-undone shirt tuck.
For Brunch With Girlfriends
Finally got all your friends to commit to a brunch date? Throw on Betabrand's Skinny Dress Pant Yoga Pants and their Comfort-First Blouse for the occasion. The wrap silhouette on this top is perfect for disguising the inevitable food baby.
For A Date
A reservation for two at your favorite restaurant definitely calls for something a bit sexier. Pair Betabrand's Cropped Dress Pant Yoga Pants with the Halo Twist-Front Blouse and your partner won't be able to stop staring.
SHOP BETABRAND'S DRESS PANT YOGA PANTS NOW
[Photo: Shelby Rodriguez]
The editors at SheFinds wrote this post on behalf of Betabrand and received compensation as part of our agreement.