Although hair loss can be caused by a variety of factors, it is often related to breakage and damage that might be a result of a lack of moisture. With that in mind, hydrating your hair with a hair mask is a great way to prevent this type of hair loss. Specifically, there are some Sephora hair masks that revitalize your hair, improving its health and protecting it from becoming dry and brittle.
Read on for the 4 hair masks Sephora employees love because they stop hair loss!
Key Benefits
-Moisturizes hair and prevents future damage
-Rosehip Oil maintains hair hydration
-Algae Extract nourishes and strengthens hair and protects the scalp from free radical damage
-B-vitamins nourishes hair damaged by heat or chemical treatments
Promising Reviews
"I have very dry, brittle hair these days (medications, menopause, highlighting) and no amount of product has given me back the sheen and luster of my hair of yesteryear. Received this sample from Sephora and was floored when my hair was soft and shiny for a full week. I received compliments all week long on my flowing, touchable, shiny, movable hair. Love this! I now have a loaded jar and I'm ready to use it, so look out!" -Sephora Reviewer
"Omg this product was perfection!! I've been straightening and bleaching my hair for years and lately it's been feeling really dry and breakable. I've tried a bunch of different shampoos and conditioners and none of them worked until this. I put it in my hair for 10 mins (as per the recommendation), I rinsed it out and my hair has been so soft and healthy looking after only 1 use! No regrets--buy this conditioning mask immediately!!!" -Sephora Reviewer
Key Benefits
-Argan Oil nurtures damaged and broken hair
-Shea Butter nourishes hair and scalp
-Caryocar Brasiliense Fruit Oil provides hair with vitamins and essential fatty acids
Promising Reviews
"I wanted to use this product for a month before writing a review, I have very dry and damaged hair from working at a pool (yay chlorine) and needed something to to stop my hair from breaking off. THIS PRODUCT DOES THAT! you don't need to use a huge quantity, and you feel the effect even after one or two washes without it!" -Sephora Reviewer
"This hair mask works WONDERS!! My hair was SO damaged from coloring and pulling it up before it was dry (avoid doing this, lol) and this mask saved my hair! My hair is so healthy now!" -Sephora Reviewer
Key Benefits
-Helps prevent breakage and fight frizz
-Plant-Based Butter Blend softens and hydrates hair
- Vitamin E smooths the hair cuticle
Promising Reviews
"A real treat for my hair! This masque is amazing. It smells divine, has a great thick texture, and best of all, it leaves my hair feeling nourished and looking silky soft." -Sephora Reviewer
"The perfect repair for my hair! Coloring, blow drying and styling are rough on my hair. I love this butter masque because it brings back life to my hair. It moisturizers without leaving residue on my hair. It leaves my hair soft and shiny. It is safe for color-treated hair. I also love the consistency and smell!" -Sephora Reviewer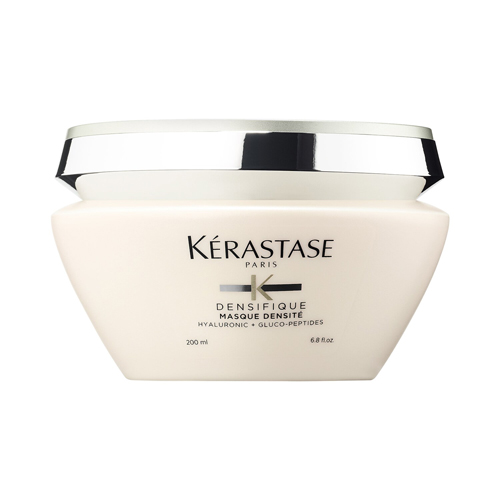 Key Benefits
-Hyaluronic Acid hydrates hair
-Gluco-Peptide increases shine
-Ceramide strengthens hair while protecting against further damage
Promising Reviews
"This mask is everything. After already one use I could feel the difference. I have thin hair and it breaks easily. This mask makes my hair dense and so soft." -Sephora Reviewer
"I've used this product for several years on the advice of my stylist. I have very thin, dry hair and this makes my hair look terrific and shiny. A few months back, I tried another (cheaper) product, but the result was lackluster hair. I will stray no longer." -Sephora Reviewer
SheFinds receives commissions for purchases made through the links in this post.