It's amazing what a fresh haircut can do for your appearance. Anything is possible with a nice cut. Whether your goal is to look younger, more mature, a little bit edgier–you name it–a professional can make it happen!
It's always our goal to have our face shape appear thinner, isn't it? We've never heard of someone ask for a cut to make their face look rounder, that's for sure. With this common request in mind, we spoke with Rita Zito, a hairstylist at Eddie Arthur Salon in New York City, to find out which cut is best for thinner looking faces.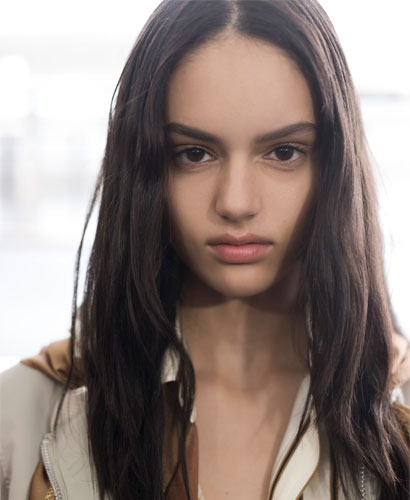 Imaxtree
The first step in finding the right haircut for you is to determine what face shape you have.
"For clients with higher cheekbones, I always suggest cutting the frame around the face short to extenuate cheekbones. This works with mid-length to long hair," said Zito.
If you have a fuller face, your hair requires a style that's a little different.
"For clients with rounder, fuller faces, I don't like to cut their hair above the collar bone and suggest parting their hair in the middle with longer layers and not too much framing around the face," continued Zito. "Short forehead bangs are not suggested."
Imaxtree
But you don't have to be looking to drastically cut your hair to achieve the same effect. When it comes to the way you style your hair, Zito says sleek straight strands always work best at thinning out the face.
"In fact, wearing your hair in a pony or just away from your face will do wonders. So, find a stylist that will be able to achieve a haircut that will allow you to style your hair in many different ways."
SheFinds receives commissions for purchases made through the links in this post.