As loyal Target shoppers and avid Fixer Upper fans already know, Chip and Joanna Gaines have teamed up with the Bullseye to bring us Hearth & Hand With Magnolia, a home and lifestyle brand that is filled with so many trendy and adorable home decor and dining pieces.
The brand just blessed us with 140 new products back in December, and it looks like they're still in the giving mood. Target just launched the new Hearth & Hand Easter collection, and EVERYTHING looks amazing. The new drop consists of holiday-themed decor and serveware to ensure that you have a stylish and festive celebration. They've got everything from decorative napkins and bowls, to a rustic table and chair set to make sure that your Easter brunch and dinner are perfect.
We did a little browsing–because we can't resist a new Hearth & Hand launch–and picked some of our favorites from the collection. Trust us, these new products are going to look so cute in your house–even if you don't celebrate Easter!
Hearth & Hand With Magnolia Bunny Serve Bowl ($24.99)
This bunny bowl is versatile and can be used to serve your favorite dish, or simply as a festive center piece. Its simple neutral glaze and pedestal design create stylish look, making it the perfect addition to your dinnerware collection.
Hearth & Hand With Magnolia Green Glass Cupcake Stand ($5.99)
It's not a celebration without cupcakes, and what better way to display your delicious creations than with this glass cupcake stand from Hearth & Hand? We love its trendy minty green color, which is perfect for the springtime!
Hearth & Hand With Magnolia Easter Kitchen Towels ($9.99)
Dish towels always add a fun pop of color to the kitchen, and we're loving this Easter-themed set from the collection. They're 100% cotton and will quickly dry your dishes, so you can get back to the party in no time!
Hearth & Hand With Magnolia Egg Tray ($14.99)
Need a festive place to store your kids' decorated Easter eggs? Hearth & Hand has got you covered with this adorable egg tray. It fits 12 eggs and seamlessly fits in with any decor style.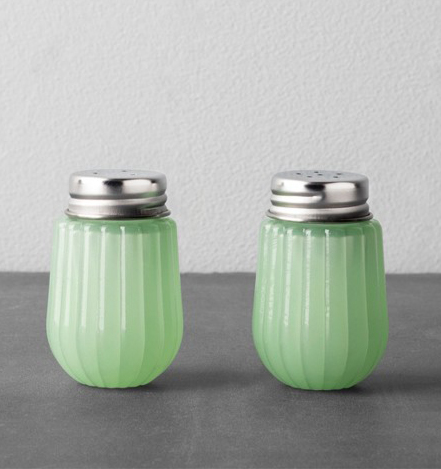 Hearth & Hand With Magnolia Green Glass Salt and Pepper Shakers ($9.99)
Add a trendy pop of color to your table with these green salt and pepper shakers. We love their vintage ridged texture--and the fact that they perfectly match the cupcake holder that we've got our eyes on!
Hearth & Hand With Magnolia Hinged Metal Bud Vase ($24.99)
Metal and glass come together to create these earthy, vintage bud vases. They come in a set of 7 and effortlessly add a unique charm to your table setting.
Hearth & Hand With Magnolia Metal Bunny Ear Napkin Ring ($2.99)
You have to admit that these are adorable! Your Easter Sunday festivities will be the talk of the town if you use these metal bunny ear napkin rings.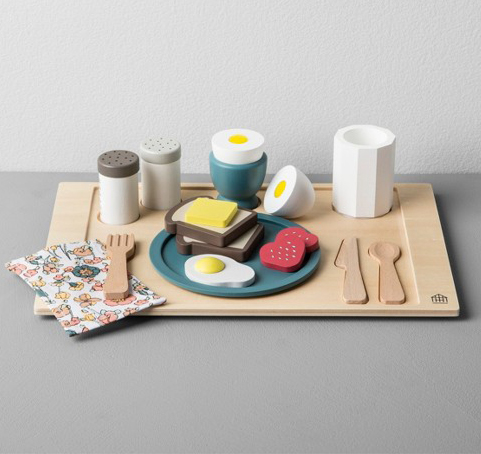 Hearth & Hand With Magnolia Wooden Toy Breakfast Set ($24.99)
Keep the kids entertained with this wooden toy breakfast set from Hearth & Hand. It includes 18 pieces of breakfast-themed accessories, giving your little one more than enough supplies to serve up a delicious breakfast.
Want to see what else is featured in the Hearth & Hand With Magnolia collection? Check out their recent 140-product refresh and other amazing products from the home decor collection at SheFinds.com
SheFinds receives commissions for purchases made through the links in this post.