A few weeks ago, I was opening one of my many online shopping packages when my roommate pointed out that I'm constantly buying new black leggings. She was right: Just a few weeks earlier I had ordered two pairs of leggings. But it wasn't my fault! Even when I would splurge on nice leggings (aka anything over $20), they seemed to have the shortest life span ever. After just a few washes,the leggings would either be faded or completely see through. I finally decided to invest in a few pairs of expensive leggings and try to keep them in good condition for as long as possible. The following tips have drastically improved the quality of my leggings. These trips are a must-know for any fellow fan of wearing leggings as pants. Click through the slideshow to check them out.
[Image: Ania.B]
Never Put Them In The Dryer
If you only follow one rule when washing your leggings, make sure it's to never, ever put them them in the dryer. According to Who What Wear, the high heat of the dryer can warp the individual strands of fiber in your leggings. This weakens the material and can lead to tears and holes. It can even affect the way the leggings fit. Penny Chic points out that Spandex and Lycra often break down when exposed to heat.
[Image: Damsel in Dior]
Before putting your leggings in the washing machine, put them in a mesh laundry bag. This simple tip will help prevent your leggings from getting snagged by other garments. The blog Penny Chic points out that this will also keep the leggings from getting tangled around other clothes, which will stretch them out over time.
The Laundress Mesh Washing Bags ($15)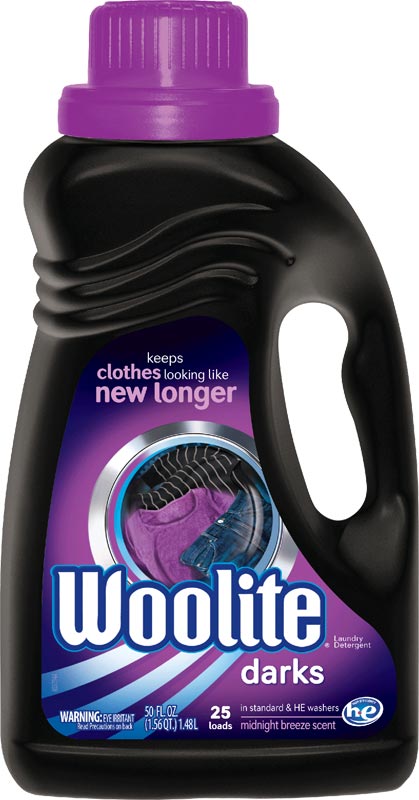 If you're worried about your black leggings fading, I suggest washing them with Woolite's Darks detergent. The formula protects dark colors from fading during the wash. Amazon reviewers claim the detergent extends the life of their dark clothing.
The temperature of the washing machine water also makes a difference. Always use warm or cold water when washing dark leggings. Hot water can cause dyes to run and result in fading.
Woolite Darks Laundry Detergent ($12.95)
Athletic leggings special attention. Who What Wear suggestions making sure your activerwear is completely dry before throwing it in the hamper. Since gym clothing is often made of moisture-wicking material meant to keep your dry, it might be damp after a workout This can result in mildew and mold (gross). Make sure you hang them to dry before putting them in the hamper and try to wash them ASAP.
[Image: Sea of Shoes]