Loafers have blown up this year and can be spotted on it-girls all over the fashion scene. The easy to slip-on, matches with everything, classic shoe is taking the fashion world by storm. Chances are, you already own a pair of these flats or if you don't, you're on the hunt for the perfect pair this spring.
Since the market right now is full of loafers, from super affordable options to more pricier ones, it's not hard to get your hands on a pair. For most, the challenging part is styling them. Loafers are so simple, making the possibilities for wearing them endless.
The flat works with dresses, skirts, jeans, dress pants, and everything else in between. Whether you're looking for a footwear option to slip on for work or something to wear on a fancy first date.
Taking notice of some of the best runway-worthy street style looks, these fashion girls know how to wear loafers in most stylish of ways. Creating an ensemble with loafers will be a breeze after looking through this major outfit inspiration–we guarantee it. Honestly, you can't go wrong with a classic pair of shoes like loafers.
1. loafers + midi dress + trench coat
[Photo: ImaxTree]
Loafers are a great shoe to wear with a dress because they're fancy enough to match the outfit, but also far more comfortable than a pair of heels. Layering a nice jacket, like this bright yellow trench coat, over top will add an extra bit of flair to your outfit that loafers compliment.
2. loafers + jeans + t-shirt + statement jacket
[Photo: ImaxTree]
Loafers don't always need to be dressed up. Pair your flats with simple jeans and a vintage t-shirt to give yourself an easy, high-fashion look. The loafers will elevate your ensemble to the next level.
3. loafers + midi skirt + long sleeve blouse
Just like loafers go great with a dress, they also compliment a skirt well. Classic loafers are a chic alternative footwear choice to your basic ballet flats or impractical high heels.
4. loafers + pantsuit + fun patterns
[Photo: ImaxTree]
Loafers make for a great work or businesswear shoe. They look put together, sophisticated, and classy while being super practical and comfortable.
5. loafers + skinny jeans + cozy sweater
[Photo: Barefoot Blonde]
For casual outings like running errands or making a coffee stop, loafers make for an easy pair of shoes to just slip on and go. With a cozy sweater on top, this outfit combination can be thrown together in minutes.
6. loafers + blazer + turtleneck sweater + skinny pants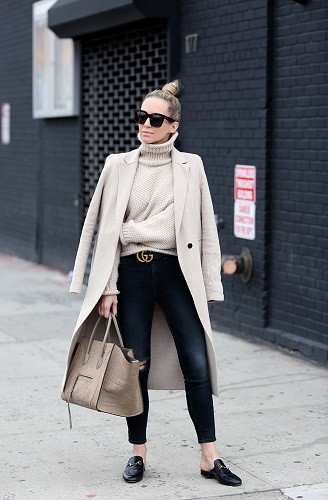 A black pair of loafer slides can upgrade any look, instantly. The slip-on shoes are simple but make a great understated footwear choice.
[Photo: Brooklyn Blonde]
7. loafers + layered sweater + skinny jeans
Take a break from the uniform black loafers and pair a camel color pair with a pastel sweater and light colored skinny pants for spring. This look is simple to throw together but polished enough to wear as work attire.
[Photo: Gal Meets Glam]